Universalisation of Quality Education through Digital Education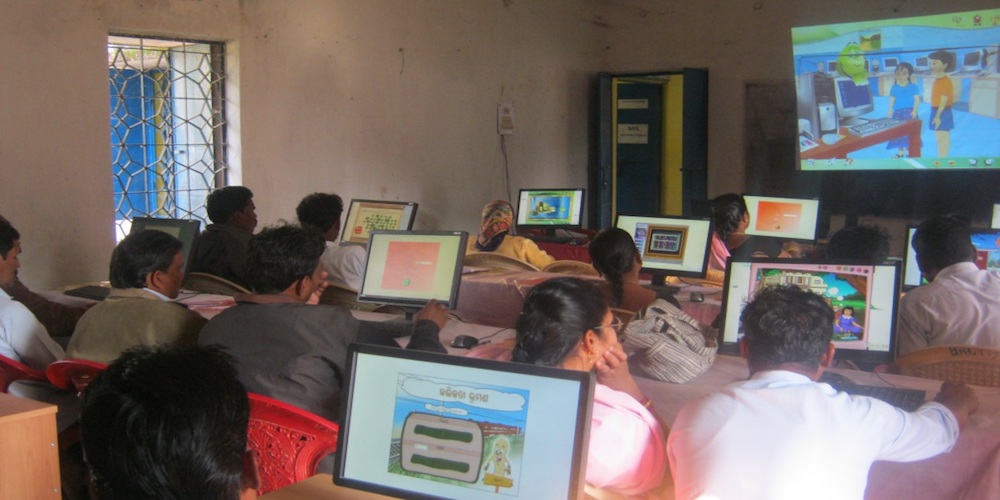 It is increasingly becoming obvious that in the days to come E-learning will shape the minds of the students in the country.
On September 22, Union Education Minister Shri Dharmendra Pradhan held a meeting on universalisation of quality education through digital education.
Minister of State for Education Smt. Annapurna Devi, Smt Anita Karwal, Secretary, DoSE&L, Dr. T.P. Singh, DG, BISAG-N, Shri Shashi S. Vempati, CEO, Prasar Bharati and other officials from the Ministry of Education were also present in the meeting.
Discussion centred on leveraging satellite technology and internet to develop an integrated digital ecosystem. The Minister called for an innovative approach to leverage technology to further expand the existing platforms to cover all spectrums of School Education, Higher Education, Skill Development and Teachers training.
He called for strengthening and expanding the existing Swayam Prabha Initiative and synergize initiatives like National Digital Education Architecture (NDEAR) and National Educational Technology Forum (NETF). Shri Pradhan stressed on the need to bridge digital divide and reach the unreached to bring greater inclusion in education.
The Minister said that a committee may be formed under Chairpersonship of Secretary, DoSE&L with senior officials from School Education, Higher Education, Ministry of Skill Development, Ministry of Electronics and Information Technology, Dept of Telecommunication, Prasar Bharti, Ministry of I&B, BISAG-N and Department of Space.
In any case, as Chief Executive Officer at Mercer | Mettl (an online assessor of talents) Sidhartha Gupta says, with the internet penetration rate estimated to reach above 55 per cent by the end of 2025 in India, digitisation of education remains one of the topmost priorities of our government.
Taking the cue, many e-learning portals have appeared and are performing well as an increasing number of learners enrol themselves for online courses — the new normal post the pandemic.
Starting 2020, Indian universities and colleges, which were earlier not permitted to offer more than 20 per cent of a degree online, are now lifting the restrictions on online learning to widen access to higher education and raise the profile of Indian institutions globally.
Many edu-tech companies have also surfaced and are offering learning management resources, including blended learning, 3D and DIY kits and AI-based experiential and interactive learning, to provide an unrivalled experience.

Emphasis on Digitisation
It may be noted that the new National Education Policy (NEP) of the Modi government puts emphasis on digitisation besides the use of technology in education. It also focuses on edtech for furthering education, particularly in the rural areas. This was mainly done to take quality education to all parts of the country, especially the Tier-2 and 3 cities and villages.
Budget 2021-22 allocated Rs.93,224.31 crore to the Ministry of Education. It was an increase of over Rs.8,100 crore from the revised estimates for the current fiscal and the Department of Higher Education was allocated Rs.38,350.65 crore.
Bridging the Digital Divide
The shift to online education also brings forward the conversations around digital divide and digital readiness of every stakeholder and institution. School and higher education institutions like colleges and universities are two different markets with their own set of challenges and digital preparedness.
Digital divide in schools is significantly higher than in higher education institutions. The Budget too talks about bridging the digital divide in government and private schools, which is another area that needs improvement.
Work is needed therefore to make education accessible through digital means for all school students, irrespective of their location, financial background, and internet and bandwidth connectivity. Creating the right infrastructure, hiring good teachers and building a suitable curriculum for every school is the way forward.
Latest Tools, Methodologies
Bidding adieu to the traditional teaching methods and issues such as shortage of teachers, inadequate student-teacher ratio, and insufficient teaching resources, digitisation in education has made way for the latest teaching tools and methodologies that are now reaching students in the remotest corners of the country. And with inclusive education being one of the goals of the government, the remote teaching model is likely to serve well.
The technology is also helping teachers connect with several students spread across several locations simultaneously. The interactive digital media also is a great solution to the shortage of teachers in the country. To facilitate the same, it plans to use technology to upgrade the skills of teachers through the online portal DIKSHA. It is a digital platform for teachers across the nation that allows them to stay equipped with advanced digital technology while giving their lifestyle a digital twist.