RIGHT ANGLE – Restoring India-Canada Warmth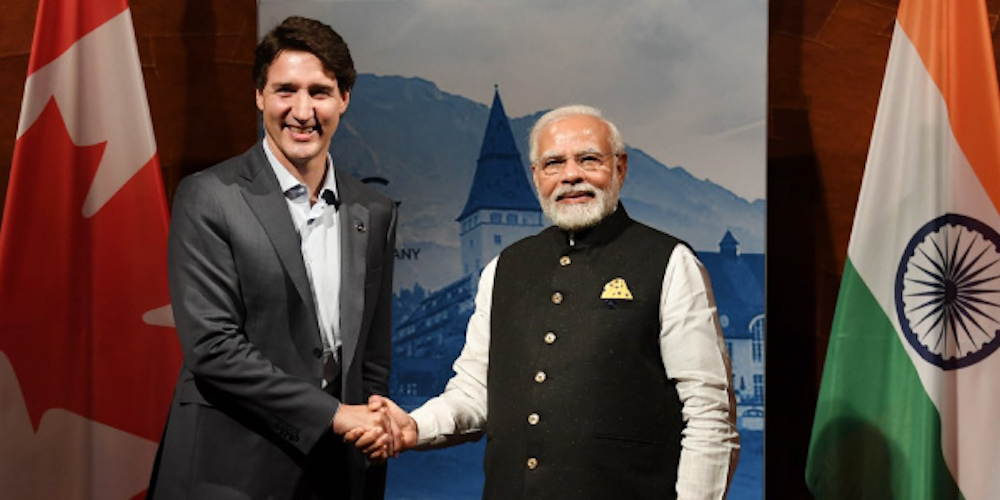 There are six reasons why Trudeau should reconsider his India-Policy

In what is a tit for tat decision, the Indian government has expelled a top diplomat of the Canadian High Commission, following Ottawa asking a senior Indian diplomat working in the Indian High Commission there to leave the country. And all this happened after Canadian Prime Minister Justin Trudeau told the country's Parliament on September 18 that there were "credible allegations" that Indian government agents were involved in the killing of Hardeep Singh Nijjar, a Sikh leader and Canadian citizen who was shot in British Columbia in June.
Nijjar, apparently, was a leading advocate for the establishment of a Khalistan, a Sikh homeland in northern India. He had been labeled a "terrorist" by the Indian government.
It is well-known that the personal chemistry between Indian Prime Minister Narendra Modi and Trudeau has been far from being desirable. And that is precisely because of what Modi thinks to be the Trudeau government's apathy towards his concerns over the Khalistani activities on Canadian soil.
The Trudeau government's official policy has been that as a democratic country, the government would not intervene as long as the supporters of Khalistan limited their agitation to peaceful demonstrations. It also says it would only act against the threats to the Indian diplomats and diplomatic missions of India in Canada. This assurance came only after the happenings of some untoward incidents caused by the supporters of Khalistan.
The deteriorating ties between India and Canada, otherwise two vibrant democracies of the world, are unfortunate. And there are six reasons why the Trudeau government should reconsider its present policy towards India.
One, any country having diplomatic relations with another country, even if it is not exactly a friend (which is not really the case with Canada and India), cannot allow its territory to be used for activities that are aimed at the other's disintegration. But here, the separatist Sikhs working for Khalistan, are not even exactly Indian refugees hiding in Canada because of their suppression in India; they are Canadian citizens. By supporting them for all practical purposes (allowing them to have even referendums), the Trudeau government is doing something that is against the letters and spirit of international law.
Two, even under national laws, there are limits to the so-called peaceful agitations. Once the limits are crossed, the government does intervene, howsoever democratic it claims to be. None other than Trudeau knows this in the heart of his hearts.
After all, it is he who had not hesitated to declare a national emergency last year in response to the truckers' protests against various Covid-19 related measures including vaccine mandates. They had blocked the roads for days, including those to the United States, which considerably damaged the trade, services and the overall Canadian economy. Incidentally, many truckers were Sikhs and sympathizers of the so-called Khalistan movement.
Three, there have been credible reports that for financing the Khalistan movement and recruiting supporters from all corners of the world, Khalistani activists in Canada, all of them Canadian citizens, are into the flourishing drugs business. With the support of the Pakistani ISI, their drug cartels source easy but big money. And most of them rely on illegal supply from Afghanistan through networks in Pakistan, India, Europe, Latin America and the United States.
Four, unlike the US, the UK, Australia and Italy, where the Khalistan supporters are also active, the Canadian government should normally be more appreciative of India's concerns. Because it, too, faces the threat of separatism in the French-speaking Quebec province.
In fact, Trudeau should learn the lessons from his father Pierre Trudeau, who was also the country's Prime Minister in the 1970s. Last week, some Canadian publications carried new revelations about a secret anti-sovereignist spy unit in the office of the former Prime Minister that was working independently of the federal police (RSMP – Royal Canadian Mounted Police) ) to deal with the Quebec independence movement. This has been viewed by many to be an illegal act.

Beyond legality or illegality, the point here is that every government, when a country's unity and integrity are at stake, do indulge in spying, arguably one of the oldest professions of the world. So, if any intelligence official of India is posted in Canada, it is not even worth mentioning. It is an open secret that all the diplomatic missions all over the world, irrespective of countries, do have intelligence officials under diplomatic cover.
Trudeau has all the more reason to be concerned that the Quebec movement is very much alive. A recent opinion poll found that 38 percent of Quebec voters would vote in favor of sovereignty if a referendum were held on the issue. This number of the percentage has been growing in recent years. Last June, this support was at 32 percent, up from 27 percent in December 2020.
All the more reason Trudeau should understand Modi's mind.
Five, Trudeau should think over the long term political dividends to him by viewing the Indian Diaspora in Canada as a whole, not through ethnicity wise. One understands that his minority government at present is critically dependent for survival on the support of the "New Democratic Party", which is led by Jagmeet Singh Dhaliwal, a known Khalistan supporter whose visa was denied by the Indian government in 2013.
Trudeau's Liberals party has 13 seats less than the majority in the country's parliament. The New Democratic Party is also ruling British Columbia, the province with highest percentage of Sikh population in Canada and is the major opposition party in Alberta, Ontario, Manitoba and Saskatchewan, the provinces with prominent Sikh population.
But then , it is under peculiar electoral laws ( "pay to play" nomination system ) that has helped the Sikhs in Canada reaping electoral results disproportionate to their number. To be nominated under these laws, a candidate has to bring in a large number of letters by actual voters, something the closely knit Sikhs do well in managing unlike other minorities, even though they have greater numbers than the Sikhs in the constituency. The NDP has therefore done well in the recent elections (it won 24 in the 2019 general elections).
Be that as it may, when one talks of Indian Diaspora in Canada, Sikhs are no doubt the largest among them. But when one talks of people of Indian origin overall in Canada, it is to be noted that though Canadian Sikhs are the largest Indian Community, numbering nearly 800,000 ( 8 lakh) people and accounting for 2.1% of Canada's population as of 2021 census, they are still less in number if other people of Indian origin are taken to account. Approximate population of Indian Canadians is said to be around 1.9 million or 19 lakhs, of which Sikhs are 8 lakhs.
Besides, it is not that all Canadian Sikhs are Khalistan supporters. For most in the Sikh Diaspora in Canada, Khalistan is not a "hot" issue. Terry Milewski, who has authored a book titled "Blood for Blood: Fifty Years of the Global Khalistan Project (2021)", says that within the Diaspora, support for Khalistan has dwindled over the years. "There is a small minority that is clinging to the past, and that small minority remains significant not because of popular support, but rather because they are trying to keep up their political influence with various political parties both from the left and the right. They can rally supporters en masse who will vote for the politicians who can sing their song," Milewski points out.
Six, another point of Milewski is notable from a different angle. As he says, "(Today) the Khalistan movement is not about popular support … It is about geo-politics. Countries like China and Pakistan can well tolerate, subsidize and assist in various ways the Khalistan movement on the basis that it is making trouble for their enemies in India." Canada cannot afford to do this, he suggests.
When one talks of geopolitics, by annoying India, Trudeau is harming indeed his government's "Indo-Pacific Strategy" that was released early this year. Terming the Indo-Pacific, to which it also belongs, as "a new horizon of opportunity," Canada, through this strategy, has identified four regions to focus on – China, India, the North Pacific (Japan and Koreas) and ASEAN (Association of Southeast Asian Nations).
And it is Trudeau's government that has recognized the importance of India in this strategy. India's growing strategic, economic, and demographic significance in the Indo-Pacific makes it a critical partner in Canada's pursuit of its objectives under this strategy, it had said, adding "Canada and India have a shared tradition of democracy and pluralism, a joint commitment to a rules-based international system and multilateralism, mutual interest in expanding our commercial relationship and extensive and growing people-to-people connections.
"India's strategic importance and leadership—both across the region and globally—will only increase as India—the world's biggest democracy—becomes the most populous country in the world and continues to grow its economy. Canada will seek new opportunities to partner and engage in dialogue in areas of common interest and values, including security".
But, developments over the last two days have placed all these ideas in jeopardy. Will Trudeau reconsider his policy?
(This piece first appeared in Eurasian Times)