Need to Increase Production of Pulses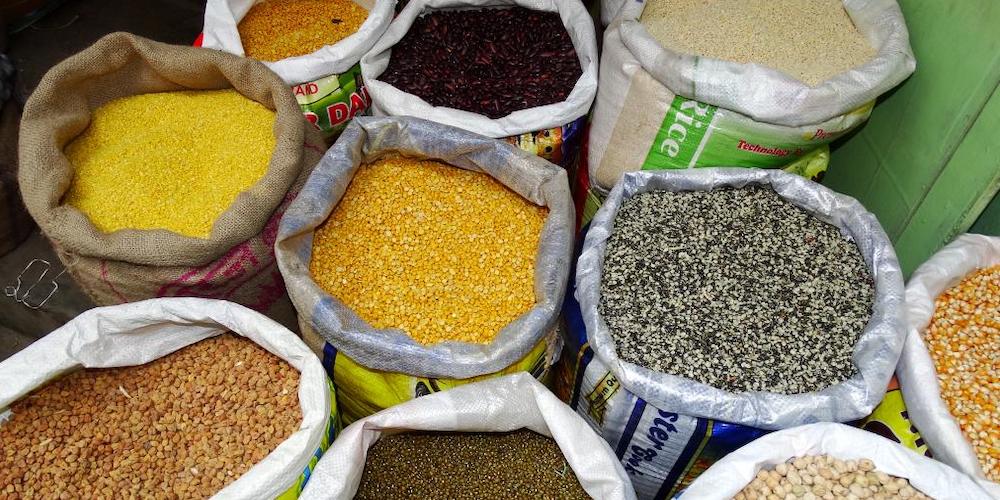 Besides serving as an important source of protein for a large portion of the global population, pulses contribute to healthy soils and climate change mitigation through their nitrogen-fixing properties. Bengal Gram (Desi Chick Pea / Desi Chana), Pigeon Peas (Arhar / Toor / Red Gram), Green Beans (Moong Beans), Chick Peas (Kabuli Chana), Black Matpe (Urad / Mah / Black Gram), Red Kidney Beans (Rajma), Black Eyed Peas (Lobiya), Lentils (Masoor), White Peas (Matar) are major pulses grown and consumed in India
Since ages, pulses have been well integrated into the farming system of our country as the farmers could produce them by using their own seeds and family labour without depending much on external inputs. With the advent of the Green Revolution, which promoted rice and wheat using external inputs and modern varieties of seeds, pulses were pushed to the marginal lands. This resulted in decline in productivity and land degradation. Thus, pulses are still cultivated on the marginal and sub marginal land, predominantly under unirrigated conditions. The trend of commercialisation of agriculture has further aggravated the status of pulses in the farming system
India is the largest producer (25% of global production), consumer (27% of world consumption) and importer (14%) of pulses in the world. Pulses account for around 20 percent of the area under food grains and contribute around 7-10 per cent of the total foodgrains production in the country. Though pulses are grown in both Kharif and Rabi seasons, Rabi pulses contribute more than 60 per cent of the total production.
Over the last 10 years, the central government has undertaken schemes and measures to increase the production of pulses in the country. The production has seen continuous rise. In 2020- 21, it was 254.63 lakh tonnes. In 2021-22, it was 273.02 lakh tonnes. And in 2022-23, it was 275.04 lakh tonnes.
As the Union Minister of Agriculture and Farmers' Welfare Narendra Singh Tomar informed the parliament recently, the Department of Agriculture & Farmers Welfare is implementing National Food Security Mission (NFSM)-Pulses with the objectives of increasing production through area expansion and productivity enhancement in all the districts of 28 States and 2 Union Territories viz. Jammu & Kashmir and Ladakh of the Country.

Under NFSM-Pulses, assistance is given through States/UTs to the farmers for interventions like cluster demonstrations on improved package of practices, demonstrations on cropping system, seed production and distribution of HYVs/hybrids, improved farm machineries/resource conservation machineries/tools, efficient water application tools, plant protection measures, nutrient management/soil ameliorants, processing & post-harvest equipment, cropping system based trainings etc.
Initiatives like distribution of seed minikits of newer varieties of pulses, production of quality seed, technological demonstration by Krishi Vigyan Kendras (KVKs) have also been included under NFSM for enhancing pulses production and productivity. Further, 150 Seed Hubs on Pulses have been set up under NFSM since 2016-17 to augment the availability of quality seed of Pulses. These Seed Hub centres have cumulatively produced more than 1 lakh quintal quality seed of pulses since then.
In order to increase the productivity potential of pulses crops in the country, the ICAR( Indian Council of Agricultural Research) is undertaking basic and strategic research on these crops and applied research in collaboration with State Agricultural Universities for developing location-specific high yielding varieties and matching production packages. During 2014-2023, 343 high yielding varieties/hybrids of Pulses have been notified for commercial cultivation in the country. During the last five years (2018-19 to 2022-23), cumulatively, about 86015 qtl. breeder seed of Pulse crops was produced against total demand of about 68499 qtl. and supplied to various public/private seed agencies for their conversion into certified seed of pulses for the farmers.
Further to ensure remunerative prices to farmers, Government implements an umbrella scheme PM-AASHA comprising Price Support Scheme (PSS), Price Deficiency Payment Scheme (PDPS) and Private Procurement Stockist Scheme (PPSS) in order to ensure Minimum Support Price (MSP) to farmers for their produce of notified oilseeds, pulses and copra. Under PSS scheme, procurement is undertaken directly from pre-registered farmers conforming to the prescribed Fair Average Quality (FAQ) norms by Central Nodal Agencies through the State level agencies at MSP announced by the Govt. as and when prices fall below the MSP during the harvesting period. During the year 2021-22, a total of 30.31 lakh tonnes of pulses were procured under PSS benefitting 13,90,737 farmers, while during 2022-23 (as on 31.07.2023) 28.33 lakh tonnes of pulses have been procured so far, benefitting 12,43,977 farmers.