Another Rafale Saga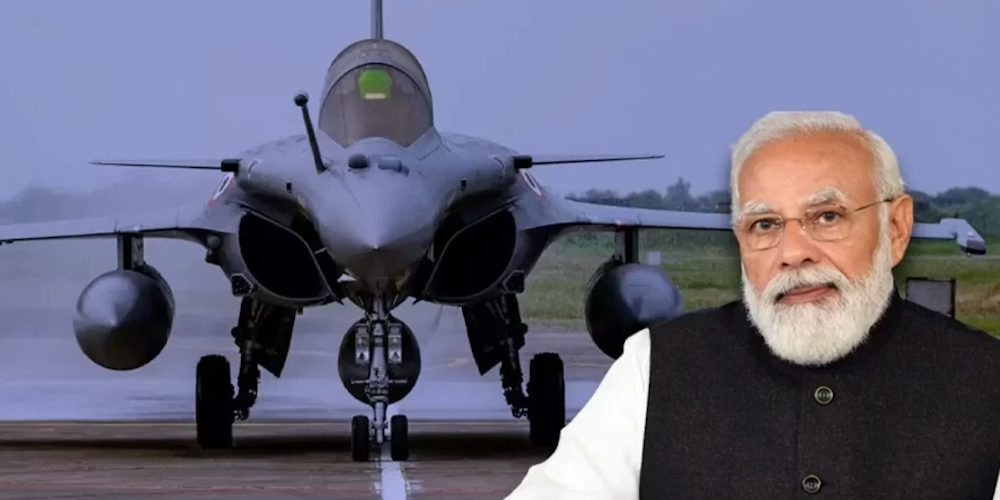 Why the absence of Rafale in official documents on Modi's visit to France is unconvincing
The just concluded visit of Indian Prime Minister Narendra Modi's visit to France saw the rare phenomenon of the two countries releasing as many as three official statements on July 14 – "Joint Communiqué on the visit of Prime Minister Shri Narendra Modi to France"; "List of Outcomes: Prime Minister's visit to France"; and "Joint Communiqué on the visit of Prime Minister Shri Narendra Modi to France".
What missed, however, in these statements were the much talked about, rather much anticipated, the purchase of 26 Rafale-M fighter jets and three Scorpene submarines from France.
What could be the reasons? The standard explanation, if press reports are any indication, is that negotiators tried to finish talks on these two big purchases while Modi was in France, but could not come to a conclusion. "The negotiators tried to close the two deals in time, so that they could include the lines in the document. But that could not be wrapped up by the summit meeting… It went down to the wire, till the Prime Minister and the French President met and discussed the matter… but could not be closed," according to the Indian Express newspaper.
If the Hindustan Times is to be believed, the two purchases definitely will happen, but the official statements avoided mentioning them because negotiations between India and France are still on with regard to pricing, date of delivery and the "Make in India" component of the Rafale for the carrier Vikrant and Scorpene submarine.
The aforesaid explanations may or may not be convincing, but it is an indisputable fact that the absence of these two big-time purchases in official statements does not diminish the growing profile of Indo-French ties geopolitically. This is evident from the release of not one but three official statements/documents at the end of Prime Minister Narendra Modi's latest visit to France.
Usually, the end of a Head of the Government or State's visit is marked by the release of one joint statement by two countries. For instance, rated to be highly successful, Modi's visit to the US was just marked by one statement on June 23.
The exception in case of Modi's visit to France explains, perhaps, the importance India and France attach to one another strategically. In fact, as this writer has mentioned elsewhere, Paris outscores Washington for India as a dependable strategic partner.
Considerable space has been given in the official statements/documents to "Building sovereign defence capabilities together" such as the joint development of a combat aircraft engine and motorization of heavy-lift helicopters under the Indian Multi Role Helicopter [IMRH] programme with Safran Helicopter Engine, France.
Therefore, Indian officials say that things should be viewed in totality and not through one or two agreements on some specific weapons or platforms.
Incidentally, day Modi landed in Paris (July 13), the Defence Acquisition Council (DAC), held under the chairmanship of Indian defence minister Rajnath Singh, had granted Acceptance of Necessity (AoN) for procurement of "26 Rafale Marine aircraft along with associated ancillary equipment, weapons, simulator, spares, documentation, crew training and logistic support for the Indian Navy from the French Government based on Inter-Governmental Agreement (IGA)".
The DAC had also granted the AoN for procurement of three additional Scorpene submarines under Buy (Indian) category, which will be constructed by Mazagon Dock Shipbuilders Limited (MDL).
Interestingly, if on the first day of Modi's visit (July 13) the DAC announced its choice of Rafale, on the second day (January 14), Dassault Aviation released a media statement at Saint-Cloud (PR_Dassault Aviation_Selection Navy Rafale for Indian Navy.pdf). It said, among others, "Following an international competition launched by the Indian authorities, this decision comes after a successful trial campaign held in India, during which the Navy Rafale demonstrated that it fully met the Indian Navy's operational requirements and was perfectly suited to the specificities of its aircraft carrier. The Indian Navy's 26 Rafale will eventually join the 36 Rafale already in service, which are giving full satisfaction to the Indian Air Force, making India the first country to make the same military choice as France by operating both versions of the aircraft to help consolidate its superiority in the air and on the seas and guarantee its sovereignty"
And the day after, on July 15, SAFRAN HELICOPTER ENGINES issued a press release. It said: "Safran Helicopter Engines and Hindustan Aeronautics Limited (HAL) have decided to set up their new joint venture company in Bangalore, India. It will be dedicated to the design, development, production, sales and support of helicopter engines, with first objective to build the most adequate propulsion solution for the Indian Ministry of Defence's (MoD) future 13-ton IMRH (Indian Multi-Role Helicopter) and its naval version DBMRH (Deck Based Multi-Role Helicopter). This joint venture will be India's first engine design and manufacturing in house.

"This decision was achieved thanks to a dynamic common work cycle between the two companies, following a Memorandum of Understanding (MoU) signed on 8th July 2022 and an agreement on workshare reached between the two partners during Aero India 2023.
"The collaboration of the Indian and French Aerospace majors is clearly supporting the development of the aerospace strategic roadmap between the two countries while once again endorsing the Indian Government's vision of "Atmanirbhar Bharat" – particularly in defence technologies. Safran Helicopter Engines and HAL see this joint venture as a natural further step in their robust, well balanced and growing relationship.
Be that as it may, coming back to the issue of omission, it is also being said how while answering the press on July 12, the day before Modi's visit to France, Indian Foreign Secretary Vinay Kwatra had underlined that Modi and President Macron would be discussing on joint military exercises between the militaries of the two countries; logistic support cooperation between the armed forces of both countries; co-production in the defense sector various areas; cooperation between the navies of both countries to address maritime security challenges in the Indian Ocean region and the larger Indo-Pacific region.
"If you look at the scope of India-France defense cooperation, you will find it to be very robust, strong, and extensive in itself. Naturally, when two leaders meet, they will discuss how to further enhance the scope of this defense cooperation. As I mentioned earlier in my speech, how the objectives of our cooperation could be linked to the priorities of Aatmanirbhar Bharat, that in itself is an important and essential thing. It is natural that when two leaders meet, there will be discussions on how to take the defense cooperation between the two countries in the direction of co-production, code-signing, co-development, and how to align it with the Aatmanirbhar Bharat initiative", Kwatra had said.
The point here is that the Indian Foreign Secretary had avoided mentioning Rafale or for that matter Scorpene in clear-cut terms. But that does not mean that there are any doubts over their procurement, it is argued. So a separate agreement will follow later with details, it is said.
The aforesaid reasons are logical and sensible. But how does one explain them, if one takes two examples, one very recent and another little older, in comparison?
One, let us take the example of Modi's visit to the United States last month. One of the most important features of the visit was the agreement on the manufacture of F414 jet engines in India by General Electric (GE). But then strictly speaking, the agreement would be operational after the US Congress gives its approval to it. So far, it has got the executive approval. And there has been a Memorandum of Understanding (MOU) that has been signed for this purpose between General Electric and Hindustan Aeronautics Limited (HAL). That means that the details, including the pricings, are still awaited.
And yet, the India-US Joint Statement, released on June 23, covering Modi's visit, said clearly : "Prime Minister Modi and President Biden hailed the landmark signing of a MoU between General Electric and Hindustan Aeronautics Limited for the manufacture of GE F-414 jet engines in India, for the Hindustan Aeronautics Limited Light Combat Aircraft Mk 2. This trailblazing initiative to manufacture F-414 engines in India will enable greater transfer of U.S. jet engine technology than ever before. The leaders committed their governments to working collaboratively and expeditiously to support the advancement of this unprecedented co-production and technology transfer proposal".
So, what did prevent such a mention of Rafales in the Indo-French statements?
Two, it is worth remembering that India decided to buy 36 Rafale fighters for the Indian Air Force through government to government means during Modi's first visit to France as Prime Minister in 2015, when prolonged negotiations between the Dassault and HAL failed over co-production, pricing and transfer of technology for the originally fixed number of 126. François Hollande was then the French President.
Let us see what "India-France Joint Statement during the visit of Prime Minister to France (April 9-11, 2015), released on April 10, 2015" had said:
"Government of India conveyed to the Government of France that in view of the critical operational necessity for Multirole Combat Aircraft for the Indian Air Force, Government of India would like to acquire [36] Rafale jets in fly-away condition as quickly as possible. The two leaders agreed to conclude an Inter-Governmental Agreement for supply of the aircraft on terms that would be better than conveyed by Dassault Aviation as part of a separate process underway; the delivery would be in time-frame that would be compatible with the operational requirement of IAF; and that the aircraft and associated systems and weapons would be delivered on the same configuration as had been tested and approved by Indian Air Force, and with a longer maintenance responsibility by France".
It may be highlighted here that details of terms and conditions or pricing of this agreement were worked out later, nearly after one year. But the point is that it was still deemed important to mention this in the official statement of the then visit.
That being the case, a similar mention of the maritime Rafales and Scropene could have been officially made during Modi's latest visit. That it has not been done means there could be a reason that is not diplomatic but political.
Is the Modi government trying to avoid any mention of Rafale that the opposition parties love at lambasting, particularly when the country is heading for a series of elections in some important states and the general elections in less than a year?
One does not have an easy answer.