Rahul Gandhi Stands Disqualified As Lok Sabha MP After Being Sentenced To Two Years Imprisonment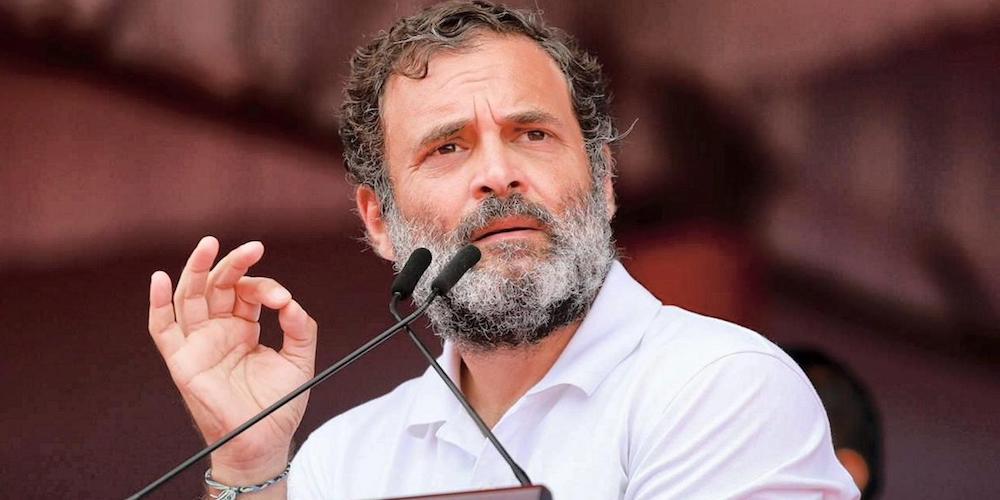 In a major blow to the former Congress President Rahul Gandhi who is also a Member of Lok Sabha representing the Wayanad Parliamentary Constituency of Kerala, he has been disqualified from Lok Sabha after his conviction in a 2019 criminal defamation case titled Purnesh Modi vs Rahul Gandhi by a Court in Gujarat that was filed by a BJP MLA Purnesh Modi who is former Gujarat Minister and BJP MLA from Surat West over his remark at a poll rally in Karnataka's Kolar. The Court said that, "The case of the complainant has been proven beyond doubt based on witness statements, documentary and electronic evidence." It must be mentioned here that the remarks of Rahul Gandhi had been video graphed by the video surveillance team and video viewing team duly notified by the office of Deputy Commissioner.
It must be noted that a Magistrate Court in Surat district of Gujarat while convicting and sentencing Rahul to two years imprisonment in a criminal defamation case said that Rahul Gandhi insulted all persons with the surname 'Modi'. It may be recalled that Rahul Gandhi was sentenced to two years imprisonment for his "Why all thieves have Modi surname" comment which he allegedly made during the Parliamentary election campaign in 2019! The Gujarat High Court had vacated the stay on trial in the criminal defamation case in February this year.
To be sure, it must be mentioned that the Judge Hadirash Varma in his 168-page judgment in Gujarati said in no uncertain terms that since Gandhi is a Member of Parliament (MP), whatever he says will have a greater impact. Thus, he should have exercised restraint said the Judge. It cannot be glossed over that the Judge also said that, "The accused had taken the reference of the surname of the current Prime Minister Shri Narendra Modi, to satisfy his political greed and insulted and defamed 13 crore people living in the whole of India having the surname 'Modi'." The court suspended the sentence for 30 days so that Mr. Gandhi can appeal in a higher court.
It is worth noting that the Judge minces absolutely no words to hold unequivocally that, "The accused himself is an MP and the matter of him addressing the people as an MP is a very serious issue because, when an MP addresses the public in the capacity of a parliamentarian, it has a very wide impact on the public. The seriousness of the crime is greater if the accused is an MP and the public if the accused is punished less, it sends a wrong message to the society."
It is worth stating that a notification from the lower House, signed by the Secretary General Utpal Kumar Singh said clearly that, "Mr. Gandhi stands disqualified from the membership of Lok Sabha from the date of his conviction, as per the terms of Article 102 (1)(e) of the Constitution and Section 8 of the Representation of the People Act, 1951." It must be mentioned here that the Lok Sabha Secretariat said in its notification that Rahul Gandhi's disqualification as Wayanad MP is effective from March 23 which is the day of his conviction. As per law, if the conviction is not overturned or quantum of sentence is not reduced by any higher court, Rahul Gandhi in such case will not be able to contest elections for the next eight years. The Court of Chief Judicial Magistrate HH Varma who held Rahul guilty of criminal defamation under Sections 499 and 500 of the IPC has given bail to him on a bond of Rs 15,000 and suspended the sentence to allow him to appeal the verdict in a higher court.
It cannot be certainly lightly dismissed by anyone that none other than senior and eminent lawyer Mahesh Jethmalani told NDTV news channel that Congress's Rahul Gandhi who was convicted for two years by a Surat Court in a 2019 defamation case involving his remarks on Prime Minister Narendra Modi about the "Modi surname" stands automatically disqualified from Parliament under a Supreme Court judgment of 2013. Mr Jethmalani said candidly in an exclusive interview that, "By the operation of the law, he stands disqualified but the decision has to be communicated to the Speaker. But as of today, he stands disqualified."
It must be however clarified that while adding a caveat, Mr Jethmalani said that Mr Gandhi can stay in Parliament only if a higher court puts a freeze on the trial court judgment, as happened in a few earlier cases. It definitely deserves mentioning that the BJP has been baying for the disqualification of Rahul Gandhi since early this year and initially it was primarily over his comments on the Hindenburg Adani issue. Later we saw how BJP demanded that Rahul be ousted over his comments at the Cambridge University which the BJP contended were anti-national. Even on this case BJP leaders said that the law is equal for all and Rahul must face the consequences.
In hindsight, it may be recalled that in the landmark Lily Thomas vs Union of India case that was delivered finally on 10 July, 2013 the Supreme Court had explicitly ruled that, "Any MP, MLA or MLC who is convicted of a crime and given a minimum of 2 years jail loses membership of the House with immediate effect". It may be recalled that the Apex Court had scrapped the Section 8(4) of the Representation of the People Act, which allowed elected representatives three months time to file an appeal; against their conviction, calling it "unconstitutional".

Ironically, it may be recalled that when an ordinance against the Lily Thomas judgment was brought in by the then Dr Manmohan Singh led UPA government, which was in helm of affairs at that time, it was Rahul Gandhi himself who had trashed it, telling the media most bluntly that it should be "torn up and thrown away". We had seen how at that time the Opposition had slammed the Congress and termed it as a move to protect Congress ally and former Bihar Chief Minister Lalu Prasad Yadav who was being tried in the fodder scam. It may be also recalled that it was none other than Mr Rahul Gandhi who had at that time himself most vocally said in what those viewing it from a political angle were seeing it as a huge embarrassment for the then PM Dr Manmohan Singh who had himself cleared the Ordinance without mincing any words whatsoever that, "I personally think what the government is doing on the ordinance is wrong. It was a political decision, every party does it, and there is a time to stop this nonsense…If we actually want to stop corruption then we cannot make these compromises."
In its order in Gujarati, the Court observed that, "The complaint was lodged not only because the 'Modi' community or people from the caste were defamed but because the complainant (Purnesh Modi) himself was distressed. Moreover the accused could have stopped at calling Shri Narendra Modi a thief (Shri Narendra Modi ne chor nu upnaam aapi ne) and equating him with economic offenders…like Nirav Modi, Lalit Modi, Mehul Choksi, Vijay Mallya. He could have limited the discussion to these people. But the accused intentionally insulted all those with the surname or name 'Modi' and said in his speech, "Why do all the thieves have the name Modi?"
Further, the Court said that the accused (Gandhi) had admitted many facts in the case in his statements and "if these facts are taken into account, then the accused has accepted the controversial facts".
Most significantly, while handing out the punishment to Rahul Gandhi, the Court at Surat said that, "The Supreme Court had advised the accused to stay alert yet it does not appear as if it has made any difference in the conduct of the accused. Moreover, the accused is a Member of Parliament and as an MP what he speaks before the public is taken seriously because when a person addresses the public as an MP, it has a larger impact and this makes the offence even more serious. If a milder punishment is handed out to the accused, then a wrong message would go to the public and the purpose of the defamation (law) would not be served and any one would easily defame anyone."
It would be instructive to note that the former Union Law Minister Ravi Shankar Prasad while commenting on this latest event of Rahul Gandhi's conviction said that, "Does the Congress want Rahul Gandhi to have complete freedom to abuse people? There is rule of law…and it will prevail." He also said that, "The law of India is that if an individual or an organization has been defamed by defamatory comments or abuses, they have the right to seek redress. But Congress has an objection to it…They want complete freedom for Rahul Gandhi to utter abuses. He will find himself facing "more troubles" if he doesn't refrain from making defamatory remarks. It has become Rahul's nature to defame and weaken the country as well as level "filthiest abuses like accusations" against Prime Minister Narendra Modi and BJP. A number of defamation cases have been filed against Gandhi for his remarks."
While speaking outside Parliament, the Union Minister Piyush Goyal said that, "Rahul Gandhi had made it a habit to "defy and disrespect every democratic institution, whether it is Parliament or judiciary". He should come out of this dynastic mindset and realize that no individual is bigger than the country, bigger than the people of India, bigger than the Constitution of India and nobody should consider himself above the law."
In essence, we all must learn from this notable judgment drawing the right lessons and should always refrain from making any defamatory remarks against any person of a particular community or caste or religion as doing so would only land us in deep trouble as we see in this leading case. It merits no reiteration that slamming judiciary without any proof can also land those who make wild allegations and accuse it to be functioning at the behest of the ruling party! Of course, all doors are still certainly not close for Rahul Gandhi and he has the option before him to appeal to the higher courts! But he definitely must refrain from indulging in personal attacks in future just like others to save himself from getting convicted as we see in this leading case also! Rahul's lawyer Kirit Panwala pleaded for a milder sentence on the ground that his client didn't intend to insult anyone. But all such pleas failed to cut ice and we saw that how Rahul Gandhi ultimately got convicted. I am sure that from next time he will make sure not to say anything against any particular community, caste or religion as this will only prove to be a self-inflicted wound which no one will ever like to inflict upon oneself!