Cleaning Ganga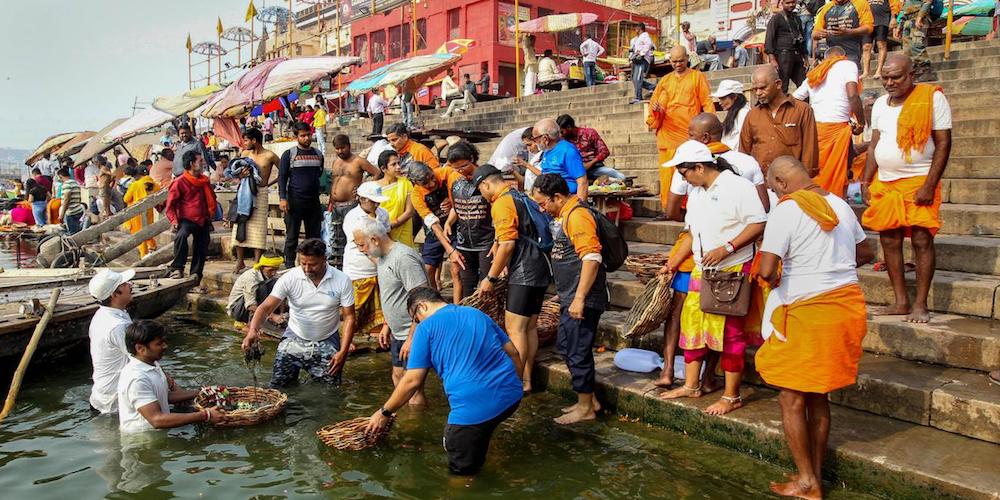 In December 2022, "Namami Ganga Mission" was recognized as one of the top ten initiatives of the World Restoration Flagship of the UN Decade. Namami Gange was chosen from over 160 submissions made from across the world. Additionally, the documentary "Ganga: River from the Skies" made in collaboration with National Geographic India won international accolades by winning awards under 3 categories in Asian Academy Creative Awards 2022- Best Documentary, Best Current Affairs and Best Natural History or Wildlife Programme; and Best Natural History/ Wildlife Show at Asian Television Awards 2022.
In 2022, the National Mission for Clean Ganga (NMCG) sanctioned 43 projects at a total cost of Rs 2,056 Cr., bringing the cumulative total to 406 projects sanctioned worth Rs 32,898 Cr. In the same period, NMCG also completed 50 projects which resulted in the completion of a total 224 projects.
With regard to sewerage infrastructure 25 projects, comprising of 41 STPs for creation/ rehabilitation of 910 MLD treatment capacity and laying of 427 km sewer network between January to November 2022 has been done. Till date, 176 sewerage infrastructure projects have been sanctioned in the Ganga Basin for the creation of 5,270 MLD treatment capacity and 5,213 km sewer network.
Several public outreach programmes were also organized by NMCG, which included Ganga Quest, Ganga Utsav etc. – all of which received an overwhelming response. Ganga Quest 2022 saw active participation of over 1.73 Lakh persons from India as well as from over 180 countries. Ganga Utsav 2022, dedicated to the Azadi Ka Amrit Mahotsav campaign, celebrated the declaration of River Ganga as the National River. 75 separate events in Ganga and its tributary basin cities and towns will be organized by August 2023, with 3-day events in 15 major cities like Haridwar, Mathura, Delhi, Kanpur, Varanasi, Patna, Bhagalpur, Kolkata etc. and 1-day events in 60 smaller towns/cities. The events will promote local culture, and activities under Arth Ganga such as Ghat Mein Haat, Ghat Par Yoga, Ganga Artis etc. will be promoted.
In 2022, focus has also been on developing and promoting the Arth Ganga concept, under which several initiatives have been undertaken. Key highlights include:
– MoU with Sahakar Bharti to develop 75 Sahakar Ganga Grams in the basin
– Release of over 6 million IMC & Mahseer fingerlings, and ranching of over 70,000 Hilsa in Ganga River
– Launch of JALAJ Livelihood Model (biodiversity sensitive tourism-based boat safaris) launched at 26 locations on 16th August 2022. This will be replicated at 75 locations
– Launch of Web Based Tool to monitor Health Status of Urban Water Bodies

NMCG participated in the prestigious Singapore World Water Week 2022 held from 17th to 21st April 2022 and organized a session on "Sustainable Wastewater Management in Developing Countries: An Innovative Indian Approach in River Rejuvenation" on 17th April 2022. From 24th August to 1st September 2022, NMCG also participated in Stockholm International Water Week 2022. On 24th August 2022, NMCG hosted a session on "Zero Liquid Discharge Cities".
NMCG along with C-Ganga hosted the 7th India Water Impact Summit, based on the theme "Restoration and Conservation of Small Rivers in a Large Basin with a focus on Mapping and Convergence of 5Ps (People, Policies, Plans, Programmes and Projects)".
2nd meeting of National Ganga Council: The Prime Minister, Shri Narendra Modi chaired the National Ganga Council meet held on 30th December 2022 via video conferencing in Kolkata. During the meeting, the PM emphasized on ways to enhance various forms of herbal farming along the Ganga. Prior to the meeting, the PM laid the foundation stone and dedicated Namami Gange and Drinking Water & Sanitation Projects to the nation. The PM inaugurated the 7 sewerage infrastructure projects (20 Sewage Treatment Plants and 612 km network) at a cost of more than Rs 990 crore. These projects will add sewage treatment capacity of over 200 MLD in the State of West-Bengal. PM also laid the foundation stone for 5 sewerage infrastructure projects (8 Sewage Treatment Plants and 80 Km Network) to be developed under National Mission for Clean Ganga (NMCG) at an estimated cost of Rs 1,585 crore. These projects will add 190 MLD new STP capacity in West Bengal.
The Prime Minister reflected on the importance of the project for Rejuvenation of River Adi Ganga, infamously known as TollyNala, and a tributary of Ganga, in Kolkata. Recognizing the bad situation of the river, the project has been approved by NMCG at an estimated cost of Rs. 653.67 crore that includes construction of modern sewerage infrastructure comprising of 3 Sewage Treatment Plants (STPs) of 10 million litres per day (MLD), 11.60 MLD and 3.5 MLD capacities. This project is 100% centrally sponsored and the Centre will bear all financial cost of the project.
PM Shri Modi, while elaborating on river Ganga as navigational waterways informed that over 1,000 waterways are being constructed in India and conveyed that our aim is to make modern cruise ships sail in Indian rivers. With substantial development of waterways, India's cruise tourism sector is all set to embark on a grand new journey.
In fact, Prime Minister Modi announced that on 13th January 2023, World's longest river cruise will sail from Kashi to reach Dibrugarh via Bangladesh, travelling 2300 km.