Cause of Violence against HINDUS in Leicester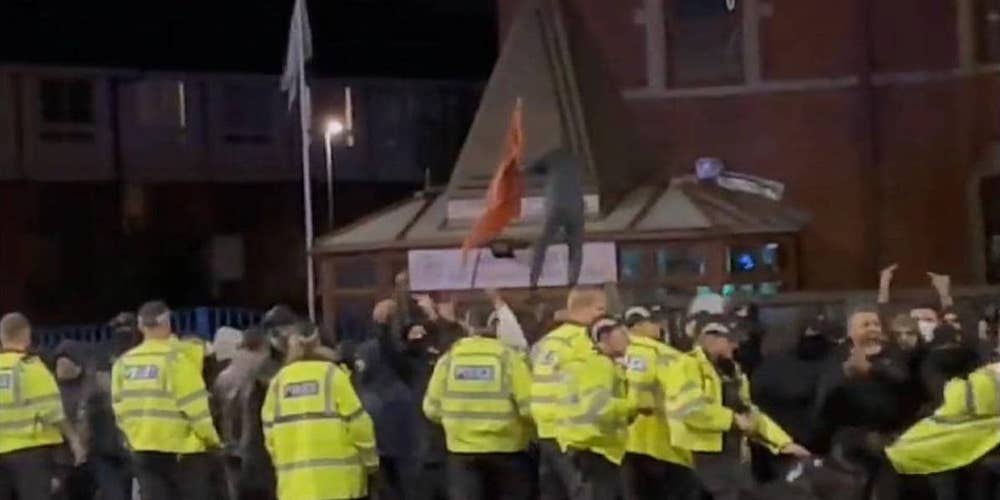 Violence in Leicester UK has got coverage in India. The High Commission of India in the UK posted a press release strongly condemning "the violence perpetrated against the Indian Community in Leicester and vandalization of premises and symbols of the Hindu religion."
Pakistanis allegedly attacked Hindus after the latter celebrated India's defeat of Pakistan in the August 28, Asia Cup match played at Dubai. It did not matter that India lost a match to Pakistan a week later.
This article is not about the violence in Leicester but its cause. The Pakistanis dislike Indians and are frustrated due to the problems faced by their home country (no excuse for violence).
Let us start with the history of Indo-Pak matches. These were resumed in the late 1980s. Pakistan won against India regularly. Imran Khan's outstanding performance in the 1992 home series, Mohinder Amarnath's batting then and the last ball six by Javed Miandad in Sharjah are most remembered.
But things changed when Saurav Ganguly led team defeated Pakistan in Pakistan in the 2003-04 test series and ODI's. "Virender Sehwag earned the nickname 'Multan ka Sultan' after scoring 309 in the first test in Multan." Thereafter, India beat Pakistan regularly.
Simultaneously, India was a victim of Pakistan sponsored terrorism from 1980 onwards. In Punjab India defeated terrorism by mid1990's while in J&K the process is on. Not to forget the Kandhar Hijacking of December 1999 and numerous terrorist attacks across India that were planned/supported by Pakistan for e.g. 26/11 Mumbai.
Whilst Pakistan was busy exporting terror, Indian software companies successfully helped the West deal with Y2K at the turn of the century. There was no looking back for the I.T. sector thereafter. This success followed by Team India's victory in the 2003-4 series plus the growth rates experienced during NDA1 and UPA1 changed the way the world looked at India and importantly the way Indians looked at themselves.
There was renewed confidence after the Balakot Air Strikes and producing vaccines for the world during the pandemic.
Further, India is today the world's fifth largest economy and the third largest economy (based on purchasing power parity). Success of India means failure of the reason for creating Pakistan.
Recall that the British expected India to disintegrate after they left in 1947. They must be disappointed that not only has India survived but recently replaced them as the world's fifth largest economy. In a recent interview to PGurus channel, London based Pt Satish Sharmaji spoke about the anti-Hindu bias of BBC. In a way, the appeasement politics of India (colonial origin) and minority persecution (Pakistan and Bangladesh origin) is what we are seeing in the UK today.
It is good to see Indians protest at the UK High Commission in Delhi. Wonder why they do not protest about violence against Hindus in Bangladesh!
Perhaps, Leicester violence is a result of BJP's opponents within and outside India joining hands to intimidate Hindus and then blame the RSS, Hindutva and Hindus if they react. Note that the RSS is not the equivalent of the Vatican to which every Hindu needs to be associated with.
Kapil Dudakiya wrote in AsianVoice.com, "The truth is that a Hindu family that was celebrating Ganesh Chaturthi was attacked." Soon celebration of Hindu festivals in the UK might require police protection like in India.
Is the India template being exported to the UK? If yes, expect the next attack in Silicon Valley or New York.

Today, Ishwar ki kripa se (By the grace of the God), the Indian economy is recovering post-pandemic while Pakistan's economy is tottering and the government is running pillar to post for loans. The unfortunate and devastating floods only added to the misery. Plus, in England Pakistanis see Hindus prospering, celebrating their culture and contributing to the UK's GDP.
A combination of these factors has created deep anguish in the British – Pakistani mind. Indians celebrating victory was only an excuse to get back at the Hindus.
So the more Pakistan fails, as a nation, the greater would be the anger against the Followers of Dharma. After all the reason for creation of Pakistan was hatred for Dharma. They have an air of superiority and take pride in the victories of invaders.
With the decline of Pakistan, pride has been replaced by anguish. Indians must remember that Pakistanis hate losing to India, in cricket or war.
Today, it seems the tide is turning. Pakistan always wanted parity with India. But India is moving ahead.
What surprises me is why Indians continue to celebrate cricket match victory over Pakistan esp. when we have defeated them often?
The reality is that ever since India became independent, Pakistan has, due to wars and terrorism, occupied India's mind space in a manner that is disproportionate to its size and potential. India has ignored the real enemy China for its pawn Pakistan.
Indians must raise the bar and compare themselves with the best in the world. Not only in cricket but in all walks of life.
India has hurt Pakistani pride and the country's reputation by having it on the grey list of Financial Action Task Force (FATF is the global money laundering and terrorist financing watchdog.) Plus Osama Bin Laden's presence in Pakistan spoiled the country's reputation as is proved by this example.
In 2009, we visited Nice in France. Craving for Indian food we walked into a restaurant that seemed Indian. After ordering dal chawal, we got chatting with the owner. He kept on saying "Hamara India" is so good etc. We wondered if he was really Indian because Indians usually do not talk like that. My wife respectfully asked him if he was from Lahore. He said he was from Karachi.
Now why would a Pakistani have a board claiming to be an Indian Restaurant and praise India so much? It gives them a cover of respectability.
The Government of India must pass a law that the words India or Indian can be used by any commercial establishment or company outside Bharat only when it is majority owned by Indian citizens. Though I am not sure on the legality of this being implementable globally, this is one way to preserve India's brand equity. (Note that most restaurants serving Indian food in London are owned by Bangladeshis and Pakistanis. When they wanted they broke away from India and now use India's cultural assets to make money).
Next, all Indians must read "Thoughts on Pakistan", written in 1941 by Dr B R Ambedkar. His understanding of the sub-continental Muslim mind is outstanding.
Lastly, Indians must not devote so much time and energy to Pakistan. Every time Pakistan faces a setback many celebrate. By doing so we are creating "bad karmas". "Observe, be alert and keep them under pressure" is the way forward.
If India continues to rise, Hindus must expect the unexpected because few want "Dharma" to rise.
In May 1909 Maharshi Aurobindo said, "When it is said that India shall be great, it is the Sanatan Dharma that shall be great. When it is said that India shall expand and extend herself, it is the Sanatan Dharma that shall expand and extend itself over the world. It is for the Dharma and by the Dharma that India exists…." (India's Rebirth)
India has a long way to go to be recognised as great. We need to put our heads down, work hard and brag less.
(esamskriti)