India Constructing the Highest Railways Arch Bridge of the World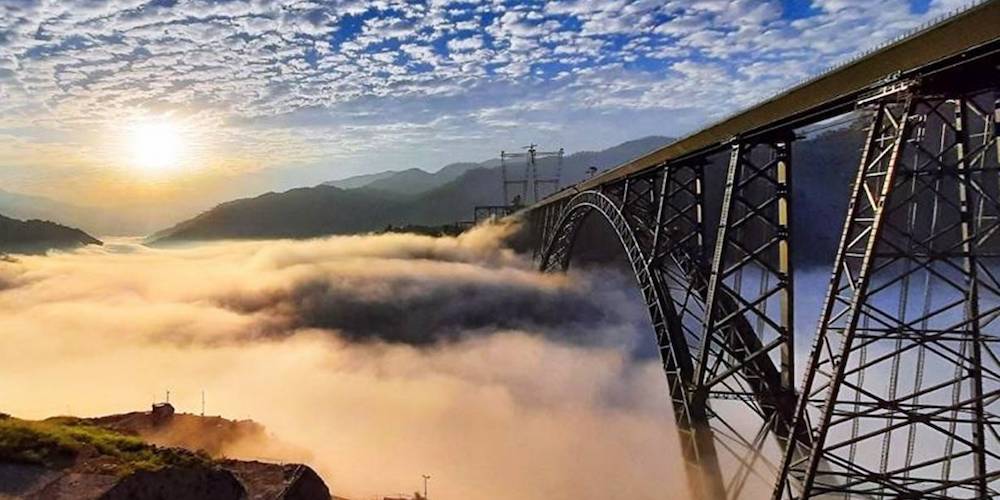 By the end of this year, India is expected to get the railway bridge over the river Chenab that will connect the Kashmir valley to the rest of the country. Indian Railways has shared some breathtaking photographs of the Chenab bridge which is part of the Udhampur-Srinagar-Baramulla rail link project (USBRL).
The images show the arch of under-construction Chenab bridge towering over a sea of clouds amidst the backdrop of sunset. Another pic shows the bridge drenched in bright sunlight with a crystal clear blue sky backdrop.
The bridge falls under the Katra-Banihal stretch of the USBRL and it is the most challenging part of the project due to its difficult topography and weather conditions.
Chenab bridge is arguably the biggest civil-engineering challenge faced by any railway project in India in recent history. Once completed, it will be the highest railway arch bridge in the world.
Here are some of the salient features of the Chenab Rail Bridge:
– This bridge is 1315 m long
– This is the highest Railway Bridge in the world being 359 m above the river bed level
– It will be 35 meters higher than the iconic Eiffel Tower in Paris (France)
– Bridge designed to withstand high wind speed up to 266 Km/Hour
– Bridge will remain operational at restricted speed of 30 Km/Hour even after removal of one pier/trestle
– Bridge designed to bear earthquake forces of highest intensity zone-V in India
– Arch consists of steel boxes. Concrete will be filled in boxes of the Arch to improve stability
– Overall weight of Arch is 10,619 MT
– Erection of the members of the arch by overhead cable cranes was done for the first time on Indian Railways
– The most sophisticated 'Tekla' software used for structural detailing
– Structural steel suitable for -10°C to 40°C temperature.
It is to be noted that USBRL is a National project undertaken by the Indian Railways for construction of a broad-gauge railway line through the Himalayas, with the aim of connecting the Kashmir region with the rest of the country. Its length will be that of 272 km.
The all-weather, comfortable, convenient and cost effective mass transportation system will be the catalyst for the overall development of the northernmost alpine region of the country.
Construction of the first three phases of the project has been completed and the line is in operational use for running of trains between Baramulla-Banihal in Kashmir valley and Jammu-Udhampur-Katra in Jammu region. Work on the intervening 111 Km section Katra-Banihal, the most arduous and treacherous portion due to its geology and extensive riverine system replete with deep gorges, is ongoing.
There are several iconic bridges and tunnels coming up in this section. Most of the rail track is slated to be in tunnels or bridges in this section.

The project has brought in employment, prosperity and connectivity to the people. The backward districts of Reasi and Ramban have especially benefited from the project. Hinterlands hitherto inaccessible now have road connectivity. Medical, Educational, Market and Business activities have become easily reachable for the people.
The cost of construction of the 111Km Katra-Banihal section so far has been Rs 30672.34 Cr. The Budget allocation to the Project has increased manifolds since 2014, enabling speedy construction activity.
Employment Generation
o Jobs in Railway to wards of landowners, where more than 75% of their land was acquired.
o Land acquired – 1833.92 Ha. and Jobs given to 799 eligible land givers.
o Employment through contractors: 14069 (around 65% employment to locals).
o More than 500 lacs mandays of employment have been generated so far.
o In addition to this, skill development for artisans, many of them are now employed elsewhere.
Construction of Approach Roads
o More than 205 Km long approach roads were constructed which include 1 tunnel and 320 bridges.
o This has provided connectivity to 73 villages of far-flung areas (around 1.5 lacs people benefitted).
o Earlier accessible only by foot or boats; now by 4 wheelers.
o PMGSY roads are now taking off from these approach roads
o Hence, immediate benefits of project execution are reaching the local population.
Various Activities Under Corporate Social Responsibility (CSR)
o 9 Ambulances provided in Ramban District
o 15 Motorised Wheelchairs.
o Free medical camps held in Banihal, Ramban and Reasi.
o Covid Quarantine centres.
o Medical equipment given to hospitals: Upgradation of medical facility at Govt. hospital Banihal by providing ECG machines, ultra sound machine X ray plant, and C-Arm table.
o Improvement of Educational Infrastructure: School constructed at Ramban & under construction Sumber. Library upgraded at two Govt. Senior Sec. school at Reasi, construction of Portacabin Toilet blocks in ten schools in Ramban district.
o Training Centre for women: One women training center for tailoring and embroidery established at Banihal.
o Water Supply to villages
o Pucca Village roads.