TAIWAN, A PERPETUAL IRRITANT BETWEEN USA AND CHINA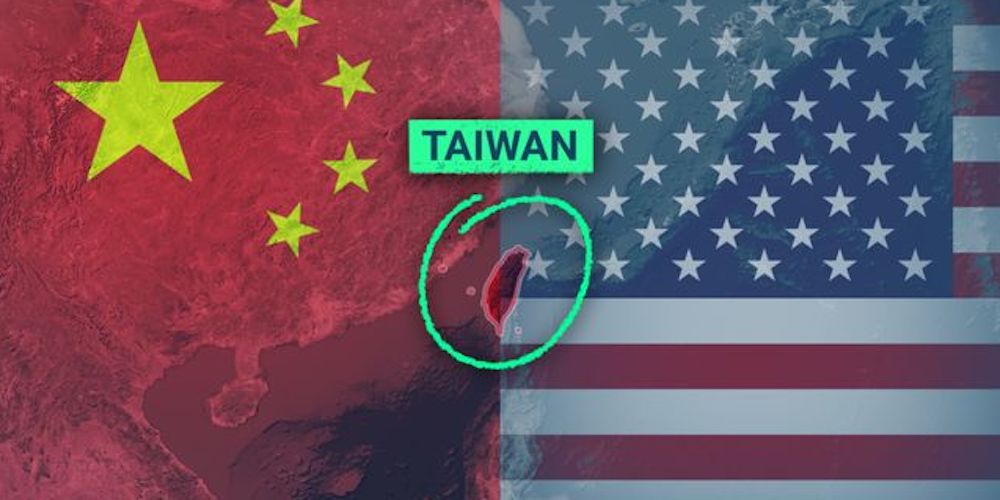 Taiwan, has been in news for nearly a month. A small island country of 24 million people, it always had a complex political situation as also significance. Its history is replete with occupations by nations ranging from Netherland to Spain, Manchu-Qing dynasty and Japan.It is reported to have become a "dependency" of Japan in 1895 and after five decades, on 25th October, 1945, China began attempts to control it. But the Kuomintang Party was able to grab power in 1949 and exercised a Martial Law over Taiwan right upto 1987. Since this takeover, Taiwan has declared itself 'Republic of China' (ROC, Taiwan) while mainland China is officially known as 'People's Republic of China' (PRC).
2) PRC has never recognized the idea of an independent existence of Taiwan. Results of an opinion poll conducted in 2013 revealed that 77.6% of people considered themselves as Taiwanese and 59% were very much in support of complete independence.
3) Although in October 1971, an UNO resolution expelled Chiang-Kai-Shek led ROC and gave recognition to PRC China ,currently fifteen insignificant countries recognise Taiwan as ROC. As far as Indian stand is concerned ,although it does not have diplomatic relations with Taiwan as yet, bilateral relations between two countries have recorded a good deal of improvement since the 1990's.
GROWING TENSION BETWEEN TWO SUPERPOWERS
4) Taiwan has been an irritant or bone of contention between USA and China right from beginning. It has been always felt that a Chinese attack on Taiwan has all the potential to ignite a war between it and USA. China has claimed that Taiwan is bound by the 1992 Convention between the Chinese Communist Party(CCP) and Kuomintang Party (KMT), the then ruling party of Taiwan.
But same has not found acceptance since 2016, ever since Mrs Tsai-Ing-Chen of Democratic Progressive Party (DPP) has taken over as the President of Taiwan. China gradually is becoming more aggressive. In 2019, PRC China went on to move a proposal to incorporate Taiwan into mainland China under their famous formula of "one country, two systems", a formula applied in regard to Hong Kong since 1997 (after vacation of territory by U.K.).
5) When it was outrightly rejected by the ruling DPP of Taiwan, China has regularly opposed Taiwan's participation in any U.N. agency. USA, on the other hand , has not only pushed Taiwan's participation but continues to sell latest defence equipments to Taiwan's military, something frowned upon by China.
VISIT OF NANCY PELOSI & OTHERS TO TAIWAN
6) Recent visit of Nancy Pelosi, Speaker of the popular House of Representatives of U.S. Parliament (last such visit was in 1997) to Taiwan and her personal rapport with Taiwan's President has not only provoked China but has also heightened tensions between two super powers of World. Her video meeting with the chairman of Taiwan Semiconductor Manufacturing Company was not unexpected as Taiwan at present manufactures over 60% of the chips in the world.
7) First visit to Taiwan in 25 years by a person, third in order of protocol in USA ,in a way, challenged China, though China has never controlled the territory of Taiwan.
U.S. did not care for China's further reaction. Instead it sent another five member Senator delegation to Taiwan, ostensibly to discuss "Trade Issues".
MILITARY INTIMIDATION BY CHINA
8) Apart from condemning these visits ,China went on to carry out extensive military exercises surrounding the island country and their combat jets also crossed the Median Line (halfway point between Taiwan and Chinese mainland). Missiles fired by China during the exercises not only overflew Taiwan but even landed in Japan's Exclusive Economic Zone.
China also banned imports of fruits and fish from Taiwan, which is giving a serious jerk to latter's economy. It is interesting to note that despite tensions, China still has the largest share of Taiwan's trade.
The renewal of threats to Taiwan by China has led to denouncement by Japan and Group of 7 nations. U.K. too has demanded an explanation from China for its act of aggressive and wide ranging escalation against Taiwan.

U.S. POLICY OF DELICATE BALANCE
9) USA, for the reasons best known to her has maintained a 'delicate balance' between supporting Taiwan and preventing a war with China. Although President Trump's administration kept on sending feelers to Taiwan, during the current tenure of Joe Biden, USA has gone a step further. While continuing with the policy of permitting US officials to meet freely with their Taiwanese counterparts, President Joe Biden also invited a representative from Taiwan to attend his "inauguration". While China insists on reunification with Taiwan, USA does not seem inclined to back out from defending Taiwan "if" China attacks.
10) It has been expressed by some observers that Russia's invasion of Ukraine on 24th February 2022 could also encourage China to invade Taiwan. But in all probability, China may resort to such extreme step only AFTER closely examining Russia's strategy in detail. The outcome of recent visit of Chinese President to Saudi Arabia and his proposed visit to USA may have to be awaited.
11) Government of Taiwan, in the meanwhile ,has scaled up its military budget to $ 17 Billions in 2022 with a view to acquire Cruise missiles, naval mines and latest surveillance systems. Keeping these in mind, China has also enhanced the frequency of its bombers , fighter jets and other surveillance aircrafts over Taiwan sky apart from dispatching war ships and aircraft carriers to Taiwan Strait. Hacking of official E-emails of Taiwan's Government Departments by China has also been carried forward regularly. China, has also, over the years, put pressure on international tourism organizations to list Taiwan as a "province of China". It has also intruded through its disinformation campaigns over social media during successive elections held in Taiwan. Despite all this, Taiwan's democratic elections have seen high voter turnouts.
12) It remains to be seen as to how long people of Taiwan wish to support the status quo, by which they feel more closely TIED to Taiwan than to mainland China.
On the positive side, during the current Presidency of Tsai- Ing-Wen, trade of Taiwan with eighteen targeted countries has risen by more than $ 50 billions since the year 2016. How can any country undermine Taiwan's acumen as World's largest manufacturer of Semi conductor chips which are supplied to Apple and many other top companies of USA?
Due to such dependence also USA may be more inclined to defend Taiwan against a possible Chinese attack. Taiwan, as on date, appears resilient and firm to safeguard its freedom and democracy.
INDIAN STAND
13) Although India without naming China or Taiwan has expressed its concern over recent developments in the South China Sea region, yet it has urged the exercise of restraint, avoidance of unilateral actions to change the status quo, de escalation of tensions and efforts to maintain peace & stability in the region. Also the following statement of External Affairs Minister with reference to Military stand off in Ladakh sector since 2020( fifty thousand troops deployed on either side) is LOUD & CLEAR:
"If China disturbs peace and tranquility in border areas, it will impact the bilateral relations further".
14) While expressing so , Govt. of India will have to also bother about interest of about ten thousand Indians working in Taiwan and to draw detailed contingency plans to evacuate them ,more so , after initial delays if not setbacks when Russia attacked Ukraine.
Side by side, it will not be a bad idea for India to have a rethinking and explore developing fresh relations with Taiwan in view of its known commitment and involvement as a member of QUAD.
15) Taiwan government's recent conveyance of gratitude to 50 countries ,including India for having called on all sides to exercise restraint across the Taiwan Strait should be also an encouraging hint or pointer to India.
(The author is former Chief Secretary, Sikkim)