Why Shehbaz Sharif's policy towards India will not be different from that of Imran Khan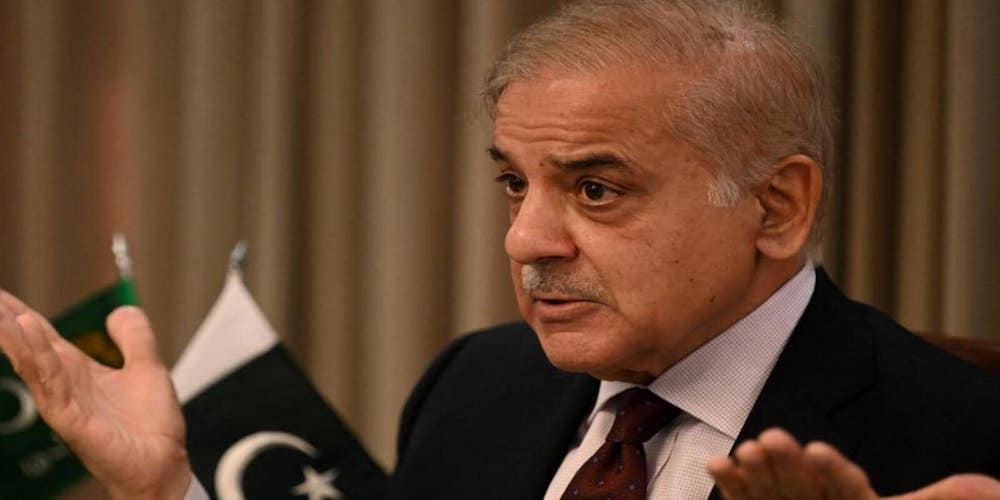 Pakistan's new Prime Minister Shehbaz Sharif has sought "meaningful engagement" and the peaceful resolution of outstanding disputes, including the "core issue of Jammu & Kashmir", in a letter sent to his Indian counterpart Narendra Modi. Sharif's letter, written in response to a missive from Modi congratulating him on his election as the Pakistani prime minister, says, " We believe that peaceful and cooperative ties between Pakistan and India are imperative for the progress and socio-economic uplift of our people and for the region. This can be best achieved through meaningful engagement and peaceful resolution of all outstanding disputes, including the core issue of Jammu & Kashmir."
This is the second time he talked about Kashmir in the last fortnight. In his first speech at the National Assembly after election as Prime Minister, Shehbaz Sharif had underlined the importance of relations with countries like China, Saudi Arabia, Turkey, European Union countries, the UAE, Britain and Iran. He had talked about good relations with India too, but subject to "just" resolution of the Kashmir issue. He had made clear in the National Assembly that Pakistan would raise its voice for Kashmiris at every forum and give them diplomatic and moral support. He called for resolution of Kashmir in line with the UN resolutions and Kashmiris' expectations, so that India and Pakistan could focus on ending poverty.
So with such preconditions, is there a real prospect of peace and stability on India's North-Western front? Highly unlikely, if history is any indication. In fact, every Prime Minister of Pakistan has invariably begun his or her innings with the promise of peace with India. But, rarely this promise was implemented in its true spirit.
Just take the example of Shehbaz Sharif's elder brother Nawaz Sharif who had occupied the Prime Ministerial office as many as three times. He had signed the "historic" Lahore-Accord with the then Indian Prime Minister Atal Behari Vajpayee in 1999. But it was immediately followed by Pakistan's misadventure in Kargil and the resultant fourth war against India.
In fact, Sharif was in office in 2014 when Modi became India's Prime Minister. He, like other head of the government in the region, was invited to attend Modi's swearing-in ceremony. Sharif was gracious to attend the occasion and in his talks with Modi expressed willingness to begin a new era of bilateral relations. In December 2015, Modi made an unscheduled stop in Lahore on his way home from Kabul to attend Sharif's granddaughter's wedding and the two leaders agreed that their foreign secretaries will resume stalled bilateral talks in January 2016. But everything got derailed with terrorist attacks on the Indian Air Force base in Pathankot in January 2016. Since then, India-Pakistan relations have never been the same. The Imran regime further vitiated the atmosphere.
Let us not forget that Pakistan is essentially an "Army with a country". It is the army that decides Pakistan's policy towards India. There are three "lakshman rekhas" (limiting lines) that the army has drawn for the civilian prime ministers and presidents. One, they would not interfere in any manner with the organisational and administrative work of the Armed Forces or for that matter do anything that adversely affects the image of the army. Two, they would abide by the advice of the army chief on matters of foreign and defence policies, particularly while dealing with India, China and the United States. Three, they would not interfere with the army-controlled nuclear weaponization and missile programmes.
It is true that Pakistan Army chief General Qamar Bajwa on April 2 said that all disputes, including Kashmir, with India should be settled peacefully through dialogue to keep the "flames of fire away from our region". But then, if one gores little deeper in his speech at the two-day 'Islamabad Security Dialogue' conference that brought together Pakistani and international policy experts to discuss emerging challenges in international security under the theme "Comprehensive Security: Reimagining International Cooperation", he indirectly suggested to have some sort of trilateral dialogue involving India, Pakistan and China to create an inclusive peace. He said that apart from the Kashmir dispute, the India-China border dispute. While talking of the peace, he pointed out how "the adamant behaviour of the Indian leaders was a hurdle".

In any case, there are speculations over the "complete" hold of General Bajwa, whose extended term ends in November, over the Pakistani Army at the moment. A significant section of the Pakistani Army's top leadership is reportedly still sympathetic to the deposed Prime Minister Imran Khan. Besides, given Pakistan's economic woes, the Army's most important priority seems to remain in the good book of both the US and China for military grants and assistance. And then there is the turbulent Durand Line with the Taliban-controlled Afghanistan. Given these immediate priorities of the Pakistani Army, the Line of Control (LoC) with India is relatively quiet; it is not due to any radical change in its attitude of the Pakistani Army towards India.
But then this is not all. The worst part is that the Pakistani Army is increasingly getting "Islamised", both directly and indirectly (through connivance with the Islamic fundamentalists).It may be mentioned here that the beheadings of Indian soldiers near the LoC in the past were usually carried out by a joint team of the Pakistani soldiers and fundamentalist terrorists (the so-called Border Action Team or BAT comprised of the regular army and terrorist LeT or Hizbul cadres).
In fact, in all its wars against India, the Pakistani Army has always used the "militant Islamists". In the first Indo-Pakistan War in 1947, it used militant Islamists as a potent weapon – it used Islamist rhetoric to mobilise Pashtun tribesmen from the Federally Administered Tribal Areas (FATA) and urged clerics to issue fatwas ordering their clans into Kashmir.
There has always been a perpetual patron-client relationship between the Pakistan Army and militant Islamists. General Ayub Khan, Pakistan's first military head of state always used Islamic rhetoric against even his political opponents, let alone against India in the 1965-war. His successor General Yahya Khan did the same – he unleashed Deobandi mujahedeen against his own citizens in the then East Pakistan. And things deteriorated further when General Zia-ul-Haq came to the scene – he changed Muhammad Ali Jinnah's original army motto from "Unity, Faith, and Discipline" to "Faith, Piety, and Jihad for the sake of Allah". Zia described himself to be "a soldier of Islam".
The point is that in all the wars that Pakistan is likely to be involved in future, its army will fight ostensibly for the cause of Islam.
And, Prime Minister Sharif's Pakistan Muslim League (N) also happens to be a party whose electoral base consists of fundamentalist extremists in a big way. Of all the political parties in Pakistan, Sharif brothers' Muslim League has been at the forefront in advocating for co-opting the jihadists and fundamentalists in the country's political system.
In fact, after FATA, if any Pakistani territory has seen massive growth of fundamentalist influence, then it is Punjab ( the country's largest and most significant province), which Shehbaz Sharif ruled as Chief Minister for a very long time. In fact, some political scientists say that it is because of the misgovernance in Punjab that led to the growth of jehadi fundamentalist elements, the children of the poor peasants. With no education for their children in normal schools, they are forced to go to madrassas that produce semi-literates. In fact, these experts do not agree that jihadi culture is accepted by the poor and deprived people. They stress that it is those semi-literates emerging from the lower middle classes and peasants who join the ranks of the jihadis as they are otherwise incapable and ill-trained to find jobs or do business.
And over a period of time, these jihadis and their leaders have emerged powerful, helped considerably by the Al Qaida and the Taliban in neighbouring Afghanistan.
After all, it was Shehbaz who was the Chief Minister in 2011 when jihadi bodyguard named Mumtaz Qadri killed the Punjab Governor Salman Taseer just because the latter talked against the country's stringent blasphemy laws. So much so that Shehbaz did not even dare to attend Taseer's funeral and the judge who pronounced punishment for the murderer was forced to be banished from the country.
These being the hard lessons from the past, it will be imprudent to expect that Shehbaz Sharif 's policy towards India will be different, particularly when the fundamentalists, along with their political and military supporters, regard India to be Pakistan's "eternal enemy".