Indigenously developed platinum-based electro-catalyst for low-cost Hydrogen fuel cells to augment Green Energy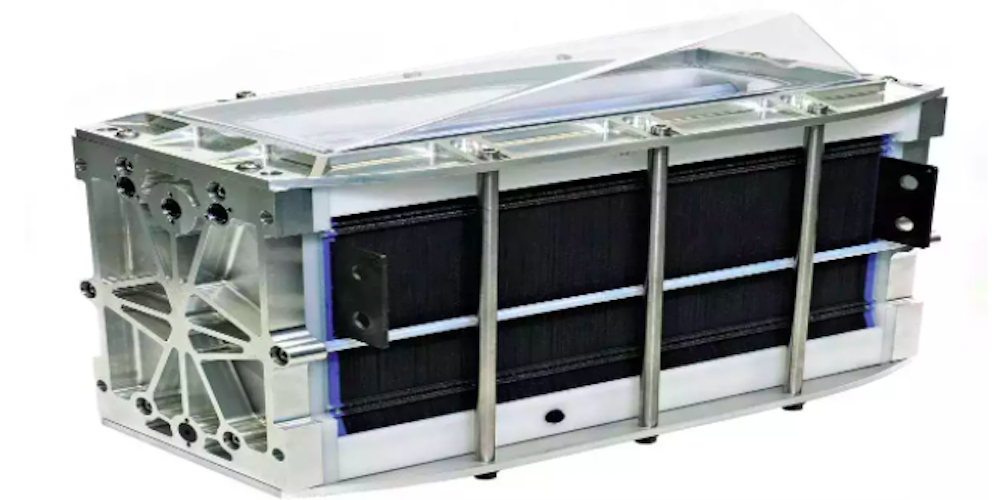 Indian Scientists have indigenously developed platinum-based electro-catalyst for use in fuel cells through an efficient procedure. This electro-catalyst showed comparable properties to the commercially available electro-catalyst and could enhance the lifetime of the fuel cell stack performance.
The launch of the Hydrogen Mission in August 2021 has opened up a huge avenue for indigenous research and development in the area of Hydrogen Fuel Cells. Fuel cells are energy conversion devices that produce DC electricity from hydrogen with water as a byproduct.
Although this technology has a lot of merits in green energy production, the main drawback comes from the huge cost incurred from importing the components for fabricating the device. In particular, the platinum-based electro-catalyst, imported because of the lack of suitable indigenous technologies for their manufacture, plays an important role in increasing durability and decreasing fuel cell costs.
Scientists at the International Advanced Research Centre for Powder Metallurgy and New Materials (ARCI), an autonomous R&D Centre of the Department of Science and Technology, Govt. of India, have synthesized platinum-based electro-catalyst using an efficient procedure. The key step in the synthesis lies in functionalization of carbon to enhance the carbon to platinum interaction known as strong metal substrate interaction (SMSI), thereby increasing the durability of the electro-catalyst.
This electro-catalyst showed comparable properties to the commercially available electro-catalyst in terms of its performance in fuel cells and superior corrosion resistance and durability. It showed less than 20 percent less, which is less than the acceptable limits of loss in active surface area of the catalyst (40%). This could enhance the lifetime of the fuel cell stack performance. The work has been published in the 'International Journal Of Hydrogen Energy', and a patent has been filed (patent no:202011035825).
Las Engineers and Consultants Pvt. Ltd (LECPL), a Mumbai-based company engaged in designing and building plants for the chemical, pharmaceuticals, and allied industries, are in the process of acquiring ARCI know-how for manufacturing this electro-catalyst.
According to Dr Tata Narasinga Rao, Director (Additional Charge), ARCI, this commercialization of indigenous electro-catalysts makes green hydrogen technology take off in India.
Dr R. Gopalan, Regional Director, ARCI-Chennai, feels that indigenous catalysts could reduce the dependence on imported electrocatalysts and would pave the way for "Atma Nirbhar Bharat".
Dr Raman Vedarajan, one of the inventors of the technology at the Centre for Fuel Cell Technology, ARCI-Chennai, feels that this development is vital for ensuring made in India durable polymer electrolyte membrane fuel cell stacks. Mr Santosh Tawari, Director of LECPL, said, "We are proud to be the industrial partner of ARCI for fuel cell component manufacturing.
"We share common goals of cleaner energy based on hydrogen, and the 'Make in India' initiative is a success in this field. Commercialization of ARCI know-how is expected to begin in the next quarter." Other applications for the platinum-based electro-catalyst are also being ventured.

It may be noted that Prime Minister Narendra Modi had launched the National Hydrogen Mission on India's 75th Independence Day (i.e. 15th August, 2021). The Mission aims at aiding the government in meeting its climate targets and making India a green hydrogen hub. This will help in meeting the target of production of 5 million tonnes of Green hydrogen by 2030 and the related development of renewable energy capacity.
Hydrogen and Ammonia are envisaged to be the future fuels to replace fossil fuels. Production of these fuels by using power from renewable energy, termed as green hydrogen and green ammonia, is one of the major requirements towards environmentally sustainable energy security of the nation. The Government of India is taking various measures to facilitate the transition from fossil fuel / fossil fuel based feed stocks to green hydrogen / green ammonia.
The policy provides as follows :
(i) Green Hydrogen / Ammonia manufacturers may purchase renewable power from the power exchange or set up renewable energy capacity themselves or through any other developer, anywhere.
(ii) Open access will be granted within 15 days of receipt of application.
(iii) The Green Hydrogen / Ammonia manufacturer can bank his unconsumed renewable power, up to 30 days, with a distribution company and take it back when required.
(iv) Distribution licensees can also procure and supply Renewable Energy to the manufacturers of Green Hydrogen / Green Ammonia in their States at concessional prices which will only include the cost of procurement, wheeling charges and a small margin as determined by the State Commission.
(v) Waiver of inter-state transmission charges for a period of 25 years will be allowed to the manufacturers of Green Hydrogen and Green Ammonia for the projects commissioned before 30th June 2025.
(vi) The manufacturers of Green Hydrogen / Ammonia and the renewable energy plant shall be given connectivity to the grid on priority basis to avoid any procedural delays.
(vii) The benefit of Renewable Purchase Obligation (RPO) will be granted incentive to the hydrogen/Ammonia manufacturer and the Distribution licensee for consumption of renewable power.
(viii) To ensure ease of doing business a single portal for carrying out all the activities including statutory clearances in a time bound manner will be set up by MNRE.
(ix) Connectivity, at the generation end and the Green Hydrogen / Green Ammonia manufacturing end, to the ISTS for Renewable Energy capacity set up for the purpose of manufacturing Green Hydrogen / Green Ammonia shall be granted on priority.
(x) Manufacturers of Green Hydrogen / Green Ammonia shall be allowed to set up bunkers near Ports for storage of Green Ammonia for export / use by shipping. The land for the storage for this purpose shall be provided by the respective Port Authorities at applicable charges.
In sum, the implementation of this Policy will provide clean fuel to the common people of the country. This will reduce dependence on fossil fuel and also reduce crude oil imports. The objective also is for our country to emerge as an export Hub for Green Hydrogen and Green Ammonia.
The policy promotes Renewable Energy (RE) generation as RE will be the basic ingredient in making green hydrogen. This, in turn, will help in meeting the international commitments for clean energy.