Modi Government Devises Special Measures to Encourage Doctors to Practice in Villages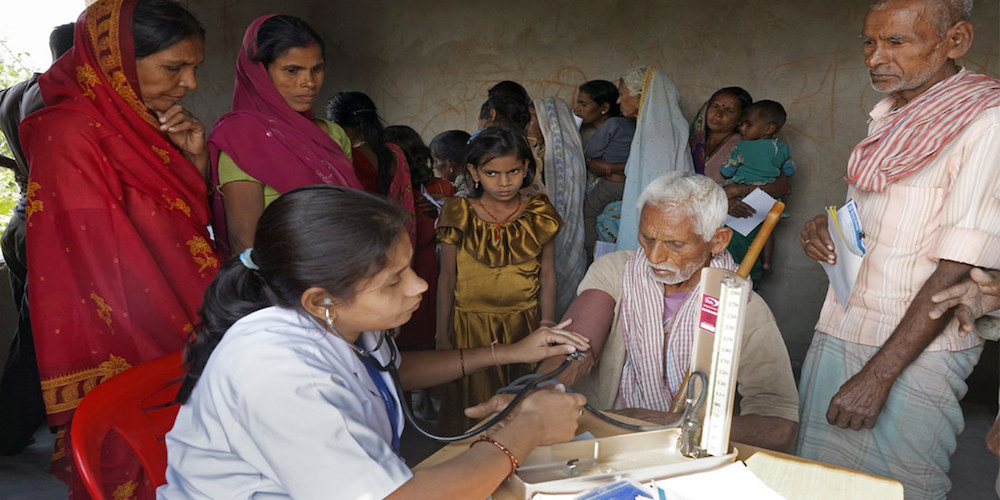 It is an unpalatable truth that despite Indian doctors proving themselves to be among the world's best, India is terribly short of doctors, given its huge population.
The World Health Organisation (WHO) says that there should be at least one doctor for every 1000 people in the world. But going by this norm, India may not have one doctor for 2000 people. This problem is all the more serious when one goes a little deeper. Most of the doctors and hospitals in India are urban-based. There are fewer hospitals and hardly any doctors in the villages where the overwhelming number of Indians live.
The need of the hour therefore is to have adequate infrastructure in the rural areas for a decent living, which, in turn, will attract the doctor to come and work in villages. Infra generally means good roads, transportation facilities, electricity, safe water, hospital, good school for kids in such cases. For e.g. if a village is 30 to 40 km from a city then people can travel easily from a city to village. Generally teachers or doctors who are posted in villages do not stay in villages but look for nearby better cities & commute from there daily. If road & public transport is of quality standard then it makes life easy. For a kid's education and health, they can access schools, hospital in cities. These facilities are generally not available in villages. So it is important that a nearby city which is in the range of 30 to 40 km can provide all these facilities.
Good facilities in rural India are a must to attract talent there. The doctors who are posted in rural areas can be given additional allowances for serving there. Give them advantage in next postings such as preferred locations. Building infrastructure for doctors to stay in semi urban locations – better housing/schools/facilities for kids will be another attractive feature for the doctors to work in rural areas.
However, the solution to the problem cannot be provided by the central government alone as "Public Health and Hospitals" is a State Subject. All the matters related to health system strengthening, including rural areas, lie with the respective State/UT Governments.
But, despite these constraints, the union government under the leadership of Prime Minister Narendra Modi came out with a scheme called "National Health Mission" (NHS) . Under this scheme, the Union Ministry of Health & Family Welfare provides financial and technical support to States/UTs to strengthen their healthcare systems, including support for recruitment of doctors based on the requirements posed by them in their Programme Implementation Plans (PIPs) within their overall resource envelope.

Under NHM, following types of incentives and honorarium are provided for encouraging doctors to practice in rural and remote areas of the country:
– Hard area allowance to specialist doctors for serving in rural and remote areas and for their residential quarters so that they find it attractive to serve in public health facilities in such areas.
– Honorarium to Gynecologists/ Emergency Obstetric Care (EmoC) trained, Pediatricians & Anesthetist / Life Saving Anesthesia Skills (LSAS) trained doctors is also provided to increase availability of specialists for conducting Cesarean Sections in rural & remote area.
– Incentives like special incentives for doctors, incentive for ANM(Auxiliary Nursing & Midwifery) for ensuring timely ANC(Ante Natal Checkups) checkup and recording, incentives for conducting Adolescent Reproductive and Sexual Health activities.
– States are also allowed to offer negotiable salaries to attract specialists including flexibility in strategies such as "You Quote We Pay".
– Non-Monetary incentives such as preferential admission in post graduate courses for staff serving in difficult areas and improving accommodation arrangement in rural areas have also been introduced under NHM.
– Multi-skilling of doctors is supported under NHM to overcome the shortage of specialists. Skill upgradation of existing HR is another major strategy under NRHM for achieving improvement in health outcomes.
– As per Section (51) of the NMC Act, 2019, the regulations of National Medical Commission of India provide for incentive of marks at the rate of up to 10% for each year service in rural/ remote/ difficult areas of the State and maximum up to 30% in NEET (PG) for admission to PG medical courses. Further, 50% medical diploma seats are reserved for the in-service medical doctors of the State Government who have served in remote and/ or difficult areas.