Helicopter Crash: The truth is sandwiched between Conspiracy Theories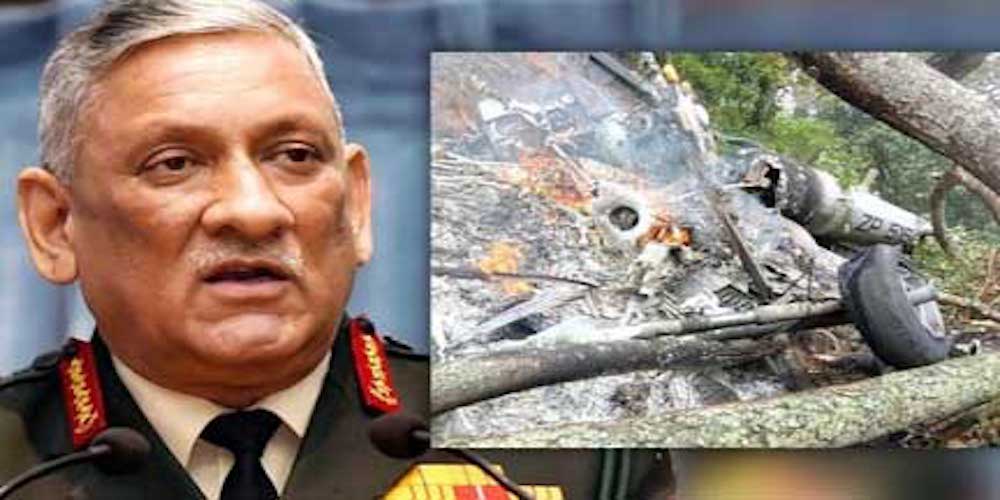 Whenever there is a crash involving senior military officers and VIPs, speculations are bound to pervade the prevailing strategic and political environment. Such speculations should be welcome. On most occasions, in my assessment, the people in general are more near the truth than the routine official versions.
The public input and assessment should not be rubbished as mere conspiracy theories, because the truth lies in between them. Technical failure, bad weather and pilot error are no longer the perfect alibi in such cases. The helicopter crash of the CDS Gen Bipin Rawat in which he and 13 others were killed is one such case. Official investigations are often hamstrung by institutional limitations, parameters and terms of reference. The sabotage angle, internal and international conspiracies and involvement, are too daunting to be investigated.
Countries therefore bury such suspicions and move ahead. This is true for countries like US as well. Russia and China, like the especially the latter has fine tuned this covert instrumentality of sabotage, internally and externally.
If someone believes that C-130 crash in August 1988 in which the Pakistani President Zia-ul-Haq was killed was an accident, then he or she may be considered far removed from the geopolitical realities of the time, as also the US strategic imperatives which were pernicious. The powers that nurtured and created Zia started treating him as monster. The CIA had begun to cultivate Zia when he was commanding a Pakistani brigade in Jordan. His elevation to Presidentship was manipulated. The US had been riled with Bhutto because he was secretly negotiating with the Soviets and had promised access to warm water ports in Pakistan. US actually felt relieved when Bhutto was hanged.
Zia's radical Islamic credentials were critical for the US to win the Cold War in the battlefields of Afghanistan. It was a compulsion that compelled the US to tolerate Zia's pursuit of Islamic nuclear bomb through clandestine means. This bomb had the potential to rewrite the geopolitical contours, which indeed it did, much to the detriment of the US. It was to give unprecedented boost to global jihadi terror and mothered proxy war against India and the subsequently the democratic regime in Afghanistan. In western perception Kashmir became a nuclear flashpoint.
In the C-130 crash the American ambassador to Pakistan Anrold Lewis Raphel was also killed.
World over, there was little doubt that it was a sabotage, not an accident, something the US could never acknowledge, nor could the Pakistani accomplices.
Zia's son, Ijaz-ul-Haq, who later became a federal minister, has explained in detail that the US exigency for killing Zia was such that three means were simultaneously employed to ensure the crash. He believes that nerve gas was sprayed in the cockpit of the C-130 to immobilize the pilots, explosives were planted in the mango crates, and the aircraft was targeted by projectile as well.
Such was the desperation to kill Zia that the Americans did not think much about sacrificing their ambassador. The ambassador's estranged wife, Robin Raphel, a known India baiter. She was later appointed as the Assistant Secretary of State. She was investigated in 2013 on the suspicion of being a Pakistani asset. Allegedly, she was the conduit for secret US documents to Pakistan. She was married to Anrold Lewis Raphel in 1972. The marriage lasted for ten years. The circumstances in which Zia was killed in the C-130 crash give an inescapable and uncanny feeling of conspiracy and foul play.
Facts can be manipulated, but not human feelings and human sixth sense.

In the aftermath of the C-130 crash in Pakistan the same routine reasons were advanced i.e. weather, pilot error and machine failure. Anybody who suggested otherwise attracted the label of 'conspiracy theorist' by the Pakistani and US establishment. The means employed to cause the C-130 crash as revealed by Zia's son Ijaz-ul Haq have uncanny parallels with the various speculations with regard to the M-17 crash in which he and his wife, along 12 others perished. There are speculations regarding the pilots being immobilized, or out of control of the aircraft, some claim that there was explosion inside, some claim that MI17 was brought down by the LTTE, and some ascribe it to the jihadis. None of speculations at this juncture can be ignored. There have been reports about some remnants of the LTTE finding shelter in the Nilgiris region.
Tamil Naidu and Kerala are being consumed by global jihad. More than three dozen Muslims from Kerala joined the Islamic State in Syria and Afghanistan.
I have personally witnessed Islamic radicalization in the Nilgiris way back in 1995, while undergoing the Defence Services Staff College in Wellington, where the helicopter crash has taken place. On a given Sunday I along with my better half traveled to Ooty on motorcycle, some 13 kms away, which we often did. On this particular day we chanced to pass by a public meeting of Mr LK Advani. Out of curiosity we stopped to hear his speech. Half way through the meeting, there was sudden storm of stone-pelting. Everybody ran helter-skelter, we somehow extricated ourselves and headed back for Wellington. En -route, in the town we came across several people soaked in blood. Later it emerged that it was a deliberate attack by the local Muslims to disrupt Mr Advani's meeting.
I was rather shocked that such salubrious environment could nurture such radicalized Muslims, but then Kashmir and Swat Valley in Pakistan are also salubrious. These are bottomless reservoirs of jihadis. As far as Nilgiris is concerned, jihadism has grown manifold in the last 25 years.
The authenticity conspiracy theories depends on the degree of intimacy with the tragedy. It is generally observed that the affected family has beliefs totally opposite of the official version. Ijaz-ul-Haq is convinced that his father was a victim of conspiracy, so are kith and kin of Lal Bahadur Shastri and Shyama Prasad Mukherji. Each one of these deaths/assassinations had massive geopolitical consequences. The CDS, Gen Bipin Rawat, was piloting defence restructuring which was to have tectonic strategic consequences for Pakistan, China and the arms lobby.
How is it the military heads of China's main adversaries i.e. Taiwan and India respectively were killed in the same manner i.e. helicopter crashes within a matter of two years? Both were killed amidst tense military standoff. Militarily both were at helm of momentous changes in their respective countries. The said Taiwanese military leader, Chief of General Staff ,Gen Shen Ye Ming was killed in Black Hawk helicopter crash in Jan 2020.
The French Aerospace company, THALES, issued a booklet on cyber attack by China on aircraft security systems. Boeing too has issued similar warnings, and the US Department of Homeland Security alerted helicopter pilots of possible cyber attacks by China.
We must realise that mode of Warfare has changed; the possibility of kinetic clash of the 71 war variety is becoming remote. Communist China has mastered the art of indirect warfare especially against India with its multiparty democratic system that creates its own set of vulnerabilities.
Given the intensifying geopolitical and strategic India-China rivalry, all conspiracy theories should be taken seriously, because between them, they share the truth about the fatal helicopter crash of Gen Bipin Rawat.
(This piece had first appeared in Indian Defence Review)