Observations during visit to Nagaland and Implications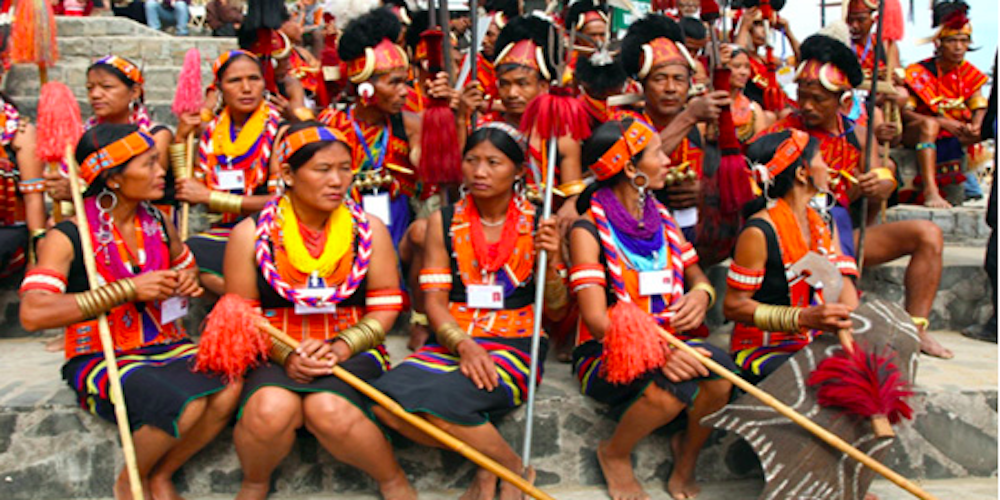 This article shares observations based on visit to Nagaland, views of retired faujis and refers to legacy issues like Article 371 (A). India has more enemies within. Nagaland is in the news because of the killing of a Special Forces fauji from Tehri and locals in the first week of December 2021. I visited Nagaland in December 2014 for the Hornbill Festival. Since I was in Manipur for the Sangai Festival, took a Tempo Traveler at 6.30 am and hoped to reach by 10 am in time for festival inauguration by Prime Minister Modi. Enroute stopped for tea. Saw this hoarding 'Mao Baptist Church, Kalinamei'. A man from West Virginia Baptist Convention was to give a talk on January 16-18, 2015. I wondered why this respected man from the U.S. had to come all the way. Met some Bihari vegetable vendors and moved on.
Our ride was stopped, about one hour before Kohima, due to a road block by protestors. Determined to reach we jumped into a army truck, called the driver of our host who was nice enough to pick us up from where the truck dropped us. We reached the festival just in time. We spent four days at the festival. Great opening, lovely dance-organization and tribal costumes. Here are observations– 1. Tribal identity was very strong even though tribes had converted to Christianity.
Met some Bihari Hindus who expressed anguish at the way Hindus were treated in Christian majority Nagaland. At an evening party was told that Nagas do not pay income-tax because they are tribals. Later on got to know, according to section 10 (26) of the Income-Tax Act (excerpts), "A member of a Scheduled Tribe, as defined under clause 25 of article 366 of the Constitution, who resides in the States of Arunachal Pradesh, Manipur, Mizoram, Nagaland and Tripura is exempt from paying income-tax on any income which accrues or arises to him in these States." Wish I lived in Nagaland as a tribal. I recalled this media report of a Bihari based businessman who flew into Nagaland from Haryana with 3.5 Crs of old notes post demonetization.
At the festival met a pizza stall owner from Lucknow who had married a Naga girl and stayed in Kohima. Asked him if he paid money to insurgent groups. He said YES. And added he paid money to different insurgent groups, the negotiations were carried out by his wife. Later on got to know that most Nagas paid money to insurgent groups, a sort of tax.
In Manipur learnt that whenever the Naga groups had a grouse against the Central government they would block the highway from Dimapur in Nagaland to Imphal in Manipur. This would lead to a crisis in Manipur since the highway is its lifeline. The Hornbill Festival is devoted to the cultural activities of Nagaland's tribes. It was created by the Nagaland government to promote inter-tribal cooperation. People from several tribes gather to rejoice. The festival is held at a Heritage Village i.e. organised tribe wise. Every tribe has a typical house that belongs to the tribe. Super festival must visit. Lots of home stays in Kohima.
In Kohima, hardly found any 2 wheelers unlike Imphal (plains). As a tourist, thought that Nagas must be very well-off to own 4 wheelers in such large numbers. During the festival saw some tribes with weapons. Was told it is a local sword called Dao.
It gets dark very soon in the winters and very cold too. Security Forces can tell if the Dao is good enough to kill. Await report of state government appointed Special Investigation Team and Indian Army Press Release on what transpired that evening which led to deaths.

Some more observations
Post the current incident, a recently retired fauji who had worked in the region told me, "Nagaland insurgency is based on collection of revenue. It is no longer ideological. They have their own government so can't say we are being ruled. The revenue collected by the terrorist is more than Rs 10,000 crores so one can understand why it is continuing."
"Nagaland is divided into three parts the developing Nagaland, backward areas and the Manipur eastern Nagaland i.e. badly off in terms of facilities and welfare. The National Social Council of Nagaland-Isak Muivah (NSCN IM) is controlled by the Manipur nagas and is under ceasefire. The NSCN Khapling is not under ceasefire and carries out operations against the Indian Army."
"There is peace in Nagaland but the terrorists don't want to let go the easy money. All these calls for separate construction flag are put in deliberately to derail the peace process. A common Naga is very much Indian and a peaceful person."
A retired fauji who had worked in region during the 1990s says, "Between 1992 and 1996, I remember the following major incidents in Manipur, mostly Ukhrul Distt (Northern Manipur but inhabited mostly by Nagas). One, looting of a pay convoy of Assam Rifles (AR). Two, ambush on a convoy each of KUMAON & ASSAM battalion leading to martyrdom of 30 plus in each case. They were cut with kukries and weapons taken away, after the ambushes. Martyrdom of Maj Bakshi, ex NDA 43 Course, just outside his coy post as he stepped out with another AR officer, in the heart of Ukhrul. While troops of 20 AR ineffectually fired on the village, next day the CO of the unit distributed milk powder etc. to the villagers to pacify…."
Hope the Indian Army shares an official press release on what happened, how many faujis died and critically injured. If we do not share the truth with the people of India and take a balanced view, it shall effect the morale of those fighting India's battle against terror. Some are asking for repeal of the AFSA (Armed Forces Special Act in effect since 1958). If the situation could be handled by local police, why would the Army be there in the first place? Situation in every state is different (Punjab, Nagaland). When AFSA was removed in Tripura, there was a clamour to remove in Jammu and Kashmir when situation in each state was as different as chalk and cheese (read my 2015 article)
Few know about Article 371 (A) (13th amendment act 1962) w.r.t. Nagaland. Briefly it says, "It stipulates that no act of Parliament on (i) religion or social practices of Nagas, (ii) Naga customary law and procedure, including administration of justice under it and iii) ownership and transfer of land and its resources would apply to the State unless the State Legislative Assembly so decides etc."
Art 371A is a legacy of the past. Has it prevented private investment in Nagaland? What is the revenue generated by the state? Who is going to fund the state's development and create jobs locally? Hope Courts keep out of this. Issues arising from Art 371A can be resolved through give and take. We are in 2021, this article belongs to around 1960. The world has changed since then.
More Indians should know about one, the violent Naga conflict for decades and two about Nagaland. For the latter more need to visit Nagaland so there is a better understanding of issues involved. India's problem is more about the enemies within than those outside the country. Some want the Centre to be pro-occupied with internal problems. Will India overcome latest challenge?