Now IVF of buffaloes to improve cattle wealth in the country and raise farmers' income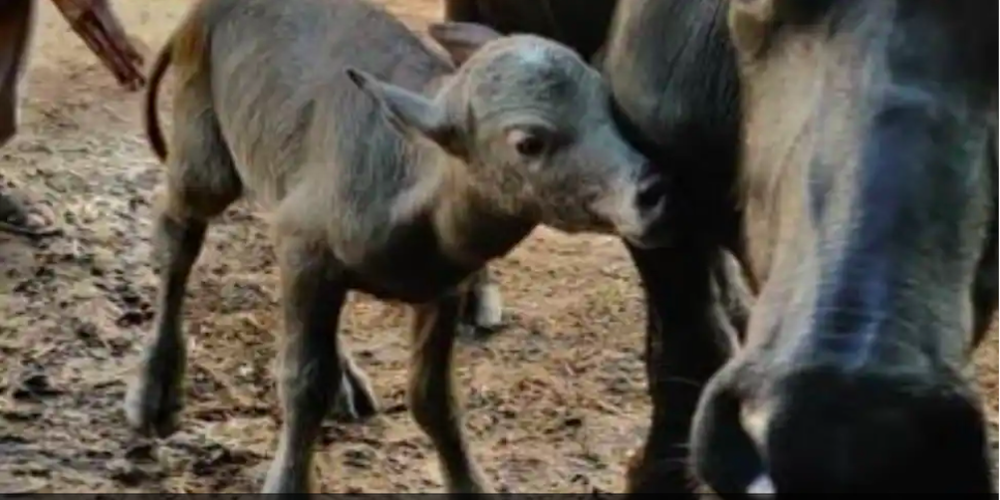 Last week witnessed India's first IVF calf of Banni buffalo breed being born at a farmer's house in Gujarat's Gir Somnath district. The process was carried out to enhance number of genetically superior buffaloes to increase milk production.
With the birth of first IVF Banni, India's OPU – IVF work has reached to next level. This first IVF Banni calf was born out of 6 Banni IVF pregnancies established at the doorsteps of a farmer, Vinay . L. Wala of Sushila Agro farms, located at Dhanej in Somnath district of Gujarat.
The scientists aspirated 3 Banni Buffaloes of Sushila agro farms of Vinay. L. Wala of Dhanej. They subjected 29 oocytes (egg cells) to intervaginal culture device (IVC) from these three Banni buffaloes. Total 20 oocytes from one of them were subjected to IVC.
In fact, 20 oocytes from one donor resulted in 11 embryos. Embryo transfer (ET) was done with 9 embryos, which resulted in 3 IVF pregnancies. Total 5 Oocytes from second donor resulted in 5 embryos (100 %). Of five embryos, four were selected for the ET which resulted in 2 pregnancies. From the 4 oocytes of the third donor, 2 embryos were developed and the embryo transfer resulted in one pregnancy.
Overall, 18 embryos were developed from 29 oocytes (62% BL rate). The ET of 15 embryos resulted in 6 Banni pregnancies (40 % Pregnancy rate). Of these 6 pregnancies, the very first IVF Banni Calf is born today. This is the first Banni Buffalo IVF calf in the country.
Both the government and the scientist fraternity see a great potential in the field of IVF of buffaloes and are striving hard to improve cattle wealth in the country.
The Birth of the Banni Buffalo calf would open up doors for the mass production of rare Banni Buffalo, which can withstand extreme weather conditions, survive in the water-scarce atmosphere and produces 16 litres of good quality milk in a day.

Last year Prime Minister Narendra Modi had expressed his desire to promote the Banni Buffalo of Gujarat region among farmers to increase their income. During his visit to the Kutch region of Gujarat on December 15 last year, the Prime had mentioned the success of Banni Buffalo farms and said it was giving a big return to the farmers.
The very next day, i.e. December 16, 2020, Ovum Pick-Up (OPU) and aspiration processes for the in vitro fertilization (IVF) of Banni Buffaloes were planned.
Banni buffaloes are also known as "Kutchi" or "Kundi". The breeding tract includes the Banni area of Kutchchh district of Gujarat. The breed is maintained mostly by the community of Maldharis under locally adapted typical extensive production system in its breeding tract.
Banni buffaloes are trained to graze on Banni grassland during night and brought to the villages in the morning for milking. This traditional system of buffalo rearing has been adapted to avoid the heat stress and high temperature of the day.
Banni buffalo has unique qualities of adaptation such as the ability to survive water scarcity conditions, to cover long distances during periods of drought and disease resistance.
Banni buffalo is mostly black in colour. Copper coloured animals are also seen. Forehead is elongated and straight with no slope towards horn base. Horns are tightly coiled vertically with single to double coiling. The body is medium to large, compact and generally covered with hairs. Dewlap is absent and naval flap is medium. Udder is well developed, round in shape and squarely placed. The hind and fore quarters are uniformly well developed, whereas typically whole udder looks like four equal divisions with teats well attached to each quarter. Majority of animals have conical teats with round and pointed tips.