Developing India's Aerospace Power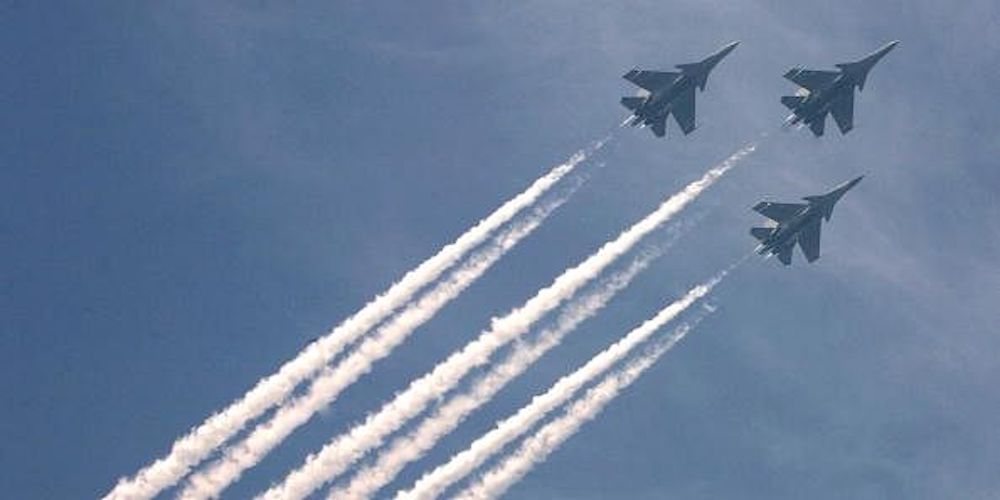 With the Indian Space Research Organisation (ISRO) now sharing or collaborating with private players, will it shed its hesitance to join hands with the Indian Air Force(IAF) more actively towards the augmentation of what is said India's "Aerospace Power"?
Prime Minister Narendra Modi on October 11 launched the Indian Space Association (ISpA) – the premier industry association of space and satellite companies.
He said: "Today is the day the Indian space sector receives new wings. For 75 years since independence, Indian space has been dominated by a single umbrella of Indian government and government institutions. Scientists of India have made huge achievements in these decades, but the need of the hour is that there should be no restrictions on Indian talent, whether it is in the public sector or in the private sector. In a way, the country has given a new gift to the talent of India's entrepreneurs by opening up India's space sector in its 75th year of independence. Let this collective power of India's population take the space sector forward in an organized manner. The Indian Space Association (ISpA) will play a huge role in this."
ISpA aims at contributing to the Government of India's vision of making India "Atmanirbhar" (self-reliant) and a global leader in the space arena, which is fast emerging as the next growth frontier for mankind.
The association is supposed to engage with stakeholders across the ecosystem for the formulation of an enabling policy framework that will also work towards building global linkages for the Indian space industry to bring in critical technology and investments.
Its founding members include Bharti Airtel, Larson & Toubro, Nelco (Tata Group), OneWeb, Mapmyindia, Walchandnagar Industries and Alpha Design Technologies. Other core members include Godrej, Hughes India, Ananth Technology Limited, Azista-BST Aerospace Private Limited, BEL, Centum Electronics, and Maxar India.
According to ISRO, the current size of the global space economy stands at about USD 360 billion. However, India accounts for only about 2% of the space economy with a potential to capture 9% of the global market share by 2030. This needs to change.
And here comes the role of the IAF in safeguarding the space economy, among other reasons. With the increasing private sector activities in space, such as the launching of commercial satellites, introduction of 'space tourism', asteroid mining of minerals and a range of other fascinating stuff, these space-assets of the country need protection from the enemy forces.
This explains why many countries have been creating their respective "space forces". The US created one in 2019, with the space force becoming a new military branch to protect the nation's satellites and other space assets, which are vital to everything from national security to day-to-day communications. The United Kingdom, France, Canada and Japan are said to be following suit.
Last month, Germany announced the development of a military space command. China's "Strategic Support Force", established in 2015, takes care of its space assets. And Russia since 2015 has had dedicated "Russian Aerospace Forces".
It is against this background that Prime Minister Modi had in 2018 announced the government's intention to create the Defence Space Agency (DSA) by integrating space assets from the army, navy, and air force. It was formally set up in 2019 with a staff of some 200 officers drawn from the three services, commanded by an air force officer. It took over the Defence Imagery Processing and Analysis Centre and the Defence Satellite Control Centre.
In fact, the DSA conducted its first integrated space warfare exercise in July 2019, bringing together personnel from across the services. It "focused on using communications and reconnaissance satellites to integrate intelligence and fires across the range of Indian military assets, indicating a firm understanding of the necessity of access to space."
However, the DSA is still a work in progress. It is yet to become fully operational. It is to be located in Delhi and supposed to work closely with the Defence Research Development Organisation (DRDO) and ISRO to integrate military assets, surveillance platforms such as the AWACS and AEW&C and commercial and military satellites for intelligence sharing across all three services.

It may be noted that satellites are vitally important to modern warfare as they are a key communication link for ground, sea and airborne assets, which require sufficient data for voice and data communication. The DSA, therefore, is also expected to play a greater role in enunciating the planned polices for space based assets, allowing Indian agencies and companies to work towards meeting these requirements.
A 2016 report on 'Exploiting Indian Military Capacity in Outer Space' by Centre for Joint Warfare Studies (CENJOWS), states that while indigenous satellites provide adequate capability, "but despite these, India does not get uninterrupted observation of the interested area which is possible only if India launches constellation of satellites for observation which is an emerging trend."
However, it did not mean that India never had dedicated satellites for military purposes before. India had created an "Integrated Space Cell" in June 2008 under the command of the Integrated Defence Services Headquarters with the responsibility to coordinate activities of ISRO and the Indian Armed forces. By 2017, India had reportedly some 14 satellites that were being used for surveillance purposes. This number must have gone up by now, with the country developing ASAT (Anti-satellite) capability, though it is said to be in a nascent stage.
Besides, India's National Technical Research Organization (NTRO), which is controlled by the Research and Analysis Wing, India's premier intelligence agency, makes extensive use of IRS (Indian Remote Satellites), RISAT (Radar Imaging Satellites) and CARTOSAT (optical earth observation satellites) data to aid it building a comprehensive intelligence picture.
All this makes it clear why the Indian government has now realised the need for integrating space assets and capabilities. But, the IAF had realised this very well by publishing in 2012 "Basic Doctrine of the Indian Air Force, 2012". In it, the IAF repeatedly mentioned of "air and space power". The doctrine was not talking of "air power" in isolation of "space power"; it talked of "aerospace power".
However, the problem has been that while the IAF has been very clear that it has an aerospace role and in this task it needs help of the ISRO, the latter has not been that enthusiastic to join hands, at least publicly. As India is a signatory to the international treaty that outlaws military activities (Outer Space Treaty) in space, a common property of the mankind, the ISRO seems to have taken a too legalistic view of abhorring the IAF.
But then the fact is that the Outer Space Treaty has been the subject of diplomatic wrangles over the precise definition of space weapons, other than nuclear weapons. Besides, there has been no transparency on the part of major world powers in keeping the outer space free from military activities, with the result that one hears concepts like "Star Wars" (Strategic Defence Initiative) by the US and anti satellites (ASAT) by Russia. In any case, it is a fact that the US and its allies have used space resources extensively in fighting recent wars in Iraq and Afghanistan.
All told, contrary to the conventional wisdom, aerospace power of the IAF will protect the space tools like satellites that are used by the ISRO to augment the country's economic and scientific power. And this will be possible when there is the capacity to destroy the adversary's space weapons, based in space, air, land and water.
Secondly, developing aerospace power does not necessarily mean that there will be war. In most of the cases, augmented power or strength will ensure that the enemy will not dare to attack you.
Instead of being a frontier now, space complements air power in numerous missions as an enabler. That is why analysts say that air and space should be complementary components of defence so that they compensate for each other's inadequacies in maintaining surveillance of the vertical dimension and in countering threats from systems like ballistic missiles that transit and manoeuvre through both air and space. They must be integrated so that diverse and yet potent elements of air and space are networked adequately.
Now that the space sector is being opened up by the Modi government, it is hoped that such a network will be a reality, sooner rather than later.
(This piece first had appeared in Eurasian Times)