Bengaluru's Billionaire Barber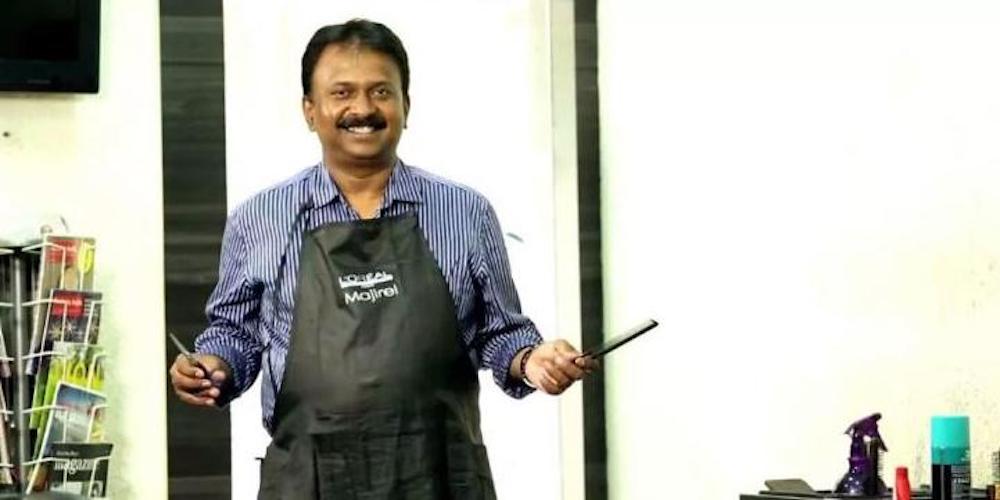 He could well be the richest barber in the country. But G Ramesh Babu charges only Rs.75 for a haircut.
He has his salon at the famous Bowring Institute on St. Mark's Road in Bengaluru, one of the oldest clubs in the city.
The 40–plus hairstylist may not be attending more than 5 or 6 customers a day, working in two shifts of 2-3 hours each, morning and evening. But what he does in between the two shifts is the stuff fairy tales are made of.
During this interregnum, he goes to a different office as CEO of a large car rental company that owns a fleet of luxury cars, including a dazzling Rs.3.3 crore Rolls Royce, and a range of Mercs, BMWs, Audis, Volkswagens, and Innovas.
His company, Ramesh Tours and Travels Private Limited, owns a total of 127 cars and has on its rolls around 120 employees. Most of them are drivers who draw a monthly pay of not less than Rs.14000, with additional overtime incentives.
Today, Ramesh Tours & Travels runs in Delhi Chennai, Bengaluru successfully and the entrepreneur hopes to conquer Vijaywada and Hyderabad next.
Babu started his business in 1994 and he is now a Billionaire.
For Babu, life was not always perfect; indeed, his has been an awe-inspiring journey.
He was born up in a poor family in Bengaluru. His father was a barber in Bengaluru. Babu was just 7 when his father passed away following a massive heart-attack.
He was in the second standard when his father passed away he might a massive heart attack. Babu was then just 7 year old.
His father left behind was a saloon business or rundown small Barber Shop on Bridged road, Bengaluru. And to run the family, his mother had to work as a servant.
Babu, it is said, grew up on one meal a day. He has one brother and one sister. His mother could not run the barbershop; she rented it out for Rs.5 a day.
Ramesh Babu took up different odd jobs to make a little extra money. He started part-time newspaper delivery work, milk bottles supplying and whatever else was convenient to support his family at the age of 13.
He continued his studies while supporting his family. Somehow, he finished his tenth standard study. He has one son and two daughters.
The "Turning Point" for Babu came in 1989, when he decided to run his fathers' Barber Shop himself to support his family.
From his uncle, he took over the saloon, named "Inner Space" and began working at the salon with no resources except the determination to succeed.
Encouraged by his mother, Ramesh Babu joined a diploma course in electronics and obtained a diploma in electronics. He was getting up early in the morning and he opened saloon early morning at 6 o'clock. Then, at 10 o'clock, Ramesh was going to college and again come back in the evenings open until midnight 12 to 1 O'clock.

He always dreamt of owning a car and passionate about fancy cars. In 1993, he bought a Maruti Van (Omni) car from his little savings and own hard-earned money with the help of his uncle. But it was not enough . He needed a bank loan. His grandfather had to mortgage his family house to enable the car loan.
He got a car loan from the Karnataka State Finance Corporation, which was the only bank, which is to give loans those days after buying the car and he thought to keep it for his first self-use.
As luck would have it, Babu became an entrepreneur with this car only. A lady named Nandini Akka, in whose house his mother used to work and who was working in Intel Corporation, asked him to rent out his Maruti van.
And this was how it all began. The first company he rented his car was Intel Corporation because Nandini helped arrange. By 2004, he started adding more cars to the fleet and had six cars all engaged in the same business.
As he slowly but steadily gathered a sizeable customer base, gradually, the car rental drew in customers from the tourism and travel industry. Between 1994 and 2004, with the help of Karnataka State Finance Corporation, Ramesh Babu bought seven more cars and his car rental business now known as Ramesh Tours and Travels.
Subsequently, Babu received a proposal from Mercedes India to buy a model in the mid-2000s. He saw an opportunity in this proposal. He put together his all savings and raised the rest of the amount through a Karnataka State Finance Corporation bank loan.
In 2004, Ramesh thought of getting into the luxury car segment and bought Mercedes E-Class luxury sedan for 38 Lakh. He bought Mercedez Benz for Rs 4.2 million.
While taking these big risks, baby did not leave his saloon. In between, it was with the earnings from his saloon that he went to Singapore to learn hair cut & hairstyling and did a course with Toni & Guy.
In 2011, Ramesh Babu bought another luxury car, Rolls Royce. He mortgaged his wife's jewellery and went almost bankrupt. People told him to sell all expensive and luxury cars, but he kept trying and one and half years later Ramesh finally managed to succeed again.
Today, Ramesh Babu boasts a fleet of 400+ mini-buses, vans, and vintage cars including imported vehicles-Mercedes C, E and S class, Contessa, a highly prized Rolls-Royce Silver Ghost, Audi, Jaguar Land Rover, and BMW 5, 6 and 7 series. He has a fleet of imported Toyota mini-buses and Mercedes vans.
Ramesh Babu's entrepreneurial journey is nothing less than an inspiration, indeed.