SC Bars Withdrawal Of Criminal Prosecution Against MPs/MLAs Without Permission Of High Court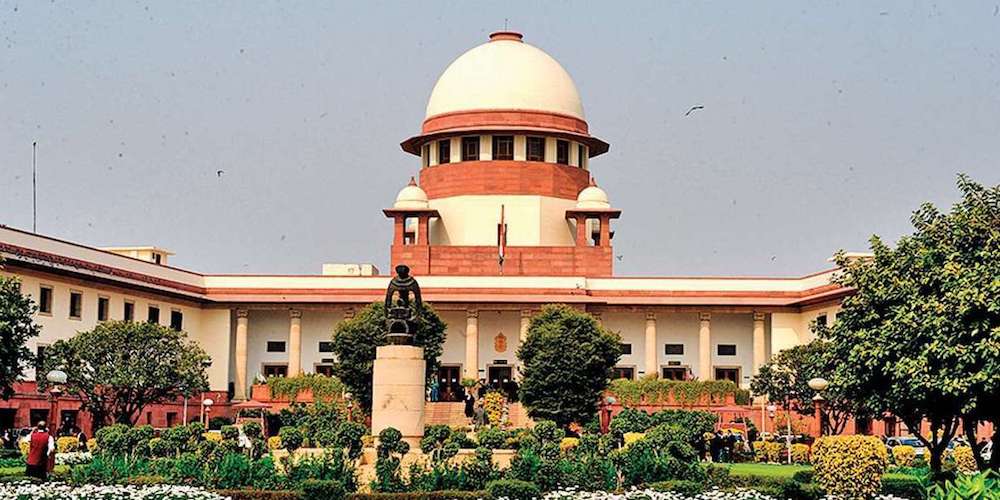 In one of the best decision ever made by the Apex Court at least to the best of my knowledge in my lifetime, it is most righteous, most rational, most reassuring, most remarkable and most refreshing to learn that the Supreme Court has in a learned, laudable, landmark and latest judgment titled Ashwini Kumar Upadhyay vs Union of India & Anr in Writ Petition(s) (Civil) No(s).699/2016 that was pronounced on 10 August, 2021 has directed that no prosecution against sitting or former MPs and MLAs will be withdrawn without the permission of the High Court of the concerned state. The Court further directed that Judges hearing the criminal cases against MPs/MLAs in Special Courts should continue in their current posts until further orders of the Supreme Court. This direction will be subject to the retirement or death of the Judges holding the trial of cases against legislators. It must be also apprised here that the Bench comprising of the Chief Justice of India NV Ramana, Justice Vineet Saran and Justice Surya Kant which has authored this cogent, commendable, courageous and composed judgment had issued the direction while hearing the plea filed regarding the pendency of criminal cases against MPs and MLAs and expeditious disposal of the same by setting up of Special Courts.
To start with, it is first and foremost pointed out in this extremely brilliant, brief, bold and balanced judgment that, "The Court is convened through Video Conferencing. At the commencement of hearing, Mr. Tushar Mehta, learned Solicitor General appearing on behalf of the Union of India seeks further time to comply with the directions passed by this Court on 10.09.2020, 16.09.2020, 06.10.2020 and 04.11.2020 regarding filing of Status Report regarding pending cases against the legislators(sitting or former)."
As we see, the Bench then observes that, "Finally, two weeks' time is granted to the learned Solicitor General to file response/affidavit in compliance of the directions given by this Court vide orders dated 10.09.2020, 16.09.2020, 06.10.2020 and 04.11.2020 with a copy in advance to the learned amicus curiae within ten days. We have heard Mr.Vijay Hansaria, learned amicus curiae, Mr. Tushar Mehta, learned Solicitor General as also the learned counsel for the parties."
Truth be told, the Bench then envisages in the next para that, "At the outset we may note that the learned Amicus has filed his 13th Report dated 09.08.2021. The Report, inter alia, addresses various concerns which are broadly indicated as under:
(I) Misuse of the Prosecutor's power to withdraw cases under Section 321, Cr.P.C.
(II) Continuity of tenure of Judicial Officers
(III) Jurisdiction of Special Court (M.P./M.L.A.) to try cases against legislators elected from other States
(IV) Jurisdiction of Special Courts with respect to cases triable by Magistrates
(V) Trial of cases where an M.P./M.L.A. is the complainant
(VI) Safe and secure witness examination facility."
As it turned out, the Bench then enunciates in the next para that, "We are inclined to address the first two issues by this order as these issues are of immediate concern and may be easily disposed of. It may not be out of context to state that issues no. 3 and 4 give rise to substantive question of law which may require some elaborate arguments, which will be taken up on a subsequent date."
Misuse of Prosecutor's Power u/s 321 of Cr.P.C.
Quite significantly, the Bench then remarks in the next para that, "Learned amicus has drawn our attention to various instances across the country, wherein various State Governments have resorted to withdrawal of numerous criminal cases pending against M.P./M.L.A. by utilising the power vested under Section 321, Cr.P.C. It merits mentioning that the power under Section 321, Cr.P.C. is a responsibility which is to be utilized in public interest, and cannot be used for extraneous and political considerations. This power is required to be utilized with utmost good faith to serve the larger public interest. Recently, this Court in State of Kerala Vs. K. Ajith, (2021) SCC Online SC 510, held as under:
"The principles which emerge from the decisions of this Court on the withdrawal of a prosecution under Section 321 of the CrPC can now be formulated:
(i) Section 321 entrusts the decision to withdraw from a prosecution to the public prosecutor but the consent of the court is required for a withdrawal of the prosecution;
(ii) The public prosecutor may withdraw from a prosecution not merely on the ground of paucity of evidence but also to further the broad ends of public justice;
(iii) The public prosecutor must formulate an independent opinion before seeking the consent of the court to withdraw from the prosecution;
(iv) While the mere fact that the initiative has come from the government will not vitiate an application for withdrawal, the court must make an effort to elicit the reasons for withdrawal so as to ensure that the public prosecutor was satisfied that the withdrawal of the prosecution is necessary for good and relevant reasons;

(v) In deciding whether to grant its consent to a withdrawal, the court exercises a judicial function but it has been described to be supervisory in nature. Before deciding whether to grant its consent the court must be satisfied that:
(a) The function of the public prosecutor has not been improperly exercised or that it is not an attempt to interfere with the normal course of justice for illegitimate reasons or purposes;
(b) The application has been made in good faith, in the interest of public policy and justice, and not to thwart or stifle the process of law;
(c) The application does not suffer from such improprieties or illegalities as would cause manifest injustice if consent were to be given;
(d) The grant of consent sub-serves the administration of justice; and
(e) The permission has not been sought with an ulterior purpose unconnected with the vindication of the law which the public prosecutor is duty bound to maintain;
(vi) While determining whether the withdrawal of the prosecution sub-serves the administration of justice, the court would be justified in scrutinizing the nature and gravity of the offence and its impact upon public life especially where matters involving public funds and the discharge of a public trust are implicated; and
(vi) In a situation where both the trial judge and the revisional court have concurred in granting or refusing consent, this Court while exercising its jurisdiction under Article 136 of the Constitution would exercise caution before disturbing concurrent findings. The Court may in exercise of the well-settled principles attached to the exercise of this jurisdiction, interfere in a case where there has been a failure of the trial judge or of the High Court to apply the correct principles in deciding whether to grant or withhold consent."
Most significantly, what forms the real cornerstone of this extremely commendable, courageous, cogent, creditworthy, composed and convincing judgment is then stated henceforth in the next para wherein it is most aptly stated that, "In view of the law laid down by this Court, we deem it appropriate to direct that no prosecution against a sitting or former M.P./M.L.A. shall be withdrawn without the leave of the High Court in the respective suo-motu writ petitions registered in pursuance of our order dated 16.09.2020. The High Courts are requested to examine the withdrawals, whether pending or disposed of since 16.09.2020, in light of guidelines laid down by this Court."
It cannot be lightly dismissed that the criminal cases which are pending against sitting and former MPs and MLAs have registered a 17% jump in less than two years which is a clear pointer to the deep, dark, degrading and dangerous nexus of politics with crime and all this notwithstanding the Supreme Court's five year endeavour to speed up the trials which are long delayed on account of the money, muscle and myriad powers of the elected representatives. The Supreme Court was informed that despite strict monitoring and directions, the number of pending cases against MPs and MLAs increased from 4,122 cases in December 2018 to 4859 in September 2020 On the same day that this ruling was pronounced we saw that another Bench of the Apex Court comprising of Justice Rohinton Fali Nariman and Justice BR Gavai had warned that the nation is "losing its patience" in waiting for lawmakers to cleanse politics by making stronger laws to keep out those with criminal antecedents. Nine parties including the BJP, Congress, JD(U) and RJD have been held guilty of contempt for incomplete disclosure on candidates ahead of 2020 Bihar elections and eight of them also fined. The BJP, Congress, RJD, Janata Dal (U), CPI and Lok Jan Shakti Party were fined Rs 1 lakh for partial non-compliance. Two other parties – CPI(M) and NCP – were found to be in total non-compliance and were fined Rs 5 lakh each for total non-compliance. There were 427 candidates in Bihar State Assembly elections with criminal background. RJD figured on top with 104 candidates with criminal cases pending against them and BJP had 77 such candidates, Congress had 64, LJP had 52, JD(U) at 49 and BSP at 37! In UP, 143 MLAs had criminal cases pending against them with BJP at 114, SP at 14, BSP at 5 and Congress with one. Out of 143 such MLAs in UP there were 105 MLAs against whom cases were registered for heinous offences under various Sections.
Continuity of Tenure for Judicial Officer
Back home, the Bench then further goes on to add in the next para that, "This Court vide order dated 16.09.2020 had recorded the submissions of the learned amicus curiae as under: –
"The High Courts would designate a judicial officer for all such cases, who shall try these cases on priority basis. The judicial officer can be allotted other work depending on the workload, number and nature of criminal cases against MPs/MLAs. The judicial officer so designated shall have continuity of tenure for a minimum period of two years."
Furthermore, the Bench then states in the next para that, "It may be noticed that during the intervening period, we faced a pandemic which scuttled many Courts in effectively conducting trials, or recording evidence or hearing applications. In this context, the Registrar Generals of all High Courts are directed to furnish the following information in form of the following table :
NAME OF THE JUDGE PLACE/COURT OF POSTING DATE OF PRESENT POSTING NO. OF DAYS/YEARS IN THE PRESENT POSTING NUMBER OF CASES DISPOSED DURING CURRENT POSTING NUMBER OF PENDING CASES BEFORE HIM/HER (DETAILS) STAGE OF PENDING CASES (DETAILS) DETAILS OF ORDERS/ JUDGMENTS RESERVED
Adding more to it, the Bench then further directs that, "In the meanwhile, to ensure expeditious disposal of pending cases, it is necessary for this Court to direct the officers presiding over Special Courts or CBI Courts involving prosecution of MPs or MLAs to continue in their present posts until further orders. This direction, barring transfer of Judicial Officers, will be subject to their superannuation or death. If any further necessity or emergency arises, the Registrar General of the High Courts are at liberty to make an application before us for retention or to relieve those officers."

Going ahead, the Bench then states in the next para that, "List the matter on 25.08.2021 for arguments on other issues indicated above. In the meantime, the Registry is directed to serve copies of the IAs immediately to the learned amicus curiae, which have been filed recently and not been served to him."
Finally, the Bench then holds in the last para that, "Liberty is granted to Ms. Kamini Jaiswal, learned counsel appearing on behalf of the applicant in I.A. Nos. 51582/2021, 51586/2021 and 51587/2021 in WP (C) No. 699/2016 to make request to the High Court of Gujarat to adjourn the case which is stated to be listed for hearing on 23.08.2021."
It is a matter of utmost grave concern that the amicus curiae Mr Vijay Hansaria highlighted a disturbing trend of state governments attempting to withdraw cases against their party MPs and MLAs, even those booked for serious offences. It would be pertinent to note that the amicus curiae had proposed to the Apex Court that State governments should be allowed to withdraw cases against former or sitting legislators only after the relevant high court's approval. The suggestion was made by the amicus curiae in a petition relating to fast-tracking of criminal trials against sitting and former Member of Parliament and Legislative Assemblies (MPs/MLAs).
Not just this, he has also submitted a report painting a dismal picture of the status of trial against elected representatives. The report noted four instances wherein the state governments had issued orders to end criminal cases against politicians by using its power under Section 321 of the CrPC. This provision allows a public prosecutor in charge of a case to move a request before the Trial Judge for permission to withdraw further prosecution of a case. If the Trial Judge accepts the request for withdrawal of prosecution, the accused stands discharged (if charges not framed) or acquitted in respect of that particular offences. He said the Uttar Pradesh government has sought to withdraw 76 cases against elected representatives, including the Muzaffarnagar riot cases against Sangeet Som, Kapil Dev, Suresh Rana and Sadvi Prachi. He cited the news report that the "government of Uttar Pradesh is seeking to withdraw prosecution of Sangeet Som, MLA from Sardhana (Meerut)…Suresh Rana, MLA from Thana Bhawan Assembly…Kapil Dev, who represents the Muzaffarnagar Sadar seat in the Assembly and…political leader Sadhvi Prachi".
But why talk just about UP alone and about the present dispensation alone? This has been happening on a regular scale in different states unabated, unchecked and unaccounted for! In Karnataka, the state government in an order dated August 31, 2020 decided to withdraw 61 cases, many of which were against elected representatives of the State Legislature. Another news report on the Maharashtra government's decision to withdraw political cases against activists registered before December 31, 2019 was also cited. The amicus curiae said the news report stated that on March 14, 2016, the government issued an order that allowed withdrawal of similar cases registered between May 2005 and November 2014. In Uttarakhand, the amicus said that an application had been filed for withdrawing a murder case against sitting MLA Rajkumar Thukral.
Needless to say, whichever party comes to power, it tries its best to help all those elected representatives of their party or parties which are in alliance with them against whom cases are pending in courts! This alone explains why the Apex Court had to step in when it was faced with a PIL filed by eminent Supreme Court lawyer Ashwini Kumar Upadhyay through his high-profile lawyer Vikas Singh who is not just an eminent and senior lawyer of the Supreme Court but is also the President of Supreme Court Bar Association of India.
Of course, there can be no gainsaying the irrefutable fact that Ashwini Kumar Upadhyay has done a yeoman's job in bringing this most neglected yet most burning and serious issue to the forefront thus compelling the Apex Court to take serious note of it and pronounce judgment on it to direct that no case shall be withdrawn without the nod of the concerned High Court! It is also good to note that the Apex Court accepted senior advocate Vijay Hansaria and advocate Sneha Kalita recommendation to adopt video conferencing facilities to examine witnesses and for the release of funds to establish and improve virtual court facilities. It voiced doubts about the government's resolve to bring politicians with criminal track record to justice. The Bench had also pointed to how central government agencies like the Enforcement Directorate have filed a sketchy affidavits about their cases against sitting and former MPs and MLAs.
It must also be mentioned here that the CJI NV Ramana minced just no words in pointing out to the Solicitor General Tushar Mehta who appeared for the Government that, "You delay even in filing status reports… This report filed by the ED just mentions some random names and random cases… There are no details about the States or which is the oldest case…" To this, Tushar assured the Apex Court that, "We are committed. There is no reluctance on our part, maybe just a lack of coordination… The government is committed to ensure speedy investigation and prosecution of elected representatives involved in criminal cases." The Bench then gave the Centre a last opportunity to submit detailed reports on the cases registered by CBI, ED and other central agencies against MPs and MLAs and listed the case for arguments on August 25.
All said and done, it is most reassuring, most refreshing and most remarkable to see that now finally the Apex Court has ruled after a very long wait that States cannot now any longer withdraw the criminal cases of criminal prosecution against MPs and MLAs without the permission of the concerned High Court. For this, a huge credit certainly goes to advocate Ashwini Kumar Upadhyay of the Supreme Court who had filed a PIL on this and also to the senior lawyer of Apex Court and President of Supreme Court Bar Association Vikas Singh and his entire team of lawyers who argued this leading case with sheer eloquence and brilliance thus convincing the Apex Court to rule decisively on this most burning issue. This was the crying need of the hour also as the ruling party was making a mockery of all rules and regulations and flouting them with impunity till now thus making a complete mockery of our entire democratic system but about which we rarely hear much being written even in the media! This alone explains why this has been going on so brazenly, so brashly and so brutally since last 75 years in our country but now not any longer after this historic verdict by the Apex Court! A good beginning has certainly been made. One only hopes that one would see more such rulings in the coming years and all the MPs and MLAs who have criminal cases pending against them are barred straightaway from contesting elections just like candidates are barred from jobs in government services even if one case is lodged against them in any police station! Also, those who misbehave in Parliament and State Assemblies must be barred for life so that no one dares to do so ever and this is most urgently required in the current scenario!