Time for an Accountable Higher Judiciary?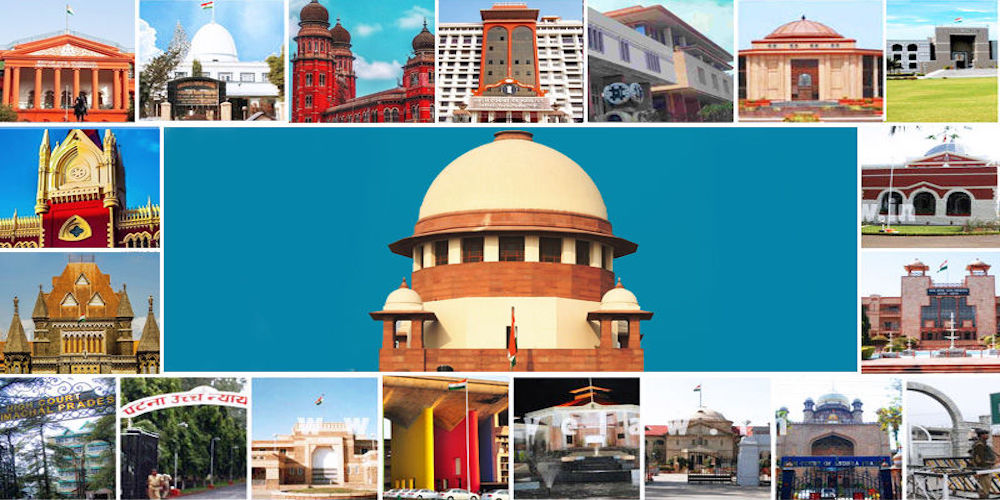 The higher judiciary, esp. the Supreme Court (SC), is in the news nearly daily. When I read about the issues dealt with am in awe of the intellect and capacity of the men in black coats.
Having said that, was concerned after reading this Hindustan Times report. "The Supreme Court has asked the central government to produce "complete" data on its purchase history of three Covid-19 vaccines. The data should clarify the dates of all procurement orders placed by the central government for all three vaccines, the quality of vaccines as ordered on each date, and the projected date of supply."
Is there a need to assume the role of a 'super cabinet'? Are Courts required to get involved in vaccine procurement? Are they answerable to the people on such issues? I say this whilst appreciating some of the points made by the SC.
Under the Indian Constitution, a democratically elected government is answerable to the people, are Courts! Arghya Sengupta, Research Director, Vidhi Centre for Legal Policy wrote that, "Parliament is not only constitutionally empowered but is also responsive to the needs of the public."(Source Economic Times) Former secretary-general of the Lok Sabha Subhash C Kashyap recently wrote in Hindustan Times, "No organ or institution can, therefore, cast itself in the role of a conscience-keeper of the nation or of a superior which can call the duly elected government to order."
Further it is worth recalling the words of the former President Mukherjee. Whilst addressing the 4th retreat of Supreme Court judges in April 2016 he said, "Each organ of our democracy must function within its own sphere and must not take over what is assigned to others. The Constitution is Supreme. However, the only check possible in ex exercise of powers by the judiciary is self-imposed discipline and self-restraint." (Source Times of India)
If the Courts wish to become an institution of governance, let Parliament amend the Constitution.
It is perhaps time the SC enlightened the people of India on issues that are within its domain. The intent behind this article is to provoke thought and not cast aspersions on the judiciary, either individually or collectively.
At the outset must state that I do not claim to be as educated and knowledgeable as Judges so any errors may please be overlooked. Pranams to Judges.
Every organization is responsible to another. The Executive is responsible to the Legislature and the people. The CEO of a company is usually responsible to the Board of Directors. The person responsible to does a performance appraisal for e.g. every five years the People of India appraise the performance of the central, state and local governments and exercise their view through the ballot.
Who are the Higher Judiciary (HJ meaning Supreme+High Courts) responsible to?
If the HJ is accountable to the people, then what is the framework by which the HJ is accountable? What is the tool by which the public can express its views without being worried about contempt of court proceedings?
A key point of public unhappiness are the pending cases in courts. Former President Mukherjee said in 2016, "Justice delayed is justice denied."
As of May 1, 2021 there were 67,898 Pending Matters in SC. (65,086 as on 1.1.21; 62,084 as on 1.9.20; 59,850 on 2.1.20; 57,346 on 1.1.2019) While the pandemic can explain the increase in number of pending matters since March 2020 is there a plan to clear the backlog of cases? After all, delayed justice puts affected parties to hardship including financial difficulty. Please tell us how citizens can help SC clear the backlog.

This should be published on the SC site every quarter with a target and action plan to reduce cases. Similar data and action plan should be published on websites of individual high courts. It is the responsibility of the Chief Justices to share the plan and be accountable for its implementation.
According to ECourts Services Database pending cases are 5.84 million in High Courts and 39.41 million in District Court as on June 13 2021, 4.16 pm. Kashyap wrote, "As far as the judiciary, from top to bottom, is concerned, it has to prepare a plan and chalk out strategies to clear the backlog of millions of pending cases, improve the justice delivery system, reduce long delays, and make justice less costly and more affordable for citizens." (Source Hindustan Times)
Delays in Indian courts make it difficult to enforce contracts and is a factor in the World Bank's rankings on ease of doing business. An efficient judicial system shall improve ease of doing business thereby attracting foreign investment and reducing corruption. This would eventually create jobs.
The former Chief Justice of India, Ranjan Gogoi showed, in the Ayodhya case, that when the SC wishes to close a case in a time bound manner it can do so.
Another matter of grave concern is fewer women judges. Did you know that from 1950 to November 2015 only six women became Supreme Court judges out of a total 229 judges appointed?
India had a woman Prime Minister and President. Will she have a woman CJI? Unlikely, if the number of woman judges is the basis to go by.
It is heartening to see that Madras High Court has 13 women judges. Barring that, the number of women judges is static or falling( Supreme Court has now only 1 woman judge).
Retired Judge Indu Malhotra said, "There is a gender bias in the legal profession and judiciary".(Source Livelaw) Can the SC tell the people what steps have been taken to make the judiciary more gender inclusive and address the concerns of a distinguished former colleague?
Can there be equal opportunity for women judges in the Higher Judiciary?
From gender diversity let us move to disclosure of assets by judges of the HJ. By virtue of a 1997 resolution, it is voluntary but not mandatory for judges to declare their assets.
In October 2017, as many as 14 out of 25 SC judges declared their assets. The number in June 2021 is 1 out of 25.
If the assets and liabilities of the Union council of ministers (2013-14) are in public domain, can some judges claim a status higher than duly-elected representatives? Mandatory declaration of assets by judges shall increase transparency.
Another matter that requires demystifying is the basis for listing and taking up of cases.
Recently a former actress petitioned the Delhi High Court w.r.t her concerns on 5G. From media reports it seems that her petition was heard in about 7-10 days of it being filed.
Can people know the basis on which petitions are listed for hearing in Supreme and High Courts? If there is a Standard Operating Procedure (SOP) please upload it on the court website so we become aware.
Can we have a scientific, technology based and transparent system for listing of cases?

Further, what is the basis on which old matters come up for hearing? Wish to draw your attention to the following old cases –
A 2007 judgement of the Punjab and Haryana High Court held Sikhs not to be a minority in Punjab. SGPC appealed to the Supreme Court who stayed the High Court order. The matter was last heard by SC in January 2016.
In December 2018, the SC ordered status quo on a November 2017 Allahabad HC order directing removal of a mosque in court premises.
A 2019 Madras High Court judgement ruled that salaries received by missionaries and nuns of Catholic Church for teaching services are liable to be subjected to Tax Deduction at Source (TDS). The Apex Court stayed the Madras High Court order in 2019.
Similarly, according to a 13.1.2021 report, the SC stopped implementation of Farm Laws for six months. The SC appointed 3 member panel submitted its report on March 19. We look forward to knowing whether, in SC's view, these farm laws are legal. These reforms are supported by domain experts but opposed by farmers of 2.25 states.
Lastly, can the people of India know the basis on which judges are appointed? Are there any parameters? Is there a test for conflict of interest? We understand that collegium proceedings are confidential but can the parameters should be made public.
Now some concerns and suggestions
We like to know if the HJ have engaged the right professional talent necessary to improve court functioning through technology solutions.
Can a SC appointed panel of retired judges suggest reforms to our civil and criminal laws, having twin objectives of making them simpler and towards time-bound adjudication? Thereafter, work with the Executive to change laws.
If judges are involved in administrative issues of courts, it takes up valuable time. Can the same be outsourced to an external agency?
In today's hyper-connected world it is important for those in public life to weigh their decisions. For example-
The Bombay High Court heard a petition, over at least a month that asked for Z plus security for Serum India Chief Adar Poonawala. According to a June 13 Times of India report, Adar told the Bombay High Court "I never asked for Z plus security." So the Honourable Court spent its valuable time discussing security to a citizen who never asked for it.
It is when judiciary recognises its own sphere can there be Dharma – "as is inscribed in the logo of the Supreme Court, 'Yato dharma tato Jaya'; where there is dharma, there is victory."
(The author is a Chartered Accountant. Utmost care was taken in culling out data. Errors if any, while presenting facts, are inadvertent and without malafide intent) – Courtesy – eSamskriti