More girls now in Indian Colleges and Universities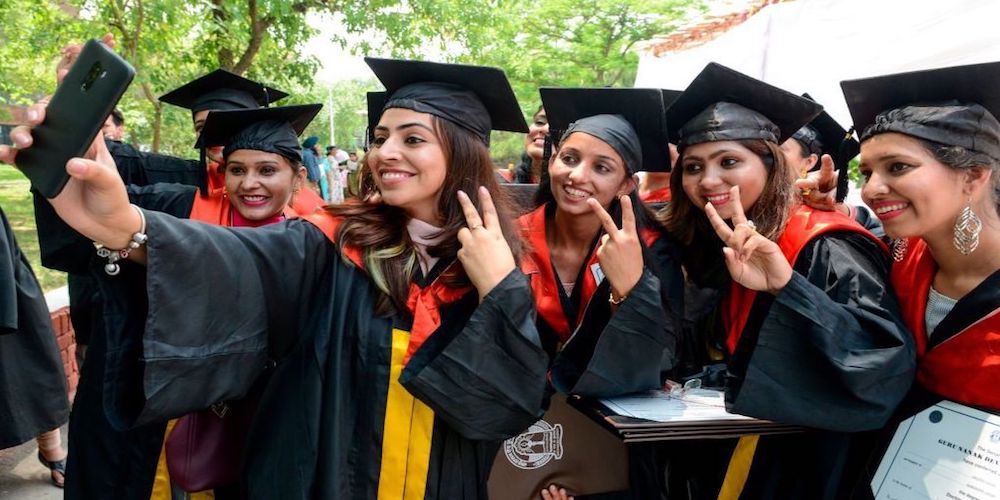 Union Education Minister Ramesh Pokhriyal 'Nishank' today approved the release of the report of All India Survey on Higher Education 2019-20. This Report provides key performance indicators on the current status of Higher education in the country.
Pokhriyal noted that in the last five years from 2015-16 to 2019-20, there has been a growth of 11.4% in the student enrolment. The rise in female enrolment in higher education during the period is 18.2%. He emphasized that the continuous focus given by the government under the leadership of Prime Minister Shri Narendra Modi on education of girls, women empowerment and empowerment of socially backward classes are well reflected by the increased participation of women, SCs and STs population in Higher Education as shown by the Report.
Minister of State Sanjay Dhotre said, "The results published in this report are indicators of the success of the policies adopted by Prime Minister Narendra Modi in the higher education sector of the Country. I hope this report will help our policy makers to further improve the higher education scenario of the country."
Secretary, Higher Education Amit Khare said that this report is the 10th in the series of All India Survey on Higher Education (AISHE) annually released by D/o Higher Education. The continuous rise in the enrolment, number of institutions, gender parity is a part of our country's major move towards improving access, equity and quality in light of National Education Policy 2020, he added.
Key features of All India Survey on Higher Education Report 2019-20
Survey covers all institutions of Higher Education in the country, registered with AISHE code in AISHE portal www.aishe.gov.in. Institutions are categorized in 3 broad Categories; University, College and Stand-Alone Institutions.
• There are 1043 Universities, 42343 Colleges and 11779 Stand Alone Institutions listed on AISHE web portal and out of them 1019 Universities, 39955 Colleges and 9599 Stand-alone Institutions have responded during the survey. 307 Universities are affiliating i.e. having Colleges.
• 396 Universities are privately managed. 420 Universities are located in rural area.
• 17 Universities are exclusively for women, 3 in Rajasthan, 2 in Karnataka and Tamil Nadu & 1 each in Andhra Pradesh, Assam, Bihar, Delhi, Haryana, Himachal Pradesh, Maharashtra, Odisha, Uttarakhand and West Bengal.
• In addition to 1 Central Open University, 14 State Open Universities and 1 State Private Open University, there are 110 Dual mode Universities, which offer education through distance mode also and the maximum 13 of them are located in Tamil Nadu.
• There are 522 General, 177 Technical, 63 Agriculture & Allied, 66 Medical, 23 Law, 12 Sanskrit and 11 Language Universities and rest 145 Universities are of other Categories.
• The top 8 States in terms of highest number of colleges in India are Uttar Pradesh, Maharashtra, Karnataka, Rajasthan, Andhra Pradesh, Tamil Nadu, Madhya Pradesh and Gujarat.
• Bangalore Urban district tops in terms of number of colleges with 1009 colleges followed by Jaipur with 606 colleges. Top 50 districts have about 32% of colleges.
• College density, i.e. the number of colleges per lakh eligible population (population in the age-group 18-23 years) varies from 7 in Bihar to 59 in Karnataka as compared to All India average of 30.
• 60.56% Colleges are located in Rural Area. 10.75% Colleges are exclusively for Female.
• Only 2.7% Colleges run Ph.D. programme and 35.04% Colleges run Post Graduate Level programmes.
• There are 32.6% Colleges, which run only single programme, out of which 84.1% are privately managed. Among these privately managed colleges, 37.4% colleges run B.Ed. Courses only.
• 78.6% Colleges are privately managed; 65.2% Private-unaided and 13.4% Private-aided. Andhra Pradesh & Telangana have about 80% Private-unaided colleges and Uttar Pradesh has 78.5% Private-unaided colleges, whereas, Chandigarh has 8.0%.

• 16.6% of the Colleges are having enrolment less than 100 and only 4% Colleges have enrolment more than 3000.
• Total enrolment in higher education has been estimated to be 38.5 million with 19.6 million boys and 18.9 million female. Female constitute 49% of the total enrolment.
• Gross Enrolment Ratio (GER) in Higher education in India is 27.1, which is calculated for 18-23 years of age group. GER for male population is 26.9 and for female, it is 27.3. For Scheduled Castes, it is 23.4 and for Scheduled Tribes, it is 18.0 as compared to the national GER of 27.1.
• Distance enrolment constitutes about 11.1% of the total enrolment in higher education, of which 44.5% are female students.
• About 79.5% of the students are enrolled in Undergraduate level programme. 2,02,550 students are enrolled in Ph.D. which is about 0.5% of the total student enrolment.
• Maximum numbers of Students are enrolled in B.A. programme followed by B.Sc. and B.Com. programmes. 10 Programmes out of approximately 196 covers 79% of the total students enrolled in higher education.
• At Undergraduate level the highest number 32.7% of students are enrolled in Arts/Humanities/Social Sciences courses followed by Science 16%, Commerce 14.9% and Engineering and Technology 12.6%.
• At Ph.D. level, maximum number of students are enrolled in Engineering and Technology stream followed by Science. On the other hand at Post Graduate level maximum students are enrolled in Social Science stream and Science comes at number two.
• Uttar Pradesh comes at number one with the highest student enrolment followed by Maharashtra and Tamil Nadu.
• Scheduled Casts students constitute 14.7% and Scheduled Tribes students 5.6% of the total enrolment. 37% students belong to Other Backward Classes. 5.5% students belong to Muslim Minority and 2.3% from other Minority Communities.
• The total number of foreign students enrolled in higher education is 49,348. The foreign students come from 168 different countries from across the globe. The top 10 countries constitute 63.9% of the total foreign students enrolled.
• Highest share of foreign students come from the neighboring countries of which Nepal is 28.1% of the total, followed by, Afghanistan 9.1%, Bangladesh 4.6%, Bhutan constitutes 3.8% and Sudan 3.6%.
• There are more than 78.6% colleges running in Private sector; aided and unaided taken together, but it caters to only 66.3% of the total enrolment.
• The total number of teachers are 15,03,156, out of which about 57.5% are male teachers and 42.5% are female teachers. At All-India level there are merely 74 female teachers per 100 male teachers.
• Pupil Teacher Ratio (PTR) in Universities and Colleges is 28 if regular mode enrolment is considered whereas PTR for Universities and its Constituent Units is 18 for regular mode.
• Among non-teaching staff, the share of Group-C is the highest with 40.1%, followed by Group-D with 27.7%. Group-A and Group-B comprise of 15.1% and 17.2% non-teaching posts respectively.
• The average number of female per 100 male non-teaching staff is 51.
• 38,986 students were awarded Ph.D. level degree during 2019 with 21,577 male and 17,409 female.
• B.A. (20.3) Lakh degree has been awarded to maximum number of students. B.Sc. (10.6 Lakh) is the second highest followed by B.Com. (9.3 Lakh).
• At Post Graduate level M.A. pass number of students is maximum followed by M.Sc. and M.B.A.
• The highest number of students (20.7 Lakh) have graduated in Arts courses.
• At Ph.D. level, maximum numbers of students out-turn is in Science stream followed by Engineering and Technology. On the other hand at PG level maximum students out-turn is observed in Social Science and Science stream comes at number two.
• The share of Ph.D. student is highest in State Public University 29.8% followed by Institute of National Importance 23.2%, Deemed University-Private 13.9% and Central University 13.6%.
• Share of female students is lowest in Institutions of National Importance followed by Deemed University-Government, State Private University.