National Security and North East India – Role of Intelligence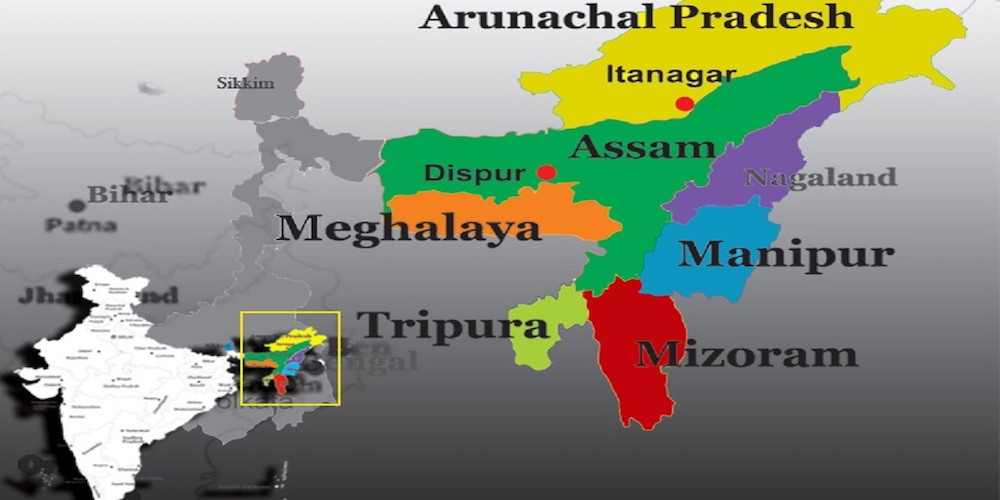 Our national security has usually been New Delhi-centric for historical and policy reasons and State Governments and Union Territories are not playing the role that they need to perform as first responders to threats to law and order or even dealing with natural or man-made disasters.
Such an approach needs a change and a new national security policy would need to include the States and Union Territories in its ambit. The seven states in North East India too have a major role in this context.
In strategic terms, Northeast India and its specific location has an international dimension. It is India's land bridge to Myanmar and with Bangladesh is a gateway to Southeast Asia, Indian Ocean and onwards. The Look East Policy (LEP) inaugurated by then Prime Minister Narasimha Rao in 1992 and given a new strategic persona by the BJP led ND Government of PM Modi, as ACT EAST POLICY (AEP), has recognized the centrality of this region to achievement of India's national interests and objectives in this region and beyond.Endowed with human and natural resources such as uranium, coal, hydro-power, forests, oil and gas and gifted with highly fertile land and it is the world's largest producer of tea.
It sits in the hub of a geographical space which is home to nearly a billion people comprising the population of Bangladesh, Myanmar, Nepal, Bhutan, Southwestern China and ASEAN. Its strategic location and natural resources makes it a potential powerhouse of India for development and progress as a vibrant source of energy, oil, natural gas, limestone supplemented by products of Brahmaputra valley. Flora, fauna, natural scenic beauty, arts and crafts act as magnet for international tourism which can be intertwined with the ASEAN due to many commonalities. Proximity to markets of Southeast Asia and in tandem with AEP it can lock into markets of the SAARC and other destinations. This is a game changer of immense proportions.
Time has become opportune to look at the north east region in a new perspective. There are two considerations. The first is to eschew the regional tag assigned to it. This was due mainly from a security perspective or as counter-insurgency grid, where the resources of the government were deployed with specific operational plans to curb inimical trans-border elements.Security environment has undergone substantial change both in this region as also in Bangladesh and Myanmar.The ruling dispensation in Dhaka and Nay Pyi Taw currently look at India less in adversarial role and not as a security threat as perceived earlier.Security threat perceptions have undergone a change with noticeable improvements in trust levels at all levels led by the highest political personages.
The second recommendation is to deal with each state as a separate entity for development and political governance and ensuring that each state develops to its own potential. Development and security must go hand–in-hand.

Further this region is an important and critical subtext of India's national security calculus. It is no longer necessary to view it on the basis of parameters of the Nineties.India must reduce dependence on Myanmar and Bangladesh regarding assistance to curb activities of Indian insurgent groups.India has to put its own house in order to ensure stability and economic development. While, it is however necessary to continue discussions on security related issues with our neighbors through established channels, it is also important for India to create conditions for bringing various groups to the negotiating table within the ambit of the constitution.
The role of the state governments is very vital in this policy.Time has come to create paradigms where local solutions are important to address regional developments. The tendency to look to New Delhi for resolving local or regional issues must undergo gradual change or transformation. New Delhi must don the role of a mentor and provide the infrastructure for change.
Another area of consideration is to create avenues for invoking the expertise of each state to create a vibrant governance or advisory. The pool is very diverse comprising eminent civil servants from not only All India Services and also officers of the Indian Foreign Service and other Civil services who have served the country with distinction, decorated and distinguished military officials, academics, educationists, media and tribal leaders who can form a "brains-trust" for the region. There are over 24 Members of Parliament representing different political interests with substantial following. These can become the platform for informed discussions on regional and national matters. Creation of parliamentary friendship associations with neighboring countries is advocated as a force multiplier.
India's intelligence agencies have rendered yeoman service in this region in keeping with the mandate given by the government. The role of the security forces and the military have to be acknowledged manifold times. The experience and expertise gained in dealing with insurgency, militancy and extremism since the Fifties marks them as one of the best in the region and in the world. A Centre of Knowledge for the study of security and non-security subjects with provision for participation by friendly countries could be set-up in Arunachal Pradesh along with a Centre of Excellence in Cyber Security and Technology.The proposed National Police University could also be located in any of the seven states.
A Centre of Foreign Language Study and Regional Trade Centre will address issues of skills development and capacity building. The existing institutions have to be strengthened by the involvement of public-private partnership and Diaspora. The effects of climate change will require comprehensive study.
The security of this region will become challenging in next 3-5 years due to several factors and our agencies will have to prepare security threat perceptions for short, medium and long term as part of comprehensive strategic action plan.China tops the list of security threat perceptions in both traditional and non-traditional sectors and north-east India is no exception.Ambitions of Chinese communist party for Tibet, attempts to destabilize Indo-Tibet border and related developments is one major area of concern.
PM Heblikar is Managing Trustee, Institute of Contemporary Studies Bangalore (ICSB) and former Special Secretary, Government of India.