Rising Fire Accidents Call For Making Hospitals Safe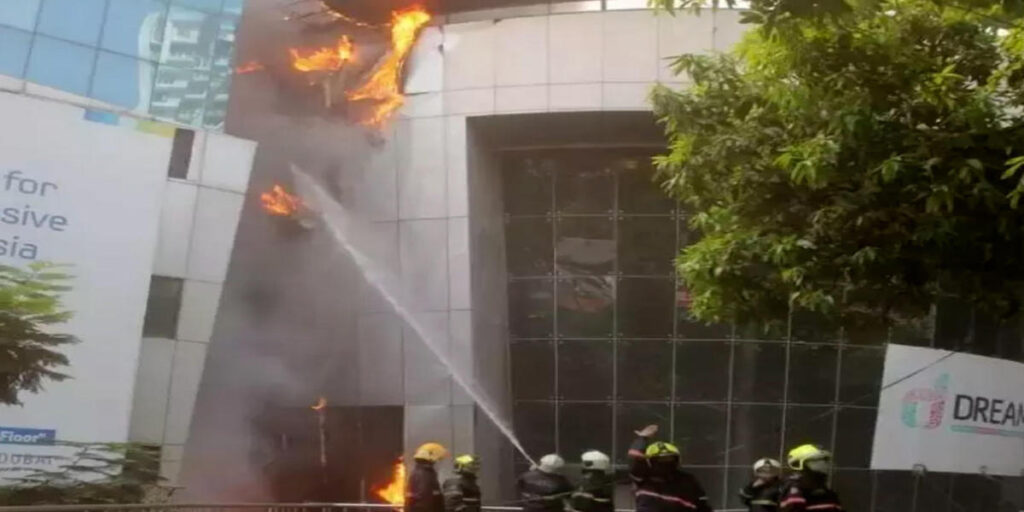 This is a time while on one hand, the unprecedented second wave of Covid pandemic is taking a huge toll , on the other hand there is alarming rise in fire accidents in Covid hospitals, causing huge loss of life and property. This is a matter of serious concern and calls for an action plan to make our hospitals safety proof.
In a massive increase in hospital mishaps since the unleashing of second wave of Corona in March end, as many as 74 people lost their lives. Out of these 50 deaths occured due to blaze in hospitals while 24 persons died due to oxygen leak in a Nashik hospital.
In a most recent case 18 people including 16 Covid patients lost their lives due to a massive fire that broke out in an ICU of a covid hospital run by a private trust in industrial town of Bharuch in Gujarat. Among the major hospital fire incidents, 15 ICU patients were killed in a covid hospital in Virar, Mumbai, 4 patients perished in an ICU fire in a Mumbra hospital near Mumbai, 9 patients lost their lives in a mall hospital fire and 4 persons died in a Nagpur hospital fire.
This spurt in hospital fires raises serious questions about the safety of our health infrastructure, especially in the backdrop of Supreme Court directive in December last, asking all states and union territories to carry out fire safety audit of dedicated Covid hospitals on a monthly basis for follow up action to prevent these mishaps in hospitals. The apex court had pulled up state governments for not taking concrete steps to mitigate the problem despite repeated instances. The Centre had told SC that all states and UTs were asked to send their action taken reports on enquiries of fire accidents conducted by hospitals or nursing homes in the last five years. All the states and UTs were also directed to undertake short duration training and awareness programmes devised by Ministry of Home Affairs for hospital staff, doctors, managers and hospital authorities. They were also asked to carry out implementation report by January 31, 2021.
In a recent study conducted to assess causes of hospital fires over a decade, short circuiting was found to be the most common cause of fire accidents . In about one third of cases, fire originated at or near ICUS and in 78% cases, short circuiting originated from air conditioning units.
It is often found that that faulty wiring system not capable of carrying power load causes hospital fires. It also happens due to mismatch in the estimated power load at the design stage of hospital and at the commissioning stage.

Moreover, it is seen that at the time of issuing hospital license, proper assessment power load is not done by authorities. The power load goes up every year due to increasing pressure of patients on hospital infrastructure. The equipments like ventilators are vulnerable to short circuiting due to fluctuating power load. And overloaded electric points result in overheating of wiring. This coupled with haphazard wiring replacement or its extension results in fire accidents.
The negligence of safety protocols and little regard for safety arrangements by hospital authorities is also a major cause of recurring fire incidents. In total disregard of safety rules, sometimes hospital basement meant for parking is used for storage of combustible material. In air conditioned buildings, it is often seen that hardly any provision is made for natural ventilation. This results in fire victims dying due to toxic fumes. At times fire extinguishers are found non functional in the event of fire.
Hospitals are also found to flout National Disaster Management Authority (NDMA) guidelines for providing easy access to fire brigade engines . It's not just hospital authorities, but also government authorities which are to be blamed for these unchecked fire accidents in hospitals. They do not do proper load check at the time of granting license to a hospital and fail to review it every year. They are also found wanting in doing fire audits and ensuring firing drills on a regular basis.
Preventive measures assume great significance in checking the unabated fire accidents in hospitals. By taking appropriate measures at the design and construction stage, we can considerably prevent fire incidents in hospitals. The design should also take into account proper hazard prevention risk mitigation to safeguard life and property.
As far as possible, hospitals should be designed as low- rise structures for carrying out easy and quicker rescue operation in the event of fire. It should also be ensured that ICUs are located on ground or first floors with proper access and exits, including access for firefighting. Existing hospitals can also be retrofitted to improve structural safety against fire.
Proper disaster handling training of staff holds key to minimise the damage caused by hospital fires. The staff needs to be trained to deal with combustible equipment, machinery and supplies. And above all, they should be trained in evacuation to minimise loss of human lives.
Hospitals should be ready with proper disaster management plan for which a yearly mock drill should be carried out to prevent fire incidents and for the purpose of safe evacuation of fire victims. Safety clearance of lifts, electrical fittings be reviewed every year as a preventive measure. For this, a robust safety mechanism should be put in place to tackle any eventuality, along with the system for proper monitoring. In order to tackle fires and minimise human and property loss, a simple easy to follow evacuation plan with flexibility to adapt to varying situations should be worked out.
Covid pandemic has given us many lessons with regard to saving precious human lives in times of grave crisis. While taking into account these hard learned lessons, we must take necessary corrective measures to mitigate.
The author is Editor, PropTOQ