Women in tourism becoming game changers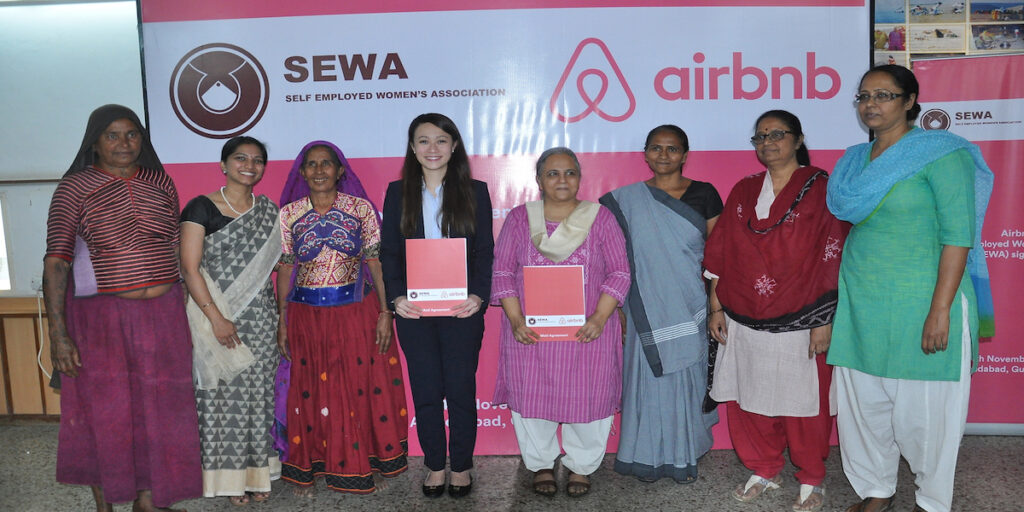 The Ministry of Tourism's "Dekho Apna Desh" ( see your own country) Webinar series held its 79th edition titled "Weaving Growth of Rural India with SEWA & Airbnb India" on 6th March 2021.
8th March being International Women's Day, the subject was appropriate in bringing forth the strength of women in the sector of tourism and also bringing forth the opportunities that exist.
The tourism sector currently provides through direct and indirect jobs 12.95% of all jobs in India and given the growing interest in experiential tourism there exist immense economic opportunities for the local communities especially for women entrepreneurs.
Empowering women by supporting them to become financially independent not only helps generate income, but also creates a tremendous engine for social change.
The webinar discussed about the empowerment of women through improving the livelihoods of self-employed women workers from informal economy through various initiatives using technology, technical training, micro finance etc. In this context, the example of SEWA was mentioned in the webinar prominently.
Self Employed Women's Association (SEWA) was born in 1972 to empower women in textile field. SEWA is the only national union of women workers from the unorganized sector in India with more than1.5 million membership across 18 states in India. Today 35% of SEWA's membership is from the young generation. SEWA forayed in to tourism a few years back and is already spinning a success story in Gujarat.
Airbnb (Air Bed and Breakfast) operates an online marketplace for lodging, primarily homestays for vacation rentals, and tourism activities. It is based in San Francisco, California. The platform is accessible via website and mobile app.

Airbnb has a partnership with the Self-Employed Women's Association of India (SEWA), an organization representing more than 1.5 million self-employed women living mostly in India's rural areas. Till now more than 4500 guests had visited 40 SEWA Homestays from over 15 different countries. This partnership gives tourists a unique and authentic experience of culture & heritage and at the same time the women entrepreneurs from even the marginal economic sections are provided with income source.
The webinar was presented by Ms. Vineeta Dixit, Head Public Policy India and Mr. Tejasbhai Raval, Technology Head SEWA who explained the journey and incredible experiences of the partnership between SEWA & Airbnb and how it has benefited both the partners.
Two of the most successful and oldest members of SEWA who run homestays, Gauriben and Meetaben spoke about their experiences for hosting guests in their homestays and how it has benefited them to grow not only economically but technologically, knowledge wise etc. It was a proud moment when Gauriben spoke on how not only she made money for herself, but her whole household including her husband worked in her enterprise and she gave employment to others. So heartwarming was the invite she gave an invitation to all to visit her homestay.
Ms. Rupinder Brar, Additional Director General, Ministry of Tourism emphasized on Vocal for Local initiative of the Government of India and after hearing the success stories of two SEWA members Gauriben & Meetaben said it is very true when there is will there is way and one can find a way to accomplish it regardless of obstacles. She also spoke about the life changing impact that the Dhordo residents experienced when the Prime Minister, who was then the Gujarat Chief Minister created the Tent City at Bhuj after the earthquake at Bhuj in 2001.
In the Statue of Unity location at Kevadia also there are women from neighbouring villages who have formed Self Help Groups and with support of State Government are running cafeterias, are the guides and playing many other roles in tourism sector. Mrs Brar reiterated the Governments vision of furthering women in tourism and that women can be game changers in this sector in years to come.
The Dekho Apna Desh Webinar Series is presented in technical partnership with National e Governance Department, Ministry of Electronics and Information Technology. The Sessions of Webinar are now available on the https://www.youtube.com/channel/UCbzIbBmMvtvH7d6Zo_ZEHDA/featured
and also on all social media Handles of Ministry of Tourism, Government of India.
The next webinar would be held on 13th March 2021 at 1100 hrs on the cuisines from North Eastern Region of India.