Innovative ideas of women entrepreneurs all set to make the new normal a better one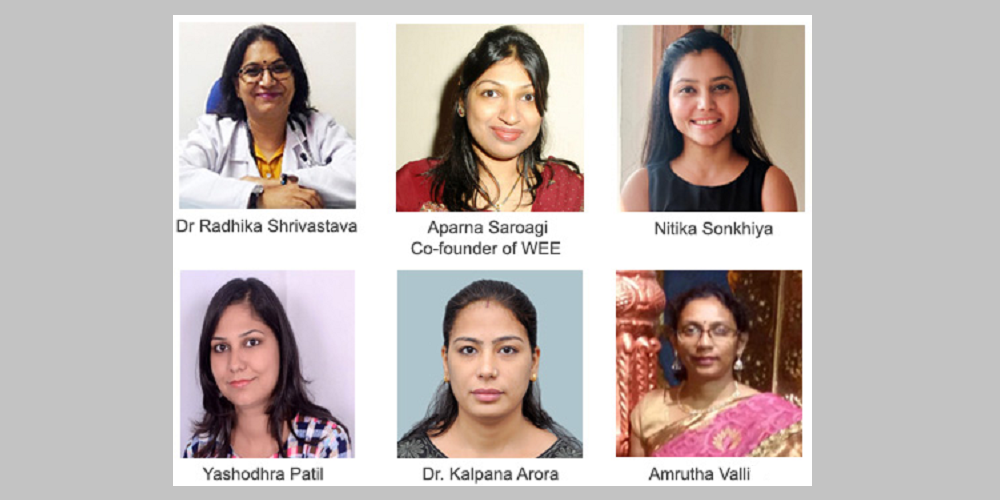 In 2020 as people were struggling to cope up with COVID 19 and the associated lockdown Dr. Radhika Shrivastava, a doctor, launched the journey of her start-up 'Uniworld Care' to redefine the health ecosystem with the help of technology-driven solutions.
Uniworld Care is providing clinical services through digital health platforms like teleconsultation, tele-counseling, and tele- education to patients suffering from panic, fear, anxiety, stress, and depression created by the lockdown, which added the diseases load. It has also started getting various groups of patients, including their near dear ones, relatives, and friends, together with by the name of "FIGHT CORONA," which are actively informing people about guidelines, medication, list of testing centers and clearing their doubts and misconception. They have guided their patients by various means to maintain their health through diet, exercise, and mental well-being. They have also saved many lives by timely intervention, referral, video consultation as well as responding to calls for help, and kept a check on people who were staying alone, especially the elderly. This has been an add on to her efforts of Telemedicine solutions "UPCHAR Clinic," and EMR/ Health Card (Health Patri) started earlier.
Srivastava is one among the groups of women trained by Women Entrepreneurship and Empowerment (WEE), India's first of its kind initiative by IIT Delhi and Department of Science and Technology (DST), Government of India, to enable and encourage women to join the Start-up Eco System.
Nitika Sonkhiya, an engineer by education, quit her corporate job and started MyOnEarth in January 2020. MyOnEarth provides everyday products made of plastic-like toothbrush with sustainable alternatives. It caters to domestic and international clients, including from UK, Mark Mulholland Ireland, Israel, Victoria from Latvia. The pandemic gave them the opportunity to venture out as a direct to customer brand, and now their products are available in several retail stores in Bengaluru. They also sell pan India through their online portal and selected e-commerce stores focused on the sustainable brand. Partnering with a Jaipur-based NGO that empowers local women with regular work to enable them financially, they have roped in nearly 50 artisans working on design and handicrafts for MyOnEarth.

TRYb4ubUY, a venture by Amrutha Valli, is an Augmented Reality and Artificial Intelligence technology solution that can help customers TRY products like jewellery, apparel, spectacles, watches, furniture, wallpapers, paintings, furnishings, etc., at their convenience using mobiles or laptops before they buy. The pandemic, which had an impact on our approach towards going outdoors and the way we shop, helped boost this venture.
Kidzopedia, a venture founded by Yashodhra Patil, acted as a catalyst in the extra-curricular activity segment during this pandemic lockdown. It is one of its kind aggregators that bridges the gap between parents and extra-curricular academies. Initiated with an aim to democratize the non-academic sector, the platform features non-academic institutions and activities to help the parents search the nearby academy within seconds. Shifting to the virtual mode during the pandemic, it coordinated with child psychologists, trainers specializing in after-school learning activities, and other institutions to keep up with the children's learning.
Availability of soap products and access to clean water was perhaps never more widely felt as during the pandemic. Dr. Kalpana Arora (WEE 2020 graduate), an environmentalist and Ph.D. in waste management from IIT Delhi, is working towards this goal through her social enterprise, Artisans Technologies. Considering the present scenario, it zeroed in on making the soap products through the natural material available locally for which water from a system of decentralized wastewater treatment was used.
Artisans Technologies is working extensively in the mountain areas of Uttarakhand with women Self Help Groups and Farmers Producer Organizations training associated local beneficiaries online to collect raw material in the form of soapnuts and millets. The primary processed material is procured from local beneficiaries and collected at the processing unit. After final processing and packaging, the product has been distributed and marketed to various government and private departments in Uttarakhand state, thus forming an entrepreneurship chain that benefited all.
Women entrepreneurs trained by WEE have created inclusiveness in S&T based entrepreneurship through their innovative ideas and are all set to make the new normal a better normal.
"We have seen rapid responsiveness and adaptation from the WEE women entrepreneurs. Their agility, innovation, and adoption of modern technology have enabled them to open new doors of revenues and better customer reach. They are creating new better normal by understanding emerging customer needs and meeting them with collaborations, critical thinking, and adopting technology focused on Intrinsic human values," Aparna Saroagi, Co-founder of WEE, pointed out.