Aero India 2021 A Big Step Towards Aatmanirbhar Bharat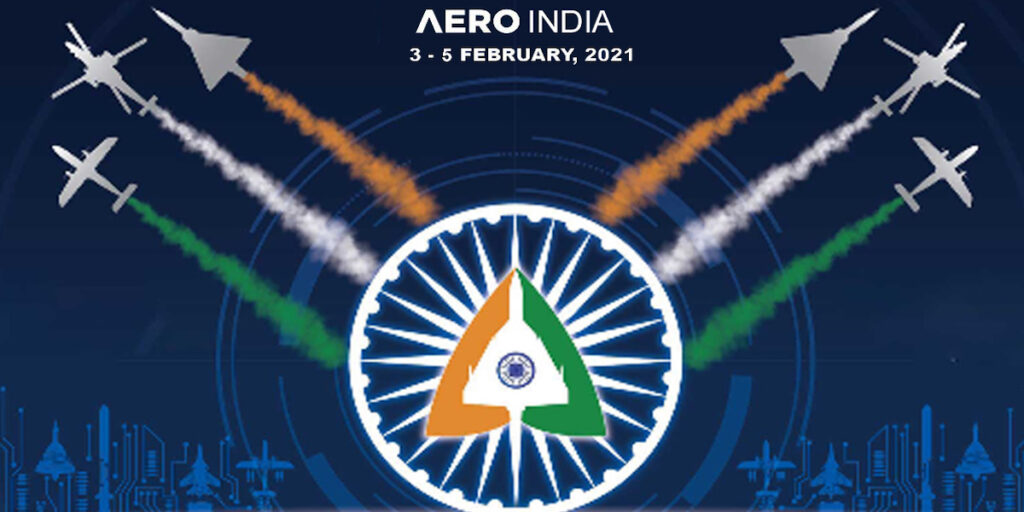 Aero India 2021 three-day mega event to showcase the prowess of Aviation Industry begins today at Bengaluru. The Curtain Raiser Press Conference chaired by Raksha Mantri for Asia's premier air show was held on 2nd February. Aero India-2021 will be inaugurated by Hon'ble Raksha Mantri Rajnath Singh and will commence with a flying display at Yelahanka Air Force Station. Shri Rajnath Singh was felicitated by Karnataka Chief Minister B.S. Yediyurappa on the occasion.
Inspired by the Hon'ble Prime Minister's call for Aatmanirbhar Bharat, the flying display will feature formations showcasing India's cutting edge technology and capabilities in the aerospace sector. Aero India 2021 is being organized this year amidst the challenging circumstances created by the COVID-19 situation. Shri Rajnath Singh commended the organization of the biennial event this year amidst such challenges. He hailed Hon'ble Prime Minister Narendra Modi's vision of Aatmanirbhar Bharat and said that the Ministry of Defence was relentlessly giving impetus to domestic manufacturing of defence equipment, not only to fulfil the demands of our armed forces, but also to make India a net exporter of defence equipment and platforms to friendly foreign countries. He appreciated the conducive ecosystem and climate for investors created in Karnataka through the entrepreneurial spirit of its people. He said that the award of a huge contract of Rs. 48,000 crores to HAL was because of this spirit.
Shri Rajnath Singh also spoke about the distinguishing takeaways of Aero India 2021. Technological base and presence of industry leaders associated with Aviation cement the bonds between Bengaluru and Aero India 2021. He said that set against the backdrop of Bengaluru, the event would offer opportunities for collaboration and cooperation between Indian and global industry leaders, academicians, visionaries, centre and state administrations. It would also bring together the defence ministers of various countries, service chiefs, policymakers, foreign OEMs, industry, entrepreneurs and academia to showcase, connect and collaborate as well as highlight policy reforms driving India's new defence manufacturing revolution. He further said that Aero India would spark a renewed sense of pride in India's defence manufacturing and take defence cooperation to the next level.
Speaking on the COVID-19 pandemic, he added that countries were forced to impose restrictions to protect human lives. Shri Rajnath Singh said that while organizing Aero India 2021 all COVID-19 related advisories issued by the Union Home and Health ministries and state government regarding the use of masks, social distancing, RT PCR tests would be strictly followed. He added that due to these restrictions this edition of Aero India would be a purely business event and there would be no public days. He said that limited access to the aero shows would be provided to the public based on online bookings. Shri Rajnath Singh said that a dedicated virtual platform has been created to facilitate public participation. He said that Aero India 2021 promises to be the world's first hybrid aero and defence exhibition with a concurrent exhibition integrating seminars, Business to business events, product displays etc.

Shri Rajnath Singh said that since 2014, the government has brought in policy reforms to push indigenous defence manufacturing with an enthusiastic response from the global business community. He further said that the world has now started to recognize India as a trusted defence investment destination. He added that hosting the event in Bengaluru, the IT capital of India, will consolidate not only the Karnataka's position as a favoured investment destination, but also establish the state as the gateway for defence and economic engagement. Raksha Mantri said that Aero India will give further momentum to the Prime Minister's clarion call for Aatmanirbhar Bharat, aimed at promoting indigenization.
Shri Rajnath Singh enumerated the highlights of Aero India 2021 including inauguration of India pavilion – based on the theme of Rotary wings, Conclave of Defence Ministers of Indian Ocean Region, Conclave of Chiefs of Air Staff of various countries, India – Russia Military Industrial Conference, Startup Manthan etc. He said, more than 200 MoU partnership agreements are expected to be signed at the Bandhan event on 5th February. He added that the IOR Defence Ministers' Conclave would reinforce the relevance of the region and its continued importance for stakeholders from the perspective of trade, security and freedom of navigation. He said the event would provide an opportunity to share perspectives on common values and interests in the region. Chiefs of Air staff conclave will bring senior air force officers from across the world on a single platform enhancing cooperation and understanding of common threats and challenges.
Raksha Mantri said over 540 exhibitors would showcase their defence manufacturing prowess. The event would help forge paths for engagement with global defence industry for India. He added that the decision to hold Aero India during this time was not easy due to the twin challenges of COVID-19 and the security challenge thrust on India on the Northern border. He highlighted that India's calibrated response and the bravery of the soldiers on the border led to sterilization of the situation on the Northern border and the nation showed its resolve to defend its sovereignty and integrity. He said that the resolve of the government led by the Prime Minister, the state government and other stakeholders made it possible to organize the event. He hailed Aero India 2021 as an inspiring event and said that this year would witness the new initiatives of new India which have begun to change reality.
At the end of his address Raksha Mantri Shri Rajnath Singh praised all stakeholders who put in efforts to make the event a success during these times. He expressed his gratitude towards the officials of the department of defence production, the armed forces and the organizing committee for their tireless efforts.
Chief Minister B.S. Yediyurappa said that it was a moment of pride for the people of Karnataka in general and for the people of Bengaluru in particular that the city was hosting Aero India for yet another year. He added that it was also a moment of pride for the state that Hindustan Aeronautics Limited had obtained the business deal for Light Combat Aircraft "Tejas". The Chief Minister applauded the efforts of centre and state administration and other stakeholders in organizing the event amidst the difficulties posed by the COVID-19 pandemic.
Chairman and Managing Director of Hindustan Aeronautics Limited Shri R Madhavan also spoke about efforts to manufacture Light Combat Aircraft "Tejas". Shri Anurag Bajpai, Joint Secretary (Personnel & Coordination) gave a detailed presentation on Aero India 2021 events and arrangements. Shri Sanjay Jaju, Additional Secretary (Department of Defence Production) presented a vote of thanks.
This is the 25th year of Aero India and the 13th edition of the event. The Hon'ble President of India has graciously accepted to attend the valedictory function for Aero India 2021 on 5th February. Industry associations also felicitated Shri Rajnath Singh at the curtain raiser event for Aero India 2021. Dr. Ashwathnarayan C.N., Hon'ble Deputy Chief Minister of Karnataka, Shri Jagdish Shettar, Hon'ble Industry Minister of Karnataka, Shri Raj Kumar, Secretary, Department of Defence Production, Dr. G Satheesh Reddy, Secretary, DRDO, Kapil Mohan, Chief Secretary, Karnataka and other senior officials of the Ministry of Defence, Government of Karnataka, Hindustan Aeronautics Limited and several industry associations were also present at the event.