Fundamental Duties Most Unfortunately Has Become A Forgotten Chapter Of The Constitution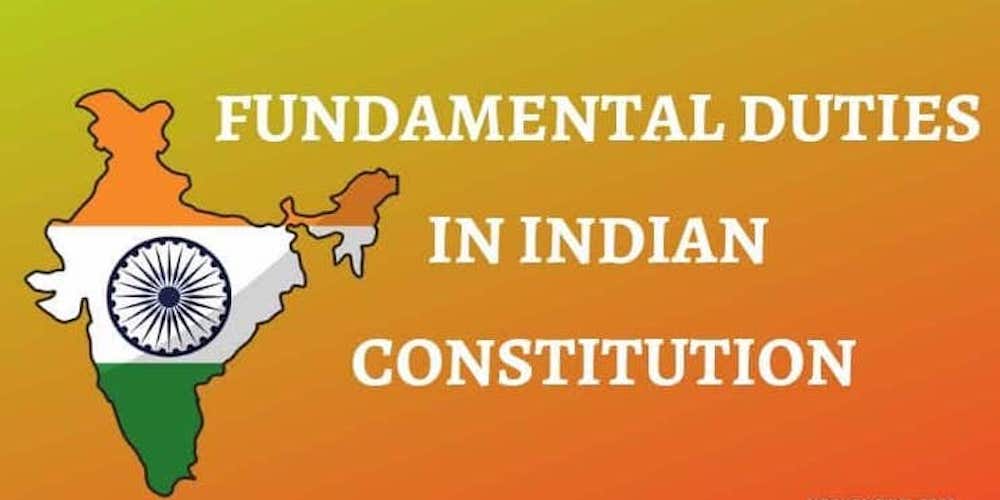 The source of right is duty. If we all discharge our duties, rights will not be far to seek. If leaving duties unperformed we run after rights, they will escape us like will of the wisp, the more we pursue them, the further they will fly. I learned from my illiterate but wise mother that all rights to be deserved and preserved come from duty well done. Thus the very right to live accrues to us only when we do the duty of citizenship of the world. From this one fundamental statement, perhaps it is easy though to define duties of man and woman and correlate every right to some corresponding duty to be first performed. Every other right can be shown to be usurpation hardly worth fighting for."
– Mahatma Gandhi when requested to give his thoughts on the Universal Declaration of Human Rights
At the very outset, let me begin by saying that it grievously hurts me to painfully note that fundamental duties has more or less most unfortunately become a forgotten chapter of our Constitution. This most definitely should never have happened but we all have been watching this happening right before our own eyes. Communal riots breaking out on very small petty issues in which many people lose their precious lives, many children become orphan and homeless as their houses are burnt are all most painful reminders that fundamental duties have become more or less a forgotten chapter of our Constitution! Nothing on earth can be more unfortunate than this!
As if this is not enough, a new trend has started in India to block road and rail routes so that Centre or State can be compelled to toe the line which the protesters demand. We saw this abundantly in Shaheen Bagh which finally culminated in the Delhi riots in which there was huge violence as the protesters started blocking more and more roads and this led to unrest and clashes which left many dead and also many more injured. Now once again in protest against farmers bill the farmers of few states have occupied all key points to enter Delhi due to which thousands of crores of rupees worth business is suffering daily and the people are further made to face inconvenience since more than about fifty days and have threatened to carry out tractor rally on 26 January if their demand of withdrawing all the 3 farm bills are not complied with unconditionally and even Supreme Court has voiced its concern on the possibility of violence breaking out which cannot be dismissed lightly! Centre must promptly take adequate steps to ensure that road blockade is lifted and no one is allowed to hold the nation to ransom!
There can be no chapter in Constitution which is as important as the one on fundamental duties yet it has been mostly ignored. How often do we read articles on Constitution pertaining to fundamental duties? The obvious answer is once in a blue moon. This despite the fact that fundamental duties are most important as I have already noted above. No less than an eminent legal luminary of the stature of former Chief Justice of India – Justice RC Lahoti while delivering a guest lecture in memory of Justice KT Desai on 15 July, 2014 at Central Court Room in Bombay High Court, Mumbai on 'Fundamental Duties – A Forgotten Chapter of the Constitution' had himself most gracefully observed that, "I could not have chosen a subject better than the Fundamental Duties; more so, when as a student of Constitution I find that in the judicial circles and amongst the citizens, a significant provision like Article 51A is found to be conspicuous more by its absence. It is a beautifully well drafted piece of Constitutional enactment. Every word is so well chosen and placed as if a gem studded in necklace! To me, these 10 duties sound like incantations of some holy book."
Having said this, I must now bring out here that Part IVA, Article 51A, providing for ten fundamental duties, was introduced in the Constitution not in 1950 when it was originally prepared but by the 42nd Amendment to the Constitution in 1976. Let us all read the basic text of this all important Article 51A, as enacted by 42nd Amendment pertaining to fundamental duties. It runs as follows : –
51A. Fundamental duties – It shall be the duty of every citizen of India:
(a) to abide by the Constitution and respect its ideals and institutions, the National Flag and the National Anthem;
(b) to cherish and follow the noble ideals which inspired our national struggle for freedom;
(c) to uphold and protect the sovereignty, unity and integrity of India;
(d) to defend the country and render national service when called upon to do so;
(e) to promote harmony and the spirit of common brotherhood amongst all the people of India transcending religious, linguistic and regional or sectional diversities; to renounce practices derogatory to the dignity of women;
(f) to value and preserve the rich heritage of our composite culture;
(g) to protect and improve the natural environment including forests, lakes, rivers and wild life, and to have compassion for living creatures;
(h) to develop the scientific temper, humanism and the spirit of inquiry and reform;
(i) to safeguard public property and to abjure violence;
(j) to strive towards excellence in all spheres of individual and collective activity so that the nation constantly rises to higher levels of endeavour and achievement;
(k) who is a parent or guardian to provide opportunities for education to his child, or as the case may be, ward between the age of six and fourteen years.
It is pertinent to mention here that it was in 2002 and by the 86th Amendment to the Constitution that one more fundamental duty was added as clause (k) in Article 51A and very rightly so. The basic education of children is most imperative and must always be provided to children between the age of 6 to 14 as very rightly provided in clause (k). There can be no two opinions on this.
A moot question arises here : Why it never occurred to the founding fathers of our Constitution of the dire need to include fundamental duties also in it? Most certainly, this was because the founding fathers had unflinching faith in all Indians that they would themselves voluntarily do their fundamental duties on their own without their mentioning it specifically in the Constitution. They were not wrong in doing so. It is the people themselves who have not risen to the occasion and abdicated from discharging their fundamental duties due to which it had to be specifically inserted in the Constitution in 1976 by the 42nd Amendment.
We must also not forget here that there some provisions which are implicit like all the fundamental rights have corresponding duties also like Article 17 implies a duty not to practice untouchability and same goes the case with other fundamental right. Similarly Article 14 which deals with right to equality also implies a duty to treat all others equally. What is most hurting to note is that while most of us always remember by heart our fundamental rights, we very rarely bother about fundamental duties which are equally as important rather more important but whom we very conveniently ignore blithely for preserving our own vested interest! This is the most sad part which is just not done!
What most of us tend to ignore is that our rich Indian culture never believed in duties being imposed on us as our forefathers always believed in sacrifice and this alone explains that why fundamental duties and directive principles of state policy are not binding on citizens and no penalty is imposed on anyone for not performing them. We must be always grateful to the founding fathers of our Constitution for this but we hardly care for it! Here is where we have gone grievously wrong which we must be honest enough to at least admit.

It is most unfortunate to note that the chapter on fundamental duties even after being inserted has been most blatantly disregarded and very conveniently overlooked everywhere. This alone explains why the former CJI – Justice RC Lahoti had to observe most painfully that, "The chapter on fundamental duties, inspite of having been introduced in the Constitution, is more neglected than noticed. I have not come across any textbook of schools incorporating the text of fundamental duties much less any discussion thereon. The commentaries on Indian Constitution which I have come across, do not deal with this chapter with any emphasis. Eminent jurists writing commentaries on Constitution have not written much on fundamental duties. The apex court of the country and the High Courts have also not much utilized the Article 51A while dealing with other constitutional provisions."
HM Seervai who is one of the most eminent legal luminary and jurist that India has ever produced in his monumental work on Constitutional law of India has written just a para on fundamental duties which I feel it obligatory to mention here. I must go on to say here that two notable observations made by the eminent jurist Seervai deserves to be quoted here. He says most eloquently that, "[Article 51A] has been enacted under the mistaken belief that if Articles 14 to 32 confer fundamental rights on citizens, and Articles 38 to 51 impose 'duties' on the State, fundamental duties ought to be imposed on citizens…. If the directive principles are violated or ignored nothing happens; equally if fundamental duties are disregarded nothing happens. It is unnecessary to deal with Article 51A beyond saying that they are innocuous". What Seervai has observed can under no circumstances be ignored. Centre must ponder most seriously on this and do what is best suited to meet the present circumstances. The eminent legal luminary Seervai further goes on to say that clauses (b) and (j) must appear ludicrous to people outside India and even to people within India.
Having said this, now let me turn my attention on how fundamental duties came into existence. It was during the term of former PM late Mrs Indira Gandhi that it was decided that certain fundamental duties must be incorporated in the Constitution so that all citizens remain conscious of it and not think that they have no duty at all to perform. On February 26, 1976 the All India Congress Committee appointed Swaran Singh Committee to suggest certain changes in the Constitution to meet the changed circumstances. Swaran Singh Committee consisted of 12 members with former External Affairs Minister, Sardar Swaran Singh as its Chairman and Congress Secretary, AR Antulay, MP, as its Secretary.
While craving for my readers exclusive indulgence, let me point out here that it is interesting to note here that the Swaran Committee said nothing about the fundamental duties but in its supplementary report, it listed the fundamental duties, which had to be incorporated as a separate chapter in the Constitution. This Committee also laid special emphasis on the dire need of making people more aware of the duties they must perform along with enjoying rights. This is how fundamental duties were inserted in our Constitution.
For my readers benefit, I must mention here that actually the Swaran Committee had recommended only 8 fundamental duties but the Congress government in Centre headed by late Mrs Indira Gandhi decided to include 10 duties as fundamental duties. I must also mention here that some suggestions made by Swaran Committee were not accepted by Centre. As for instance, it was suggested by the Committee that there should be a penalty or punishment for non-compliance of the fundamental duties but these were not accepted. The other suggestions made but not accepted were : –
1. PK Deo (Kalahandi) suggested that, "Every young person, before graduation in any University or before being eligible for any employment in any service, shall serve in the Territorial Army or work in any factory, or farm, or irrigation project, at least for one year".
2. Smt Maya Ray made a notable suggestion that payment of taxes be included as one of the fundamental duties.
3. Bibhuti Mishra suggested, "To observe celibacy in the interest of family planning and to abstain from excessive consumption of alcohol". He had also suggested Article 51B and Article 51C being included in the Amendment, as under –
"51B – Special duty of holders of public offices – It shall be the special duty of every member of the Council of Ministers either of the Union or of the States, and every person holding an office under the Government or every member or office bearer of any public institution to protect and safeguard interests of the country and abstain from doing anything which jeopardises or is likely to jeopardise the economic, social or political interests of the country in any manner whatsoever."
"51C – It shall be the duty of every member of the Council of Ministers and every officer of the Government responsible for taking decisions in matters relating to policy of the Government or internal administration of the Government or Departments to abstain from consuming alcohol in any public place whether called as such or private."
4. Sardar Swaran Singh Sokhi suggested, "To have ceiling on expenditure and to have compassion for living creatures".
5. Dr Karan Singh suggested, "A duty to sustain the unity and integrity of the nation."; "A duty to act in accordance with the Constitution and laws of the land." and "A duty to perform public duties and safeguard public property."
6. Kartik Oraon suggested, "A duty to undergo compulsory military training for two years at the age of eighteen or on completion of education".
7. Jambuwant Dhote suggested, "A duty to use swadeshi and indigenously manufactured goods only."; "A duty to undergo military training in the armed forces for one year in case of a student/youth who attains the age of seventeen years."; "A duty to learn how to read, write and speak 'Hindustani language'."; "A duty not to have either in cash or in a bank (Indian or foreign) an amount exceeding Rs 25,000."; "A duty not to keep cash, jewellery, gold, silver, diamonds, pearls, jewels etc., in safe deposit vault either in his name or in the name of a member of his family."; "A duty not to keep gold exceeding ten tolas in the form of ornaments or in any other form in case of a female and not to wear any ornaments made of gold in case of a male."; "A duty to surrender to the Government cash, gold and jewellery in excess of the ceilings."; "A duty to transfer immovable property exceeding the ceiling to the Government through a testament or any other instrument."; "A duty to abjure vice."; and "A duty to consider his foremost duty to build a clean, perfect and ideal character while translating into practice the aforesaid ten duties of a citizen and family."
8. Priya Ranjan Das Munshi suggested, "A duty to get pass marks in the history of national struggle for independence in respective stages and volumes as specified by the legislation or guidelines of the Education Ministry, in all academic examinations and in all faculties from minor to graduate degree and in all competitive examinations like PSC, UPSC and IAS."; "A duty to set compulsory military training in school and college level for able young men."; "A duty to get compulsory physical culture and sports in all spheres of the youth and students".
9. Dr Paras Diwan suggested, "A duty to work."; "A duty to pay taxes."; "A duty to maintain discipline at work and public order."; "A duty to participate in public life."; "A duty not to spread hatred, contempt or provoke strife on account of national, regional, lingual, racial and religious differences."; "A duty to be vigilant against the enemies of the state."; "A duty to discharge any public or social office vested in him conscientiously."; and "A duty to receive education".
It was on 1-9-1976 that finally the 42nd Amendment was introduced in the Parliament as Constitution 44th Amendment Bill by HR Gokhale who was the then Law Minister. The debate on the Bill which included Article 51A was a long debate and the motion was adopted with certain amendments on November 2, 1976. The reason why I mentioned above even those suggestions which were not accepted is that most of these suggestions are really laudable and we all must try and do our best to follow them to the best of our ability keeping our national interests above everything else.
There are many like me who very strongly feel that fundamental duties are mere "show pieces" or you may say more directly – "dead letters". This is so because they are neither justiciable nor judicially enforceable unlike fundamental rights. There is no direct or even indirect provision in our Constitution or any other law for the time being in force in our country by which we can get fundamental duties enforced. There must be some penalty or punishment to ensure that fundamental duties are properly enforced.
This alone explains why most of the citizens care the least to ensure that they are discharging their fundamental duties properly! This alone explains why it was a "grave mistake" on the part of the Congress government led by Mrs Indira Gandhi to not accept the landmark suggestion of imposing penalty or punishment for non-compliance of fundamental duties! Under the Constitution of Greece and Cyprus, there is a fundamental duty, cast upon the citizens to exercise his right of franchise, founded on the doctrine of compulsory voting. A failure to exercise the right to vote is an offence punishable under the law.
The American Constitution does not enumerate any fundamental duties of an individual and the UK does not have any written Constitution. But in general, the common law duties of a citizen are the same in USA and UK and they are as follows : –
1. Allegiance to the State,
2. To disclose any treason or felony of which he has the knowledge, and
3. To assist in the detection and suppression of a crime.

There are more than 35 nations whose Constitution contain specific provisions on fundamental duties. Chapter II of the Chinese Constitution of 1982 clubs "fundamental rights and duties" of citizens together. It merits attention to note here that Article 33(3) makes the performance of the duties an enabling condition for enjoyment of the rights. It would be worth recalling here some of the duties enjoined by Chinese Constitution and they are as follows : –
1. Duty towards motherland – to safeguard the security, honour and interest of the motherland; to defend the motherland and resist aggression; to maintain national unity and integrity,
2. To abide by the Constitution;
3. To protect public property;
4. To respect social ethics;
5. To pay taxes; and
6. To work etc.
The 1977 Constitution of the erstwhile USSR too places rights and duties on the same footing and this is best evident by Article 59 which says that, "Citizens exercise of their rights and freedoms is inseparable from the performance of their duties and obligations." Article 61 lays down that every citizen of the USSR is obliged to preserve and protect socialist property. Persons encroaching in any way on socialist property shall be punished by law
The Yugoslavian Constitution of 1963 also assigns a high priority to the duties of citizen. Article 32 states that, "The freedom and rights shall be achieved in solidarity among the people by the fulfillment of their duties towards each other". Article 36 says that, "The right to work and the freedom to work are guaranteed and whoever will not work, though he is fit to do so, shall not enjoy the rights and the social protection that man enjoys on the basis of work". Article 61 further envisages that, "Every citizen shall conscientiously discharge any public or social office vested in him and shall be personally accountable for discharging it".
Chapter III of the Japanese Constitution, 1946, is titled "Rights and Duties of the People" which clearly indicates that rights and duties are clubbed together and not separately thus clearly conveying that duties are as important as rights. Under Article 26, the parents have the obligation to send the children to receive the compulsory free education provided by the State and under Article 27, all people shall have the obligation to work.
Justice JS Verma, former CJI, had emphasized that discourse on fundamental rights and fundamental duties cannot be divorced from each other or else we do a dis-service to both. Eminent legal jurist DD Basu said that the fundamental duties can monitor fundamental rights. For instance, a person who burns the Constitution, in violation of the duty in Article 51A(a), cannot assert that the meeting or assembly at which it was burnt, by way of demonstration against the government, should be protected by the freedom of expression or assembly guaranteed by Article 19.
It was as early as in 1969 that the Supreme Court of India in Chandra Bhavan Boarding and Lodging, Bangalore v The State of Mysore, (1969) 3 SCC 84 had stated most categorically that, "It is a fallacy to think that under our Constitution there are only rights and no duties. While rights conferred under Part III are fundamental, the directives given under Part IV are fundamental in the governance of the country. We see no conflict on the whole between the provisions contained in Part III and Part IV. They are complimentary and supplementary to each other. The provisions of Part IV enable the legislatures and the government to impose various duties on the citizens. The provisions therein, are deliberately made elastic because the duties to be imposed on the citizens depend on the extent to which the directive principles are implemented. The mandate of the Constitution is to build a welfare society in which justice – social, economic and political, shall inform all institutions of our national life. The hopes and aspirations aroused by the Constitution will be belied if the minimum needs of the lowest of our citizens are not met." In this case, the court also held that freedom of trade does not mean freedom to exploit, nor do the provisions of the Constitution act as barriers to progress. They provide a balance for orderly progress towards the social order contemplated by the Preamble of the Constitution. Workers were held entitled to minimum rates of wages. In Municipal Council, Ratlam v Vardhichand, (1980) 4 SCC 162, the Supreme Court ruled that paucity of funds shall not be a defence to not carry out the basic duties by the local authorities.
Let me also mention here that in Rural Litigation and Entitlement Kendra, Dehradun v State of Uttar Pradesh, (1985) 2 SCC 431, a Bench of Chief Justice PN Bhagwati and Justice Ranganath Mishra in order to prevent imbalance in ecology and hazard to healthy environment being created due to working of lime-stone quarries, directed the cancellation of the leases which resulted in permanent closure of lime-stone quarries. These directions were issued in face of the fundamental right to trade and business and the right to earn livelihood assigning paramount significance to fundamental duties and rather placing the fundamental duties, owing to people at large, above the fundamental right of a few individuals. The court held that such closure would undoubtedly cause hardship, "but it is a price that has to be paid for protecting and safeguarding the right of the people to live in healthy environment with minimal disturbance of ecological balance and without avoidable hazard to them and to their cattle, homes and agricultural land and undue affectation of air, water and environment". Similarly in Rural Litigation and Entitlement Kendra v State of Uttar Pradesh, 1986(Supp) SCC 517, it was held by Apex Court that, "Preservation of the environment and keeping the ecological balance unaffected is a task which not only governments but also every citizen must undertake. It is a social obligation and let us remind every Indian citizen that it is his fundamental duty as enshrined in Article 51A(g) of the Constitution."
In Shri Sachidanand Pandey v State of West Bengal, (1987)2 SCC 295, the Apex Court held that whenever a problem of ecology is brought before the court, the court is bound to bear in mind Article 48A of the Constitution and Article 51A(g) which proclaims the fundamental duty of every citizen of India to protect and improve the natural environment including forests, lakes, rivers and wild life, and to have compassion for living creatures. Policy decisions taken by State are not ordinarily to be interfered with by the courts. But if it is the question of giving effect to the directive principle and the fundamental duty, the court is not to shrug its shoulders and say that priorities are a matter of policy not to be touched by the court; the court may always give necessary directions.
In MC Mehta v Union of India, (1988) 1 SCC 471, Article 51A, enacting fundamental duties of citizens, was read as casting duties on the government and for issuing certain directions consistently with Article 51A. The directions to be issued by government were –
1. The Central Government shall direct to the educational institutions throughout India to teach at least for one hour in a week, lessons relating to protection and the improvement of the natural environment including forests, lakes, rivers and wild life in the first ten classes;
2. The Central Government shall get text books written for the said purpose and distribute them to the educational institutions free of cost;
3. The children shall be taught about the need for maintaining cleanliness, commencing with the cleanliness of the house, both inside and the outside and with the street in which they live;
4. The Central Government shall consider training of teachers who teach this subject by the introduction of short-term courses for such training;
5. The Central Government, the Governments of the States and all the Union Territories shall consider desirability of organizing "Keep the city/town/village clean" week;
6. To create a national awareness of the problems faced by the people by the appalling all-round deterioration of the environment.
On this, the former CJI, Justice RC Lahoti rightly said that, "The logic behind the approach adopted by the Supreme Court seems to be that if Constitution ordains the citizens to perform certain duties then the State is equally ordained to perform all such functions as would enable the citizens to perform their duties.
Also, in Vellore Citizens' Welfare Forum v Union of India, (1996) 5 SCC 647 and MC Mehta v Union of India, (1997) 3 SCC 715, the Supreme Court recognized 'The Precautionary Principle' and 'The Polluter Pays Principle' as essential features of 'sustainable development' and part of the environmental law of the country. It is worth mentioning here that Article 21, directive principles and fundamental duty clause (g) of Article 51A were relied on by the Supreme Court for spelling out a clear mandate to the State to protect and improve the environment and to safeguard the forests and wild life of the country. The Apex Court held it mandatory for the State Government to anticipate, prevent and attack the causes of environmental degradation. In AIIMS Students Union v AIIMS, (2002) 1 SCC 428, while striking down the institutional reservation in AIIMS as violative of Article 14, the Supreme Court has drawn liberal support and backing of the fundamental duties, giving them paramountcy of consideration with other provisions of Constitution to test the Constitutional validity of such reservation in AIIMS.
Having said this, let me reiterate here that just a few landmark Apex Court rulings even though laudable are woefully inadequate to deal with the endless number of cases of fundamental duties being thrown to the garbage! There are some more rulings which I have not mentioned but they are simply not enough. It is high time and now India too must seriously ponder over the dire need of clubbing duties and rights together so that duties are accorded the same high position as that of rights and to enjoy rights it must be obligatory that citizens discharge responsibly some duties also and not just keep enjoying fundamental rights and keep moving courts for enforcement of fundamental rights as we have been seeing happening in our country since independence till now! Also, it must be obligatory to render some basic fundamental duties and those not doing must be made to face strict punishment or heavy penalty or both! Blocking of rail and road routes must be permanently banned as it seriously endangers peace!