Indians in the United States display India's "Soft Power"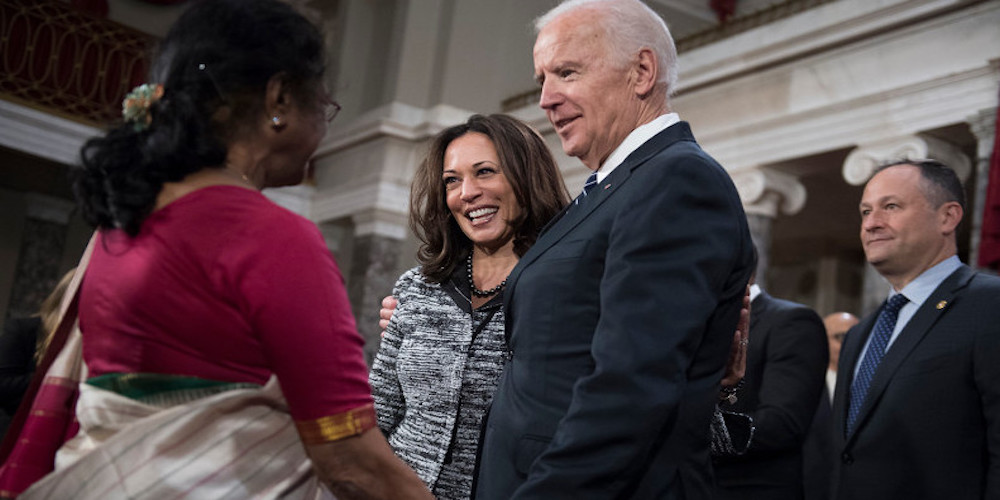 In a remarkable transformation from being the "problem-minority" to "model-minority", Indian-Americans will create history when Joe-Biden Administration will commence its innings officially today (January 20). As many as 17 of them will be senior members of the White House Staff.
Besides, three more Indian-Americans are joining his Administration elsewhere (Dr Vivek Murthy as the US Surgeon General, Vanita Gupta as Associate Attorney General Department of Justice and Uzra Zeya as under Secretary of State for Civilian Security, Democracy, and Human Rights". And then there is Vice President-elect Kamala Harris, though she prefers to display more her "Black" identity rather than the Indian-one because of her Tamil Indian mother.
What the above implies is that Indian-Diaspora have come of age in the United States. Strange it may seem, but it is true that Indians were allowed entry in the United States only in late 1800s when the then America's "Exclusion Act" halted most immigration from China. The country needed cheap labourers and turned to India, particularly the Punjabi countryside. That was how the Punjabis were the first to enter the country, mostly as illiterate and labourers. But they and their children were denied naturalised citizenship until 1946. Then onwards, slow immigration of Gujarati businessmen began.
But it was in mid 1960s, due to the intense Cold War between the US and the then Soviet Union, that there was ideological competition and America wanted to show to the world the importance of democracy and openness. In 1965, Congress made sweeping changes to U.S. immigration law, which, among others, encouraged the emigration of professional skills.
The Indians grabbed this opportunity. According to historian Vijay Prasad, many of India's best and brightest left for the U.S. From 1966 to 1977, about 20,000 scientists were reported to have immigrated from India to the U.S, along with 40,000 engineers and 25,000 physicians. Needless to say that they all knew how to speak English and were from well-educated upper-caste communities.
Approximately, there are 3.2 million Indian – Americans(citizens of the US) in the United States, representing about one percent of the country's total population. They are among the best educated and highest earning minority groups in the United States. 70 percent of them hold a college degree, compared with about half of Chinese, Japanese, Korean or Filipino Americans. They even exceed the graduation-rate of 60 percent of the Jews.
The educational attainment of the India-Americans is reflected in family income and occupational status. The median Indian household income is $88,000, which is significantly higher than that of all other Asian minorities and the general U.S. public (about $50,000). Compared to their size of only 1 percent of the total U.S. population, they are over-represented in several highly skilled professions: 3 percent of the country's engineers, 7 percent of its IT workers, and 8 percent of its doctors.
Their success as IT entrepreneurs in the Silicon Valley is striking. In the last two decades, the proportion of Silicon Valley's immigrant-founded start-ups launched by Indian entrepreneurs rose from 25 percent in 1995-2005 to 32 percent in 2006-2012, largely overtaking Chinese entrepreneurs (who decreased from 12.8 percent to 5.4 percent in the same period). And importantly, whereas the proportion in Silicon Valley of immigrant-founded start-ups has decreased overall from 52.4 percent to 43.9 percent since 2007, the rate of Indian-founded companies has increased slightly, from 13.4 percent to 14 percent.

Like the American Jews, Indian-Americans are now active participants in the American politics as donors, voters or candidates. Their high levels of education, English-language proficiency and roots in India, a country with its own long democratic tradition, all help their ever increasing political participation.
According to John Newhouse, who specialises on foreign lobbies in the United States, Indian-Americans are as effective as American-Jews in lobbying for their mother- country. "India's U.S.-based lobby is the only lobby in Washington that is likely to acquire the strength of the Israel lobby. It both relies on a strong network of law and public relations firms and is supported by a large ethnic population group in the United States, many of whose members are well educated and financially successful.
"For example, 20 percent of all the companies in Silicon Valley are owned by Indian Americans. The U.S.-India Business Council, which has a core committee of 200 companies that make up part of the United States' corporate elite, is closely allied with the India lobby. And like Jewish Americans, Indian Americans are strongly inclined toward political activism", writes Newhouse in the prestigious journal Foreign Affairs.
One important feature of the growing clout of the Indian-Americans is because of their proximity with people who matter in Washington. Many of their children work with Senators and the Congresspersons in the Capitol Hill as interns and Staff Members. Professor Devesh Kapur of Johns Hopkins University says, "Capitol Hill is crammed with staff and interns of Indian-American heritage. They also appear to be over-represented in academia, the media and other influential posts." Pramila Jayapal, a congresswoman from Washington State, has also been quoted to have acknowledged the prevalence of skilled Indian-Americans who work as assistants to Senators and Representatives in Washington.
Now, more than 4 million strong(if we include the NRIs and Green-Card holders), Indian-origin people have further consolidated their position and power in the United States. One of them is now the Vice President. It is no longer a fantasy to see an India-American becoming the President of the US. Who knows that that time is not very distant, with the Vice President-elect succeeding her Boss in 2025?
Indian Diaspora in the United States reflect now India's soft-power. In fact, every country's Diaspora- power, of late, is becoming a significant part of any global or local progress, success and development. Diaspora is a force that unites and brings people from all over the world with the same origin together. It is now regarded as an asset for a country. According to the World Bank, global remittances of Diaspora are now more than 600 billion US dollars. India, for instance, gets around 80 billion dollars every year as remittances from the Indian Diaspora. The importance of Diaspora financing can be well judged from the transformation Kerala's countryside (Gulf remittances) or for that matter the millions poured into high-tech businesses in Bengaluru or Gurugram by Silicon Valley investors.
But then, the Indian Diaspora's contribution to India's development pales into insignificance when compared to its Chinese, Jewish and Irish counterparts. China, thanks to its Diaspora of 46 million, has become the largest manufacturer in the world. Jewish Diaspora of more than 14 million helped Israel to become a start-up nation. Almost 85% of Irish economy is based on enterprises founded by Foreign Direct Investments many of which have strong Irish affiliations.

The point is that as an impotent component or factor for the Indian development, there are tremendous potentials of the Indian Diaspora that number about 25 million in 205 countries around the world. This number includes people of Indian origin and Indian passport- holders staying and working in foreign countries. It all began under the British raj when unskilled Indian labourers moved across the empire and beyond. After independence, the movement of Indians abroad continued, but the structure and composition changed –most of the migrants have been well educated and high-skilled professionals as well as businessmen.
Likewise, India's policy towards the Diaspora has also undergone considerable changes. Under the Congress governments – and it began with Jawaharlal Nehru – New Delhi consistently urged overseas Indians to adapt to the local circumstances, demonstrate loyalty to the state of their adopted nation, and always keep in mind the interests of the local population. Nehru's priority was on building political solidarity with post-colonial states in the non-western world. He did not want to be dragged into their domestic politics where large Indian minorities were present. In fact, he once said that Indians abroad who were not its citizens should be limited to cultural and humanitarian dimensions as far as India is concerned. "If they adopt the nationality of that country we have no concern with them. Sentimental concern there is, but politically they cease to be Indian nationals", he had said. So much so that Nehru had abolished the Ministry for Overseas Indian Affairs in 1947. More or less every Congress government followed the same policy: their only concern with the overseas Indians was that India must keep in mind and exert moral and diplomatic pressure so as to ensure that the Indian origin people are not exploited in their adopted homelands.
The BJP government, on the other hand, has adopted a different approach. Prime Minister Atal Behari Vajpayee realised the long-term strategic value of the engagement with Diaspora when he called for a "partnership among all children of Mother India so that our country can emerge as a major global player". He constituted a committee in 2000 under the leadership of L M Singhvi, a BJP Member of Parliament, to suggest a variety of policy initiatives to strengthen the bonds with the overseas Indian communities. The committee recommended "deep administrative and structural reforms" in areas of "economic policies and procedures, including implementing second-generation economic reforms, in the policies relating to NRI/PIO charitable donations, in the mechanisms in place at international entry points, particularly in the immigration and customs departments, in the support structures at Central and State government levels for the lower income group emigrating in search of blue collar employment to the Gulf and other destinations, and a general toning up [of] administration".
Accordingly, many measures were undertaken by the Vajpayee government, most important of which have been the Pravasi Bharatiya Divas celebrations, revival of the Overseas Indian Affairs ministry (under Modi's second innings, it has merged with the Ministry of External Affairs) and the PIO cards (now OCI cards) for the unrestricted travels to India and engage in every cultural and business activity except voting in elections.
Prime Minister Narendra Modi has further strengthened these trends. Modi's Diaspora policy may be summed up in terms of 3 C's – 'connect' with India, 'celebrate' their cultural heritage and 'contribute' to the development of the homeland. Relaxing the visa norms for the overseas communities, improving physical connectivity and the ease of doing business in India have been the policy consequences of Modi's more intensive outreach to the Diaspora.
However, some words of caution are necessary here before concluding. As my Indian-American friend Prof Amit Gupta says, Diaspora is not a monolithic block and they have their own political, economic and ideological preferences. They do get influenced by what happens inside India. They can exert negative influence on the country as well if they are not comfortable with the government of the day in India. But then, such people are invariably in a minority in their respective countries, including the United States.