Banana Farming Helps the UP Farmer's Earning To Spike From 11,000 to 12 Lakh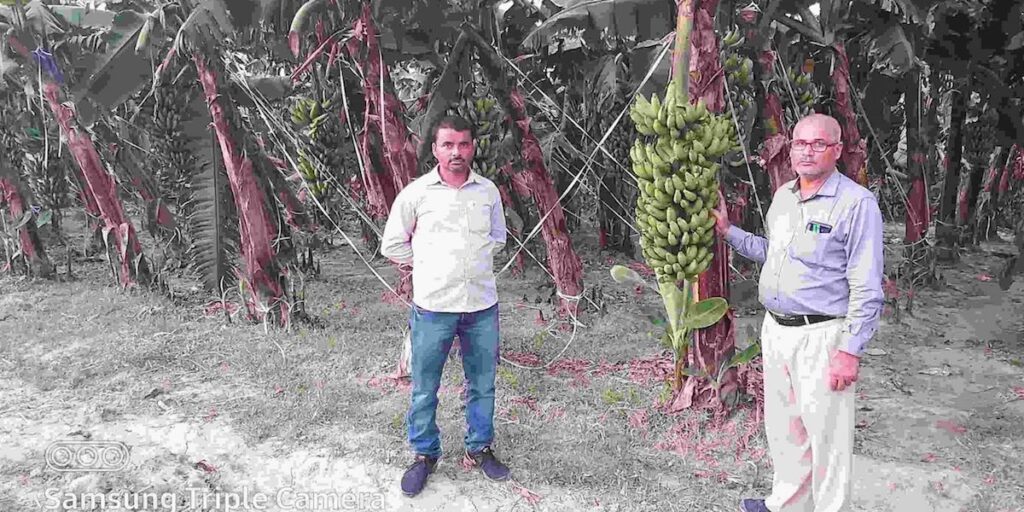 If you love agriculture but think different, then you need not join a mad que in a city for lowly paid jobs. You can be highly successful by remaining in your village. Just see the case of Chandranath Pandey, a 51-year-old occupant of Baldirai town of Sultanpur area, Uttar Pradesh to realise this.
Chandranath wanted to relocate to a major city in search of a satisfactory job. While he didn't find a new line of work in the city, he actually figured out how to accomplish his want of a superior life through cultivation.
Subsequent to the completion of his engineering in the electrical department from Government Polytechnic Faizabad in 1988, he started working as an electrical engineer in an administrative govt. office in Sultanpur, where he used to get rupees 4500 every month. Troubled by his work and uncertain about his future, he left the job and started working as a contractor in his village. In the meantime, he also started cultivating in his own farming land.
"Working as a contractor, I was unable to expand my income by much. I needed to earn more to give good education to my young ones and a superior life to my family. I additionally needed to accomplish something novel with my farmland and not simply develop crops that are fundamental at home like rice, wheat and vegetables. I needed to make it a productive business," says Chandranath, who has fiddled with cultivating for right around thirty years now.
Chandranath by developing sugarcane was making a profit of less than Rupees 1 lakh, which was not enough compared to the work he was putting into cultivation. Thus, he endeavored elsewhere to discover something unique, more beneficial and profitable and eventually quit developing sugarcane in 2018. He heard of Ram Saran Verma, who won the Jagjivan Ram Kisan Puruskar award for cropping assortments of bananas. He also won a total of more than 20 awards at all levels in the country. Motivated by Mr. Verma's success, Chandranath went to meet him to figure out how to develop bananas effectively and acquire profit out of it.

After that, Chandranath started with the cultivation of bananas in his quarter-acre of land. By 1 year and 2 months, the bananas were ready for harvesting and Chandranath earned a profit of almost 4 lakh rupees. From that point forward, he has been devoting a quarter acre of land for developing bananas.
Farming: A lucrative and profitable investment:
Chandranath says that "farming is truly a productive business. The individuals who have farmland, yet are confronting a budgetary crunch should go for a farmer's loan and afterwards endeavor into farming to get attractive returns". He further adds, " I earn more than 12 lakh rupees from farming alone compared to 11 thousand rupees per month for my day job." Also, now he has employed other farm labourers in order to help him with his farming schedule.
Apart from bananas, Chandranath additionally cultivates crops such as tomatoes, tarui or sponge gourd and many other vegetables alongside bananas. He procured almost 2 lakh rupees as profit from tomato cultivation. He additionally yields watermelon from a quarter-acre of land, which is prepared for selling in just three months. "Developing watermelon is additionally profitable as it is ready for harvest within 3 months and will gain you more than 2 lakh rupees in a quarter-acre of farmland," he said.
"In spite of the fact that I wanted to earn a good living and that too in a major city, I have been able to do the same in my village only. Presently, I have all that I have ever longed for," says Chandranath, adding that he further purchased three acres of land through the profit earnings that he was saving for as far back as five years.
Chandranath after accomplishing his goals is trying to assist farmers with tips and tricks for the upgradation of cultivation techniques. "I need Sultanpur to be the center for all the harvests like bananas, cauliflowers, tomatoes, green peas and pumpkin. Farmers from Sultanpur should be able supply different vegetables and fruits to different regions of India," he says.