FIGHTING THE CORONA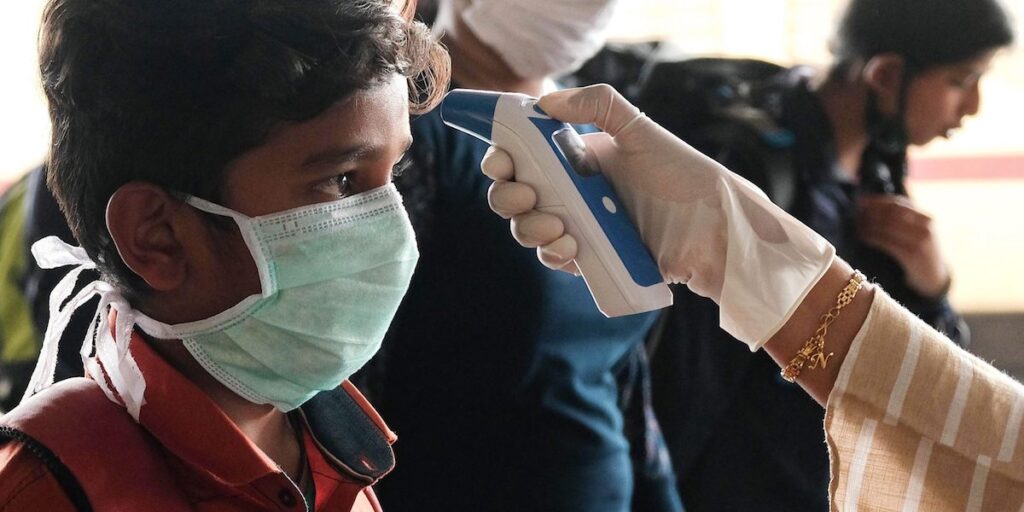 The WHO declared COVID-19 a pandemic on 11th March and asked all countries to take urgent and aggressive action against this public health crisis.  As on 21stDecember, 2020, 222 countries/territories worldwide are affected.
With India's endeavor to manage COVID-19 through a whole of government & whole of society approach, India has been able to limit its cases and deaths.As on 29thDecember, 2020, a total of 10,224,303confirmed cases (with 2,68,581 active cases comprising 2.62% of the total cases) have been reported in India. 98,07,569(95.%92) cases have recovered while the cases fatality is 1.45%, one of the lowest globally.
The increasing magnitude of this outbreak in India called for a pre-emptive, pro-active, graded, whole-of-government, whole-of-society approach, built around a comprehensive strategy to prevent infections, save lives and minimize impact.
Government of India initiated a series of actions to prevent entry of the disease and to contain it. Hon'ble Prime Minister himself interacted with the Chief Ministers of all States and UT administrations and all stakeholders to regularly understand issues and collaborate with the States for effective COVID management. Group of Ministers under the Chairmanship of Health and Family Welfare Minister Dr. Harsh Vardhan, consisting of Minister of External Affairs, Minister of Civil Aviation and Minister of State for Home Affairs, Minister of State for Shipping and Minister of State for Health & Family Welfare met 22 times since its inception on 3rdFebruary, 2020. Committee of Secretaries under Cabinet Secretary took regular reviews with all related Ministries of Health, Defence, Ministry of External Affairs, Civil Aviation, Home, Textiles, Pharma, Commerce and other officials including with State Chief Secretaries.
Govt. of India has constituted 11 Empowered Groups on 29th March 2020 on different aspects of COVID-19 management in the country to take informed decisions on issues ranging from (i) medical emergency planning, (ii) availability of hospitals, isolation and quarantine facility, disease surveillance and testing, (iii) ensuring availability of essential medical equipment, (iv) augmenting human resource and capacity building, (v) supply chain and logistics management, (vi) coordination with private sector, (vii) economic and welfare measures, (viii) information, communications and public awareness, (ix) technology and data management, (x) public grievance and (xi) strategic issues related to lockdown. These groups have been restructured on 10th September based on the need and evolving scenario.
The Health Ministry held video conferences with States regularly. The Joint Monitoring Group (JMG) under the Chairmanship of DGHS which advises MoHFW on technical matters has met several times till now to assess the risk, review the preparedness & response mechanisms and finalize technical guidelines.

Government of India, based on its experience of successfully managing pandemics and epidemics in the past, provided the requisite strategy, plans and procedures to the State Governments and UT administrations. This included containment plans and guidelines on a wide range of subjects related to travel, behavioural & psycho-social health, surveillance, laboratory support, hospital infrastructure, clinical management, rational use of Personal Protective Equipment (PPE) etc., including inspirational guidance for healthcare personnel.
Government of India also undertook several other measures to contain/suppress the transmission of COVID. The first Travel Advisory was issued on 17thJanuary, 2020 and as situation evolved, the travel advisories were revised in a graded manner. Universal screening of passengers from all countries was introduced and up to 23rd March, 2020 (till suspension of all commercial flights), a total of 14,154 flights with 15,24,266 passengers were screened at the airports. In addition to airports, about 16.31 lakh persons were screened at land border crossings and about 86,379persons were screened at 12 major, 65 minor sea ports.
Government of India has advised no scheduled international commercial passenger aircraft be allowed to take off from any foreign airport for any airport in India, from March 22, 2020 except under Vande Bharat Mission on May 7th 2020, which aimed to bring home stranded Indians in many countries due to COVID-19 pandemic. A 'Guidelines for International arrivals' was also been issued by the Ministry on 24th May, 2020, which were revised on 2nd August, 2020.
A dedicated call center / helpline (1075) was started in the initial days to guide community at large which is being used by the citizens very effectively and on a regular basis. Community surveillance was initiated initially for travel related cases and subsequently for cases being reported from community by Integrated Disease Surveillance Programme (IDSP).
Ministry of Health & Family Welfare released containment plans to contain cluster and large outbreaks on 2nd March and 4th April, 2020 respectively and these plans were updated from time to time. The containment plans envisage a strategy of breaking the chain of transmission by (i) defining containment and buffer zones, (ii) applying strict perimeter control, (iii) intensive active house to house search for cases and contacts, (iv) isolation and testing of suspect cases and high risk contacts, (v) quarantine of high risk contacts, (vi) intensive risk communication to raise community awareness on simple preventive measures and need for prompt treatment seeking and (vii) strengthening of passive Influenza Like Illness (ILI)/ Severe Acute Respiratory Illness (SARI) surveillance in containment and buffer zones.
The laboratory network is continuously being strengthened. From a situation of a single laboratory equipped to undertake testing for COVID in January, by the end of December, 2288 laboratories (as on 30th December 2020) are conducting COVID-19 Testing. Laboratories have been established in difficult terrains like Ladakh, Sikkim, Arunachal Pradesh, Nagaland as well as other North Eastern states, Lakshadweep and Andaman & Nicobar island.Currently the testing has crossed 1.5 million tests a day, much higher than that stipulated by WHO which is 140 tests per million population per day. A total of 17,09,22,030 samples have been tested so far as on 30th December 2020.While there were no indigenous manufacturers of laboratory diagnostics or testing machines for COVID, today India has an indigenous production capacity of more than 10 lakh kits/day.

A three-tier arrangement of health facilities was created for appropriate management of COVID-19 cases, [(i) COVID Care Center with isolation beds for mild or pre-symptomatic cases; (ii) Dedicated COVID Health Centre (DCHC) with oxygen supported isolation beds for moderate cases and (iii) Dedicated COVID Hospital (DCH) with ICU beds for severe cases] has been implemented. Tertiary care hospitals under ESIC, Defence, Railways, paramilitary forces, Steel Ministry etc. have been leveraged for case management.
As on 29th December 2020, a total of 15,378 COVID treatment facilities with 12,67,127 dedicated isolation bed without O2 have been created. Also, a total of 2,70,710 oxygen supported isolation beds and 81,113 ICU beds (including 40,627 ventilator beds) have been created. Constant monitoring of the disease trend, analysis of available infrastructure and planning in advance for the future has averted a major crisis as was faced by many developed countries. In addition, a total of 12,669 quarantine centres with 5,91,496 beds have been created.
Guidelines on Clinical management of COVID-19 were issued and regularly updated and widely circulated. These included case definition, prevention of infection control, laboratory diagnosis, early supporting therapy, management of severe cases and complications. In addition, provisions for investigational therapies were also made for using Remdesivir, Convalescent plasma and Tocilizumab for managing severe cases under close medical supervision.
With the intent to ensure dissemination of these standard treatment protocols and reduce mortality to maximum extent, a number of initiatives were launched. An AIIMS Corona helpline 9971876591 was started to guide the doctors on medical management. AIIMS Delhi hosts the COVID-19 National Tele-consultation Centre (CoNTeC) which can be reached by calling +91-9115444155. It caters to doctors, from anywhere in the country, who want to consult AIIMS faculty for the management of COVID-19 patients, as well as to the public in general. Telemedicine guidelines have been issued to provide tele-consultation to patients for mitigation of their illness and prevention of crowding in clinics. It may also help in triage, treatment and counseling for care of ill patients by healthcare providers in areas with limited access.
A clinical Center of Excellence (CoE) initiative was also launched by the Ministry with AIIMS, Delhi as apex nodal institution and State level CoEs to provide guidance on clinical management protocols. Weekly webinars are being organized by AIIMS to guide these State level CoEs on crucial clinical issues that doctors may require guidance on managing COVID cases. These State level CoEs are expected to further disseminate these in their districts.
To ensure accessibility of quality treatment for both COVID and non-COVID health issues, to far flung areas, use of telemedicine has been promoted in a big way.
'eSanjeevani', a web-based comprehensive telemedicine solution is being utilized (in23states) to extend the reach of specialized healthcare services to masses in both rural areas and isolated communities. As on 29thDecember 2020, more than 11 lakh tele-consultations have been held on this digital platform.
ICMR is establishing a National Clinical Registry on COVID that will provide insights into clinical course of COVID-19 disease, its spectrum and outcome of patients.
To coordinate procurement and distribution of COVID vaccine, Government of India has constituted a National Expert Group on Vaccine Administration for COVID-19 on 7thAugust, 2020, under the Chairmanship of Member (Health), NITI Aayog.
Government of India has constituted the INSACOG (Indian SARS-CoV-2 Genomics Consortium) comprising 10 labs (NIBMG Kolkata, ILS Bhubaneswar, NIV Pune, CCS Pune, CCMB Hyderabad, CDFD Hyderabad, InSTEM Bengaluru, NIMHANS Bengaluru, IGIB Delhi, NCDC Delhi) for genome sequencing.