Special incentives for the fruit plants in Kashmir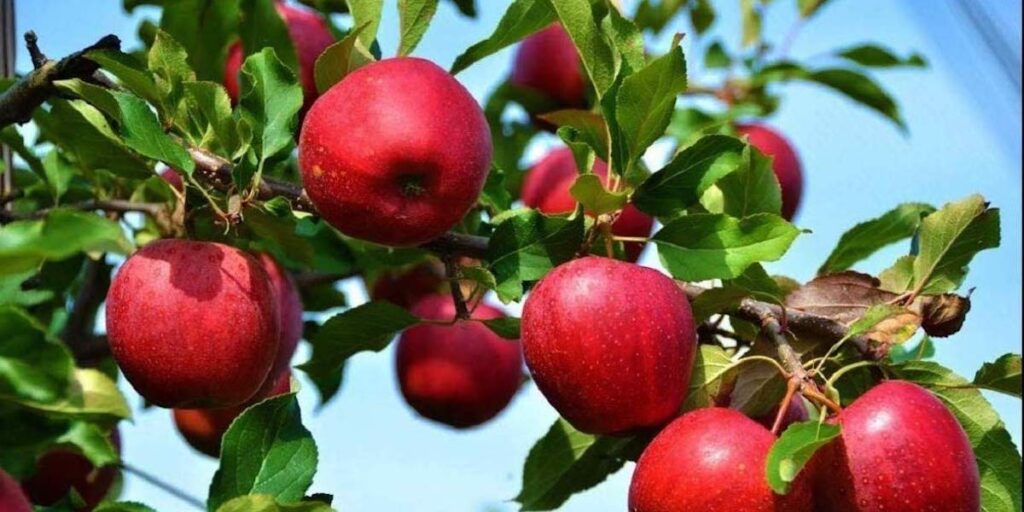 The Department of Horticulture in Kashmir will provide around 450000 of various types of fruit plants to Kashmir growers with 90 percent subsidy under rural, urban backyard Scheme for the year 2021.
According to Deputy Director Central Horticulture Kashmir, Manzoor Ahmad Bhat, the department will provide 450000 fruit plants to the households with 90 percent subsidy aiming to make fruits available to each household in rural-urban areas.
"The officers have been assigned the work on distribution of these plants after the assessment of land suitable for each type of plant," he said.
Bhat said Chief Horticulture Officers (CHO), Horticulture Development Officers (HDO), Horticulture Technicians Grade 1 (HTG1), HTG2, HTG3, and HTG4 will be involved in the distribution.
"Our department is conducting awareness programs to make more people aware about the scheme," he said.
He said people willing to avail this facility shall have to produce an identity card for simple verification.
"Various types of plants provided by the department include apple plant, apricot plant, pear plant, quince plant, cherry plant etc.," Bhat said.
He also clarified the scheme is meant with a purpose to provide nutritional value to the most of the households in rural-urban areas in the valley possessing some extra land.
Horticulture is the backbone of Jammu and Kashmir's economy. It contributes about 8 percent to the GDP of Jammu and Kashmir.
Official figures reveal that 700,000 families are directly or indirectly involved and dependent in the horticulture industry.
However, due to back to back lockdowns and lack of transportation, the industry has incurred huge losses during the past several years.

Prime Minister's Development Package
As has been noted, Horticulture is one among the important sectors of Kashmir. The sector contributes immensely to strengthen the economic condition of the J&K, poverty alleviation, and employment generation. It is a core sector of Jammu and Kashmir agriculture.
The variety of horticultural products of J and K has earned worldwide fame because of its good quality and taste. The fruit crops grown within the state are apple, almonds, walnuts, pears, cherries and apricots in temperate areas and mango, citrus, litchi, papaya, guava etc. in subtropical areas. It is famous for Saffron cultivation which makes it unique in the world.
It is against this background that the Horticulture department is providing apple growers with loans and subsidies for the construction of packing and grading sheds under the Prime Minister's Development Package (PMDP), announced by Prime Minister Narendra Modi in 2015 for Jammu and Kashmir.
The total cost of the construction of these packing and grading sheds is about Rs 5 lakhs, out of which Rs 2 lakhs is being given as subsidy by the Central government.
Apple growers say they were facing problems earlier after harvesting as they had no place to pack and grade their crops. Now they say that these sheds have solved their problems and increased life of the fruit.
"My house is around 2 kilometres far from my orchard. So, I face a lot of problems with packing and grading of apples. Then I thought of constructing a packing house. Department officials visited the site and guide me about the structure. The shelf life of apple has also increased. The Department of Horticulture is doing very good work," Tariq Paddar, an apple grower told ANI news agency.
Another apple grower Ishaq Ahmad said, "I constructed a shed with the help of the horticulture department under the PMDP scheme. I have spent Rs 5 lakh and got a subsidy of Rs 2 lakh by the government."
Asif Muzzafar Bodha, Horticulture Officer, Anantnag, said that the government is helping apple growers for constructing sheds under the Mission for Integrated Development of Horticulture (MIDH) and the PMDP.
"These sheds are now beneficial for apple growers. Whenever any progressive apple growers approached the department of horticulture, their technical officers always helped them," Bodha told ANI.
"We give Rs 2 lakh subsidy. 90 per cent i.e. Rs 1,80,000 of subsidy is being provided by the Centre and Rs 20,000 by the Union Territory. Apple growers, who live far from their orchards, can keep their crop, fertilisers, other equipment in these packing sheds," he said.
Bodha said that people are now moving towards horticulture as they are getting the benefit.
"People can even earn more than a gazetted officer if they maintain orchard properly. They can also give employment to many people," he said.