How A Team Of Former Special Forces Soldiers Are Changing The Lives of India's Disabled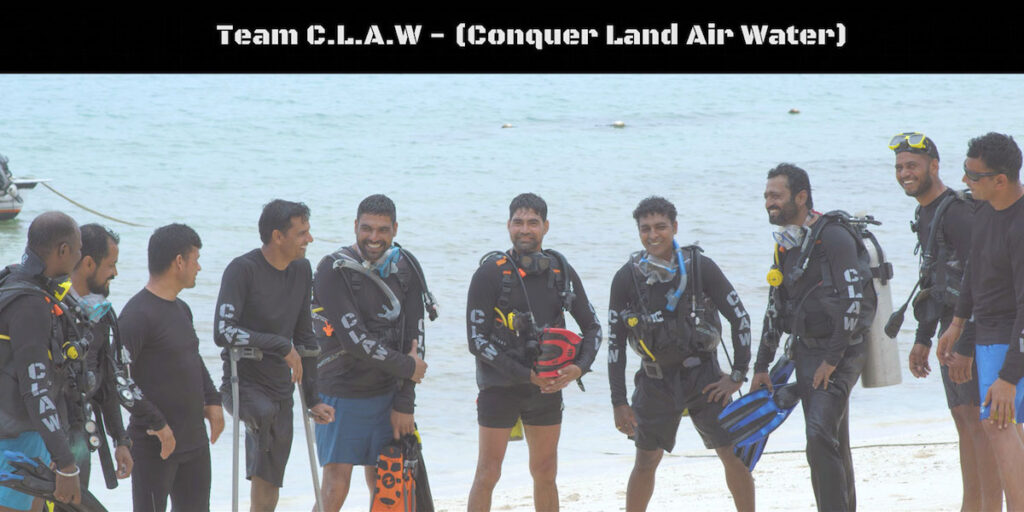 Heroes are heroes, whether in service in the military or retired. No wonder why a group of ex-Indian Special Forces commandos (Indian Army Para Commandos and the Naval Marine Commandos, also known as the MARCOS) are now working to help the disabled people not live normally but conquer land, air and water.
In one of its kind initiatives in India, these former commandos from both the para- regiment and MARCO (Marine Commando) have formed an outfit called CLAW (Conquer Land Air Water) Global.
Major Vivek Jacob (Veteran – Indian Army, Special Forces) is the Founder and Director of CLAW Global and Operation Blue Freedom.
CLAW envisions to facilitate the institutionalisation of high-end adventure sports, survival training, and self-defence capabilities, especially for the disabled. Though focused primarily on 'Physiological Disabilities', the organisation has dealt with ranges of it within the spectrum, including people who are neck down paralysed.
Operation Blue Freedom
CLAW Global's project is to help the disabled is called 'Operation Blue Freedom', aimed at celebrating the power of disabled people as a statement of motivation, adaptability, and change.
Operation Blue Freedom leverages high-end Adventure Sports activities like Scuba Diving, Sky Diving, and Mountaineering to showcase and mainstream the mutually complementing 'Survive, Stabilize, Thrive' mindset of the Special Forces. As an expression of spirit and ability of the 'disabled', the project envisages perceptional transformation regarding the lives of PWDs and calls for their right to inspire freedom.
The project, conceived in 2019, has trained "more than a hundred people with disabilities in scuba diving in confined waters". Eventually, the journey kicked off when the team took a selected few among the trained, both men and women, to Lakshadweep for their first-ever Scuba dive in the open seas early this year in March, even as India was just beginning to get used to corona-virus.
"Everything is impossible till it's done," says Major Vivek Jacob. And he is right. Major General SK Razdan, a Kirti Chakra awardee, was paralysed by a gunshot injury in Kashmir while fighting terrorists. The 65-year-old with a heart that still throbs for adventure got himself trained in adaptive SCUBA Diving through Operation Blue Freedom. "I went down the (ocean) floor, and swam the entire breadth. This is a gem of an initiative that these paratroopers have started with their own finances," he said.

Humble Beginnings
It all began after Major Vivek Jacob, who has served as a Special Forces operator for 14 long years, suffered a spinal cord injury as a result of a parachute malfunctioning mid-fall during a combat skydive in 2015. At the time of his recovery at the military hospital, he met Flight Lieutenant Bhaduria, who was permanently paralysed in a freak accident.
The IAF officer, who had been hospitalised for four years and left wheelchair-bound, asked Major Jacob if he could scuba dive. This went on to ignite in the Major the spark that has now transformed into CLAW.
The Major took voluntary retirement and embarked on a journey to realise the dream. Soon, others he had worked with and whom he shared his vision with joined him.
Future Plans
CLAW wants to bring people across nationalities, religion, colour, economic status and ability to create a powerful perception of ability and freedom.
The aim is to set Triple World Records. People with disabilities (PwDs) will be trained not just in adaptive scuba diving, but there will also be adaptive skydiving and adaptive mountaineering programmes going ahead.
In September this year, 'CLAW Global' also signed an MoU with US-based Handicapped SCUBA Association, which has 39 years of experience training people with disabilities in scuba diving and using these skills to rehabilitate persons with disabilities.
In October, the team inked a MoU with the Maldives Integrated Tourism Development Corporation, to carry out 'Operation Blue Freedom – Water World Record' in Maldives. The MoU is aimed at establishing a water world record to be held in February next year.
It also covers a long-term collaboration between CLAW Global and the Maldivian Integrated Tourism Development Corporation to create rehabilitation ecosystems for people with disabilities in Maldives. The team has proposed an 'Aqua research, rehabilitation and re-skilling centre' with the noble goal of impacting people with disabilities and helping them become employable in a 'normal' world.
Currently, the team is preparing for the 'Triple Elemental World Records' that include the largest team of People with Disabilities to scale Mount Everest, skydive together in a single event, and scuba dive together in the open sea conquering the land, air, and water respectively. Towards the achievement of the goal, coordination has been carried out with the 'World Record Academy'.
In the future, the team plans to enable PWDs to the extent that it enhances their employment opportunity. At the same time, it seeks "suitable re-employment opportunities for retiring 'Special Forces Operatives' through enabling new life purpose and social entrepreneurship".