Swachh Survekshan a promise of 'Clean India'
Mahatma Gandhi said that cleanliness should become a habit for every individual. So, adopting the motto of the Father of the Nation, every city of the country is vying to get a respectable position in the Swachh Survekshan (Cleanliness Survey) to realize the vision of Prime Minister Narendra Modi's clean India.
When Prime Minister Narendra Modi launched Swachh Bharat Mission five years ago, he exhorted people of the country to come together to realize the goal of this campaign. Needless to say that Swachh Survekshan has created a positive impact on people's health, livelihood, quality of life and has most importantly brought a change in their thoughts and behaviour. The 5th edition of Swachh Survekshan under the Ministry of Housing and Urban Affairs (MoHUA) has been conducted to assess the progress of Swachh Bharat Mission.

Indore has won the coveted title of being the cleanest city of India, Surat and Navi Mumbai have won the second and third position, respectively (in more than 1 lakh population category). Chhattisgarh has won the prestigious title of the cleanest state in the Urban Local Bodies (ULB) category while Jharkhand has been adjudged as the cleanest state of India. An additional 117 awards have also been handed over by the Minister of State for Housing and Urban Affairs Hardeep S Puri on August 20, 2020.
The Survekshan has gradually evolved from being an assessment of 73 cities in 2016 to an evaluation of 4,242 cities in 2020. As a part of Swachh Survekshan 2020, to encourage extra efforts put in by citizens and ULBs, 'Innovation and Best Practices' in the areas like waste management, behaviour change, sustainable sanitation or interventions contributing to proven improvement in air quality, water conservation, waste water treatment and its reuse or storm water management were evaluated separately.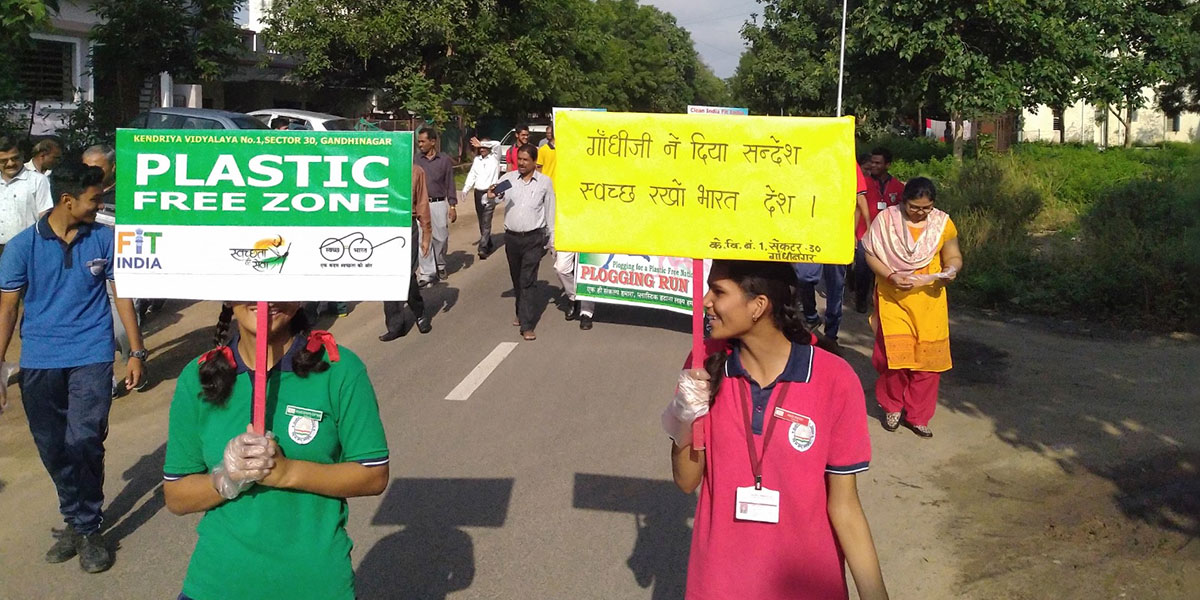 Plastic-free Gandhinagar: 'Shame by Fame' Gandhinagar, the capital city of Gujarat, aims to be a zero-landfill city. Under the "Plastic-Free Gandhinagar Initiative", Gandhinagar Municipal Corporation (GMC) has taken several measures to reduce, reuse, recycle and safely dispose of the plastic waste. It collects segregated dry and wet waste from door-to-door collection activity. A plethora of this is plastic waste. The GMC has also initiated the process of creating a sustainable ecosystem wherein informal waste pickers and the company can collaborate to efficiently manage the plastic waste in the city.
Raipur-'Shame by Fame': 'Afsaro Ki Gashti' and 'Shame By Fame' are two novel ideas, easily implementable, sustainable and scalable. 'Afsaro Ki Gashti' is an innovative cleanliness drive which supports the behaviour changes of the citizens of Raipur, the capital of Chhattisgarh. In this effort, all higher officers are supposed to visit in the morning by 6 AM and verify whether sanitation activities are performed satisfactorily or not. 'Shame By Fame' is an innovation to monitor offenders who create nuisance through a monitoring system called "DAKSHA".
Greater Chennai'-'From waste to compost': The Greater Chennai Corporation has evolved a unique idea of converting waste into compost. It has Resource Recovery Centers (RRC) and Micro Compost Centers (MCC) in all 15 zones across Chennai. The RRCs perform segregation of waste collected from the households and markets of respective zones. There are around ten to fifteen categories of segregation depending upon waste produced in these zones. The MCCs produce compost from the wet waste.